Glendale resident Paul Ayers, silent film location expert, sees the past in the present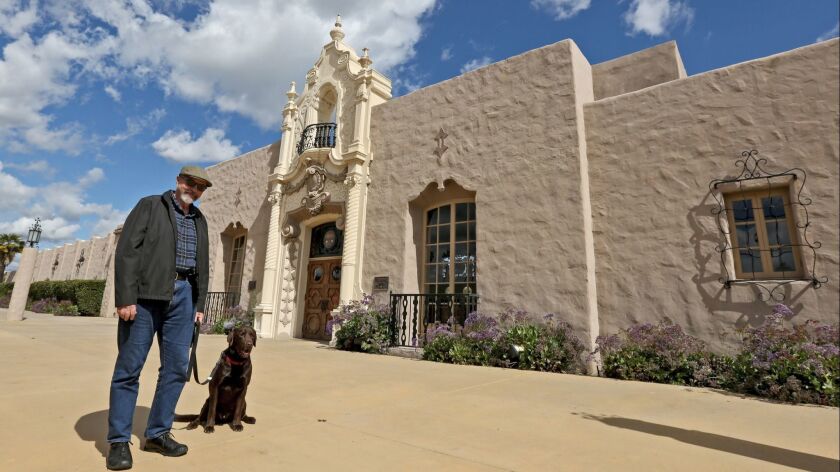 A retired attorney with a passion for Southern California history, Paul Ayers said he's spent so much time looking at old photographs, he sometimes sees the outdated images superimposed over present-day reality when he's out and about. It's like he's wearing black-and-white colored glasses.
"I looked at so much material, I started to see the past," Ayers said.
So, when Ayers picked up "Silent Echoes," a 1999 book about Buster Keaton's silent-film locations and found out that author John Bengston was stumped by where a scene in "Sherlock Jr." from 1924 was shot, Ayers almost reflexively began to go about solving the mystery.
In the scene, Keaton, sitting on top of a Harley Davidson motorcycle's handlebars, barely misses getting blasted into smithereens by an oncoming train.
During a talk Ayers gave recently about local silent-film locations, hosted by the Glendale Historical Society at the Downtown Central Library, he described how he went about solving the mystery of where the scene was shot. He's been giving the talk at various times and locations since 2008.
Raised by a "train-freak" father, who sometimes pulled his son out of school to see a train wreck, Ayers has become an expert on Southern California railways. By just looking at the footage, he could tell the train was probably a Santa Fe line in Orange County, and, ultimately, he found the exact station.
A second edition of Bengston's book featured a detailed overview of Ayers' deduction process, which involved knowing which engine numbers were located where, as well as analyzing the desert terrain in the film's background. In a blog post, Bengston called the methodology "stunning."
(Ayers also intermittently gives a talk about the now-defunct Pacific Electric streetcars that once ran throughout Los Angeles.)
Drawing on his train expertise and ability to identify mountain ridge lines in the area, Ayers contributed to Bengston's subsequent books on locations used in Charlie Chaplin and Harold Lloyd films.
Meditating on how the hobby began, "It was with my father, looking for things that were no longer there," Ayers said. "And that's what John and I do."
Sometimes the identification process is relatively easy. In "The Idle Class" (1921), Chaplin is accosted on a narrow bridge over a river by a golfer who accuses the star of stealing his ball. (Spoiler alert: he did.)
According to Ayers, he was quickly able to identify a distinctive, steep slope behind Chaplin as Beacon Hill in Griffith Park.
At other times, as with the finale of Chaplin's "Circus" (1928), pinpointing the exact location of a scene can be trickier.
Ayers knew right off the bat that the final scene, shot on a field where a glum Chaplin watches his circus beau run off with a fellow performer, was in Glendale. He could tell the shot was likely facing south and, because it showed a large expanse of land in the distance, he surmised it was in the mouth of one of the North-South canyons, like Chevy Chase or Verdugo.
Ayers also noticed that a large number of cars were passing in the background. Observing that the cars were heading south, he determined the shot was facing the east. According to Ayers, if you're looking east and see a hill like the one in the film, you're in Verdugo Canyon. But he still couldn't pin down the exact spot where Chaplin sat in the scene.
Then the Glendale News-Press solved it for him. An article about the filming in a 1927 edition of the paper specified that the shot was on the corner of Glendale Avenue and Verdugo Road.
"That's fine," Ayers said of confirming the location that way. "You use all the different techniques, maps, aerial photographs, and then you just start wandering around and line it up."
Surprisingly, Ayers is not a mega silent-film fan.
While he enjoys films from the silent era (and after), he's primarily drawn to the work for its historical value.
Silent-film producers often didn't keep records of shot locations. Once advancements in technology freed them from having to shoot only in studios, they began shooting all over Southern California, often without pulling permits, Ayers said. His work helps fill in the informational gaps.
Before becoming a film-location sleuth, Ayers was a volunteer historian for the forest service, helping restore trails. It was in that role that he honed his ability to identify Southern California mountain ridgelines and other distinctive topography.
After presenting his "Silent Glendale" talk off and on for roughly the past 11 years, Ayers said he may develop a similar presentation dedicated to noir film locations shot in Glendale, Burbank and Pasadena.
Meanwhile, Ayers has been organizing and documenting decades of findings — including 13 binders dedicated just to the Mount Lowe Railway in Altadena — and donating them to local historical societies.
Silent films are rarely screened in theaters, and people tend to choose air travel over trains, but Ayers isn't concerned.
"It's not about the things, it's about the way that technology presents them," said Ayers, pointing out that podcasts have revived interest in a variety of vintage topics. "If you have something interesting, it doesn't matter really how old it is."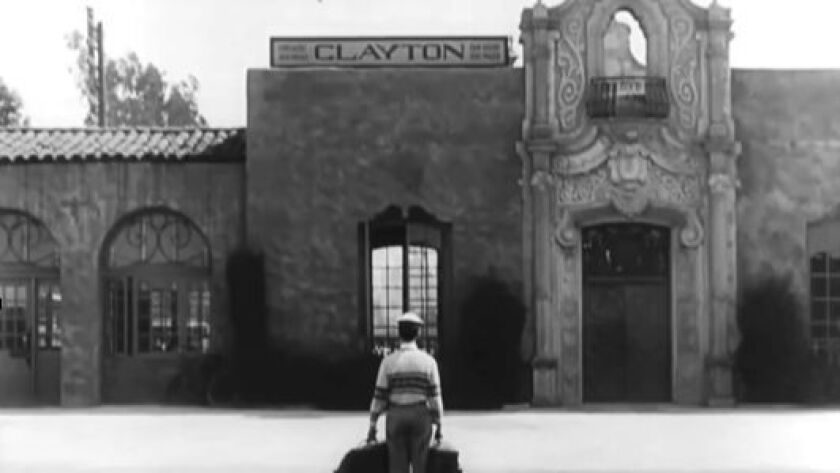 Twitter: @lila_seidman
---