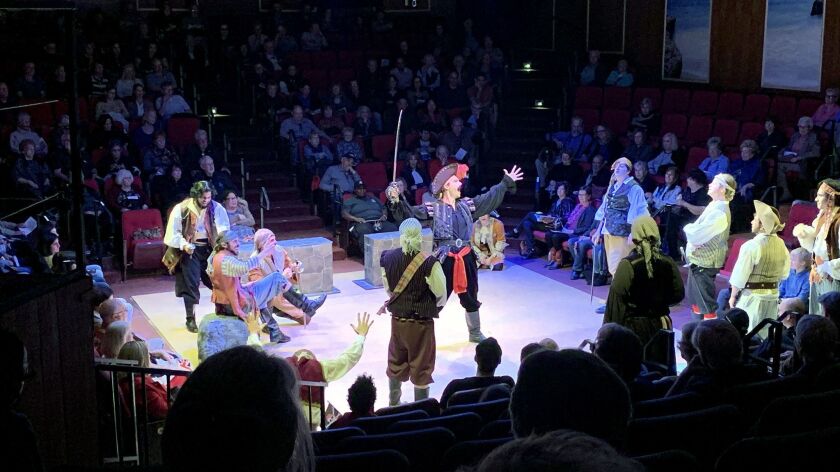 If your birthday is on Feb. 29, your real age comes into question. That's at the heart of the Gilbert and Sullivan comedic musical "Pirates of Penzance," playing at the Glendale Centre Theatre until April 20.
The story centers on a group of pirates, their Pirate King and young "slave of duty," Frederic, who has to serve the marauders until he turns 21 years old.
However, he was born on Feb. 29, which only occurs every four years, so when he turns 21 in the traditional sense, he technically isn't that age, and he may be doomed to continue his servitude until he's ... well, pretty old.
Zoe Bright, who has directed productions of "Godspell' and "Mary Poppins" recently at the local venue, said the cast features an outstanding group of singers — a necessity to mount an operetta.
This is the first time she has directed a Gilbert and Sullivan production, but she's familiar with their work. "'The Mikado' is probably my favorite," she said.
As with most musicals written by the prolific duo, there are welcome challenges.
"It's big cast, and it's constant music. It's an operetta, so there's very little dialogue," Bright said. "It's a vast body of music, and it's complicated music too."
During a rehearsal a few weeks before opening night, the cast was doing double-duty, with the female actresses portraying the maidens rehearsing "Climbing Over Rocky Mountain" and the male actors playing the pirates rehearsing numbers like "I am a Pirate King" and "I am the Very Model of a Modern Major General," which is one of the most well-known solos written by Gilbert and Sullivan.
Craig Sherman, who most recently portrayed the father, Mr. Banks, in "Mary Poppins" at Glendale Centre Theatre, has taken on the Major General role and tackles the classic patter song that moves sometimes at break-neck speed and contains unusual rhymes.
With still weeks of rehearsals before opening night, Sherman had the song down to a T.
He described the solo as a sort of "bucket list" tune for him.
"If you're a fan of musical theater, chances are it's something you're very familiar with," he said, adding that he didn't seriously think about playing the role until he saw that "Pirates" was on Glendale Centre Theatre's schedule this season.
"It's sort of like songs you hear on the radio a lot. Maybe you don't realize you know it, and you didn't make a point," he said. "But if you hear it enough or you see the movie enough, then it kind of just grows on you."
Sherman was referring to the 1983 movie with Joseph Papp's version of "Pirates," featuring Kevin Kline, Linda Ronstadt and Rex Smith, which played to packed audiences in live performances in Central Park and on Broadway in the early 1980s before the film was made.
"Pirates" was the only Gilbert and Sullivan production to officially premiere in the United States. At the time, American law offered no copyright protections to foreigners, according to multiple sources about the history of the operetta.
After the musical duo's previous operetta, "H.M.S. Pinafore," celebrated success in London in 1878, numerous American companies presented unauthorized productions that often took liberties with the text and paid no royalties to Gilbert and Sullivan.
They hoped to obstruct further copyright "piracy" by mounting the first production of their next operetta, "Pirates," in the United States, sources state.
Before the U.S. premiere, though, they did perform a special, one-time, performance in England, "so it still kept its Britishness," Bright said.
For more information about "Pirates of Penzance," including ticket prices and performance dates, call (818) 244-8481 or visit glendalecentretheatre.com.
Twitter: @LAMarkKellam
---