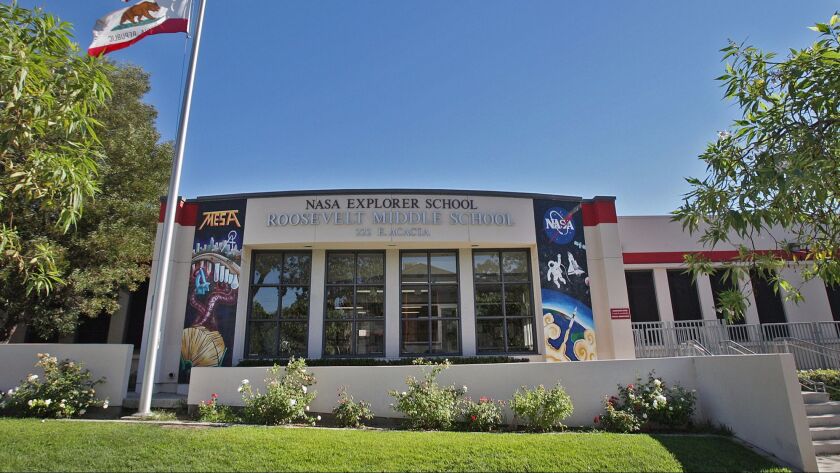 Theodore Roosevelt Middle School could turn into a magnet campus with an environmental focus if Glendale Unified school officials are successful in obtaining a $6-million federal grant.
The funds would come from the Magnet Schools Assistance Program, the same one Glendale Unified tapped into seven years ago to transform Mark Keppel, Thomas Edison and Benjamin Franklin elementary schools each into respective arts, technology and language magnets.
If the district secures the latest grant, Roosevelt would enhance its offerings in STEAM, or science, technology, engineering, arts and mathematics, under the umbrella of environmental stewardship.
More coding classes and new oceanography and horticulture courses would be offered at the school, and a new "makerspace" lab would allow students to design objects such as wind turbines and print them using 3D printers, Mason said.
All the different ways that our students will be learning—it's really, really exciting.
Nayiri Nahabedian, Glendale school board member
The Roosevelt students would partner with Woodbury University students to design an outdoor classroom, and campus gardens would feature native plants and vegetables students could slice and dice in a cooking lab already on site.
"We believe that choosing an environmental-stewardship focus is the right way for Roosevelt," said Lise Sondergaard, assistant principal. "Many jobs in the future will be around sustainability."
The Glendale school board late last month passed a resolution supporting the grant application ahead of the April 11 deadline.
"All the different ways that our students will be learning — it's really, really exciting," said board member Nayiri Nahabedian at the time.
Join the conversation on Facebook »
Officials expect to hear whether they'll receive the grant by June. If so, the grant will be spent over the next five years, beginning this July.
Mason estimates enrollment would grow from 775 students to 1,100 in several years if Roosevelt becomes a magnet school.
In 2010, when Keppel, Edison and Franklin transitioned into magnets, the schools' traditional attendance boundaries dissolved as part of the grant's agreement, and only students who lived within half a mile of those schools could automatically enroll.
That won't happen this time around, Mason said.
The students who live within Roosevelt's attendance boundaries would not be displaced.
Twitter: @kellymcorrigan
MORE EDUCATION
Glendale Community College passes resolution supporting undocumented students
Clark Magnet High robotics team wins regional competition
Facing a $10.8-million deficit, Glendale Unified considers cutting catering — including Porto's
---