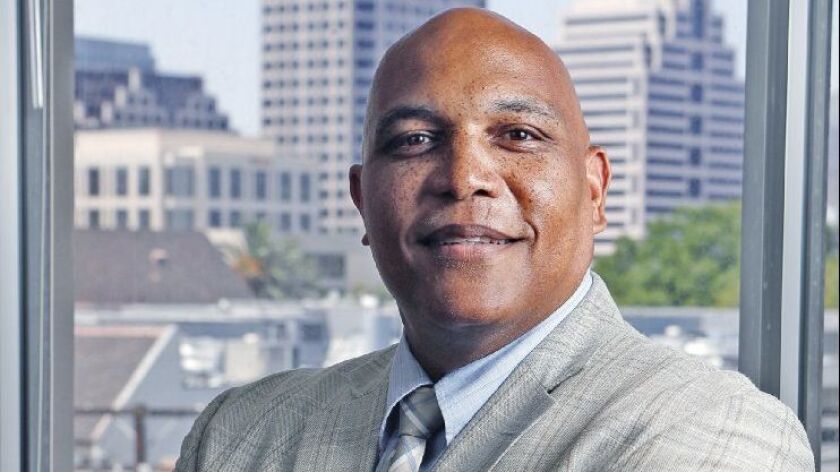 A common mistake has occurred at several Glendale Unified board meetings since Supt. Winfred B. Roberson assumed his current position in April 2016.
The error is so frequent and unintended that it usually just elicits a chuckle from the mild-mannered 51-year-old, a pioneer in his own right as the district's first African American superintendent.
This summer, however, Roberson went about fixing the issue once and for all.
The Glendale resident earned his educational doctorate from UC Davis and can now be called correctly what many had previously labeled him incorrectly: doctor.
"I'm very proud to have finished it," Roberson said. "When I first got to Glendale, folks were calling me 'doctor' and I spent a lot of time correcting people, even at public events."
Roberson added, "I remember one in particular that was a large city event and I was introduced as Dr. Roberson and I told the folks, 'C'mon, just a few more months' and then I can actually receive that title."
Prior to securing his doctoral degree, Roberson had already completed his bachelor's in rhetoric at UC Berkeley, received a teaching credential from Cal State Dominguez Hills, earned a master's degree in educational administration from National University and been twice hired as a superintendent.
"I already had the position [of superintendent]," Roberson said of his reasoning behind finishing his Ed.D. "It was the scholarship for me; it really was the scholarship and the learning that was my motivation. I really wanted to articulate the things that I was experiencing, to be able to connect it to the literature. Those were the reasons. I did it for the scholarship and the learning."
Roberson's journey began 5½ years earlier when he was the superintendent of the Davis Joint Unified School District.
Roberson spent two years completing his coursework and needed another 3½ years to finish his dissertation, "Cumulative Salary Indexes — A New Way to Look at Teacher Salaries."
"The idea behind my dissertation started because of negotiations in Davis and I was curious … because our teachers were saying 'Hey, we're the lowest-paid district in the region,'" Roberson said. "I knew the benefits were pretty good in comparison to other districts and I was just curious if the teachers were the lowest paid when you factor in benefits."
As for the almost four years needed to finish his paper, Roberson lets out a laugh.
"You burn the candle from both ends," he said. "You burn the midnight oil, as my father used to say. I spent many weekends and many nights writing."
One person empathetic to Roberson's cause is Burbank Supt. Matt Hill, who also just completed his doctorate with the aid of the Glendale superintendent.
"I interviewed eight superintendents in L.A. County as a part of my dissertation and he was one of them," Hill said. "We have this five-star coalition with Glendale, Burbank, South Pasadena, Pasadena and La Cañada … and we share ideas. When he came down here, we connected right away and we were talking about how we were both in our doctoral programs. I can now congratulate him on finishing."
---