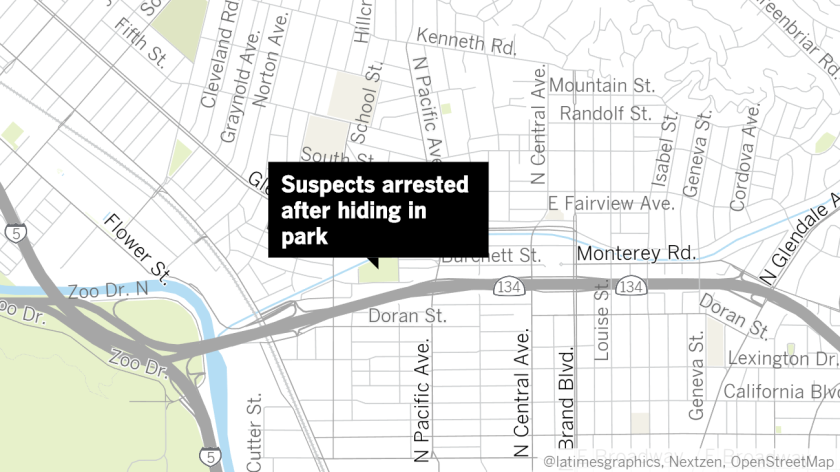 Three armed robbery suspects tried to hide from Glendale police on Thursday but eventually gave up and turned themselves in after officers began to close in on their location.
The incident began around 11 a.m. when an armed robbery was reported at a pharmacy in the 1200 block of North Central Avenue. Three suspects reportedly held up the business before fleeing the area in a car.
Sgt. Dan Suttles, a spokesman for the Glendale Police Department, said an officer responding to the robbery saw a car matching the description of the one that left the area and initiated a pursuit.
The car eventually stopped at Freemont Park and its three occupants fled from the vehicle by foot.
Suttles said a perimeter was soon established around the park. He said one suspect was hiding in a restroom while the other two fled to a nearby gulch.
The three eventually came out of hiding sometime around 12:30 p.m. and gave themselves up to officers.
"We took our time and called out to them," Suttles said. "They realized they weren't going to go anywhere, so they gave up and we took them into custody."
Items taken from the pharmacy including prescription medication were recovered at the scene. Suttles added a handgun was found in the vehicle the three abandoned.
The suspects were identified as 29-year-old Deandre Bonney, 29-year-old Darrell Mitchell and 31-year-old Terrell Mitchell. Both Bonney and Terrell Mitchell are from Compton; Suttles said it's unknown where Darrell Mitchell lives.
Twitter: @Andy_Truc
---
UPDATES:
5:20 p.m.: This article was updated with suspect details from Glendale police.
This article was originally published at 3:15 p.m.
---