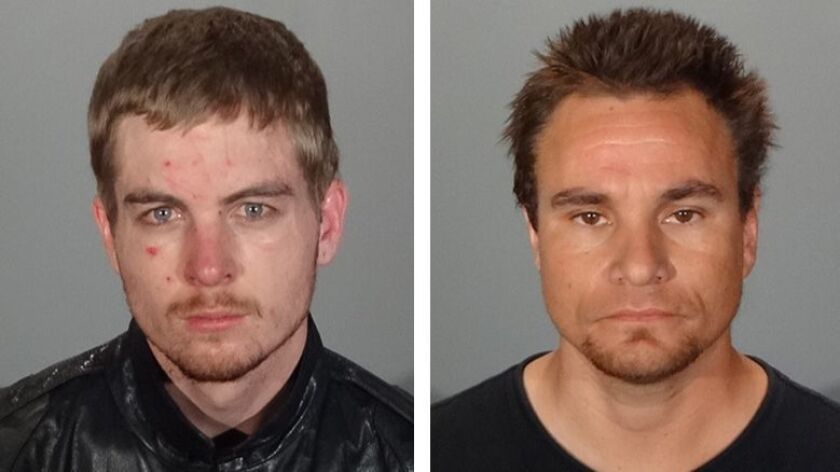 Authorities say they have arrested two men allegedly responsible for a series of vehicle burglaries that occurred in Glendale and Beverly Hills.
The Glendale Police Department initially arrested 25-year-old Daniel Physioc and 31-year-old Stephen Frye last Thursday in connection with a pair of car break-ins that happened last month in an apartment complex's underground parking garage.
Tahnee Lightfoot, a department spokeswoman, said two men were caught on camera trying to pick the lock at a building in the 600 block of North Kenwood Street during the early morning hours of Oct. 22.
The men eventually gave up and entered the building through a garage gate, Lightfoot said.
Footage from the complex showed the men pulling on car handles and burglarizing two vehicles that were unlocked.
Lightfoot said the two were also recorded dismantling and stealing a security camera as well as taking packages that were left in the apartment complex's lobby.
A detective investigating the incident reportedly recognized one of the men in the footage as Physioc, a Glendale resident.
Authorities arrived at his home in the 400 block of Oak Street with a search warrant and found Physioc sitting in a parked vehicle outside the residence.
He was taken into custody and officers also found Frye, a resident of San Gabriel, in Physioc's home.
A search of the residence uncovered multiple items linked to the vehicle burglaries.
During the investigation, Lightfoot said detectives were able to link the two men to at least eight other vehicle burglaries in Glendale as well as four that occurred in Beverly Hills.
The case remains under investigation.
Anyone with information is encouraged to call Glendale Det. Abe Chung at (818) 548-2097.
Twitter: @Andy_Truc
---