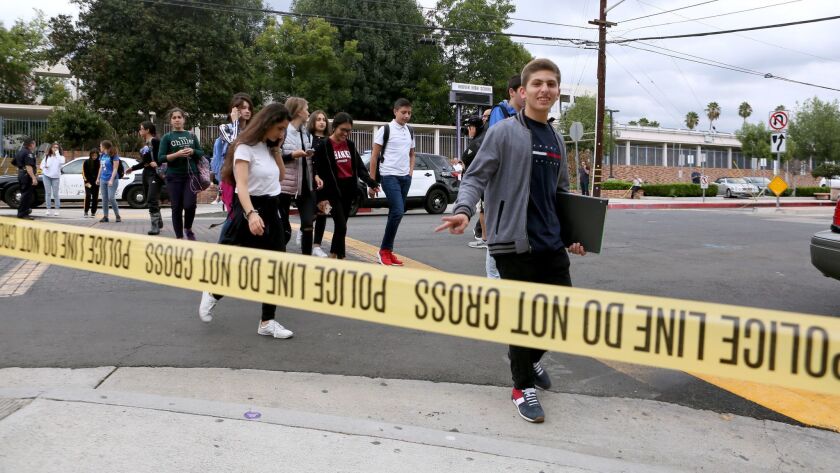 A fight involving several students that occurred on the Hoover High School campus continued to cause consternation for students and district officials for weeks after the melee ended.
Glendale police were called to Hoover on Oct. 3 due to reports of a large fight, which led to the lockdown of Hoover and neighboring Toll Middle School and Keppel Elementary.
The brawl allegedly began after football players defended a special-needs student who was being picked on by an Armenian student.
Because the fight involved some football players, members of the football coaching staff were placed on administrative leave. Some players were also part of a group of nearly 20 students suspended.
Those issues led to the forfeiture of three consecutive Hoover games. One was against Crescenta Valley High on Oct. 19, which was that school's homecoming, along with contests versus Pasadena (Oct. 5) and Burroughs (Oct. 11).
Security issues and threats in the lead-up to the season finale led to a messy cancellation of the annual "Battle for the Victory Bell" rivalry game and homecoming with crosstown foe Glendale on Oct. 25, just hours before kickoff.
That was the first cancellation in the history of the contest, which dates back to 1930.
The homecoming cancellation led more than 200 frustrated Hoover High students to stage a walkout from the campus to the district headquarters on Oct. 29.
District officials responded with a report about what led up to the brawl, stating the causes were not race-related but were instead fueled by rumors and "a lot of testosterone."
A pair of Hoover students countered during a Nov. 5 school board meeting that the fight was indeed "racially motivated," which led to an admission of racism at Hoover High by the board and an apology for inaction by the district staff and leadership.
While restorative circles and listening sessions were implemented by the district as a way to heal, Supt. Winfred Roberson Jr. said the district would not make up the canceled football game between Hoover and Glendale high schools and would instead host a unity event.
Glendale Unified school board members talked openly about a property exchange for the district's administration building for at least five years.
At a cost of $500,000, a 19-month plan was formalized with real estate developer Carmel Partners to swap a property in the city for the district's building, which is in dire need of repairs and improvements, according to school officials.
Glendale Unified would have traded its headquarters at 223 N. Jackson St. for a new home, located at 425 E. Colorado St.
District officials claimed they needed the swap because the district's current home base was not ADA-compliant, lacked adequate parking and enough space for additional resources.
The Jackson property would have been converted into a 207-unit residential development, with some low-income housing, in an already crowded part of Glendale, according to city officials.
That prospect led the City Council to reject the proposal for the new development — but not the idea of a swap — via a 3-1 vote on Dec. 4.
Glendale Unified can either try another proposal or come up with plans to raise at least $40 million for renovations.
In the wake of the Parkland shooting, hundreds of students at Burbank and Glendale schools mobilized this past March, calling for an end to gun violence and for lawmakers to enact gun-control legislation.
Students at several high schools including Crescenta Valley and Burbank highs were allowed to hold walkouts during class time, with some carrying signs with messages like "Enough is Enough" and "We want gun control now."
Other campuses such as Rosemont Middle School in La Crescenta staged "die-ins," where students pretended to be dead on campus.
This past January marked the one-year anniversary of La Crescenta resident Elaine Park's disappearance.
She was last seen on the morning of Jan. 28, 2017, leaving the home of an ex-boyfriend in Calabasas. Several days later, her car was found apparently abandoned along a stretch of Pacific Coast Highway in Malibu with her keys, cellphone and several other personal items inside.
Search efforts and several cash rewards have been unable to turn up any clues as to what happened to Park.
A concrete marker inscribed with the message "Welcome to Glendale" on Foothill Boulevard near Lowell Avenue was taken down permanently by city officials in December after three vehicles crashed into it on three separate occasions in the year since it was erected.
The sign had long been a point of contention among surrounding residents who thought the sign should have welcomed people to La Crescenta or the Crescenta Highlands rather than Glendale.
An identical sign farther down Foothill near Pennsylvania Avenue remains in place and has never been struck by a vehicle.
A short-term rent freeze went into effect on Thursday, meant to buy Glendale officials time to work out an enduring solution to a local affordable-housing shortage that has driven up rents and sent some longtime residents packing, mirroring state and national trends.
City Council members have struggled for several months to appease residents and stakeholders divided over which, if any, restrictions need to be placed on apartment owners to regulate how much and how many times rent can be raised over a year.
When the council passed the rent freeze in late November, limiting rent hikes to no more than 5% of what they were on Sept. 18, members signaled their support for a Right to Lease ordinance, which would require landlords to offer tenants a one-year lease and attend mandatory hearings if they propose large rent hikes. Previously considered rent control appeared to be shelved.
By the rent freeze's expiration date of Feb. 27, City Manager Yasmin Beers said a draft of a Right to Lease ordinance is expected to come before council members.
Glendale residents voted on Nov. 6 to raise the city's sales tax to 10.25% — the highest it can go under state law.
Previously 9.5%, the additional sales tax set to go into effect in April is projected to generate $30 million annually.
When pitching the tax, City Council members said it would generate money they need to fund what they described as essential services, such as affordable housing and street repairs, as well as fire and police service, although it has not been earmarked for anything specific as of yet.
Critics, including resident Mike Mohill, expressed concern about the wide latitude council members would have with the money.
"There's no guarantee where it's going to be spent," Mohill said before the measure passed.
"It's overdue to have some sort of street naming, not a part, not an alley, but a modestly sized street with reference to the current Armenian American community," Glendale City Councilman Ara Najarian said in June before the council voted to do just that.
On Oct. 2, a two-block stretch of Maryland Avenue was renamed Artsakh Avenue, after a contested republic between Armenia and Azerbaijan, during a ceremony hosted by the city.
Not all residents were happy about the name change.
The renaming decision followed weeks of contentious debate among business owners, Glendale residents and Unified Young Armenians, a group of activists who proposed the name change in February.
To address business owners' concerns that the name change will adversely affect them, the city set aside $1,000 for each of the 131 businesses on the two-block portion of the street to help cover costs of reprinting materials with new addresses.
Longtime Glendale employee Yasmin Beers was promoted to city manager, the city's top management job, in February. She is the first woman to hold the position.
"As long as we, as city employees, continue to see public service as a sacred calling, as long as we continue being accountable to the organization and the community, being fair and objective in all matters that we are involved with … we will continue to provide quality services to the community," Beers said after City Council members voted unanimously on her appointment.
In November 2017, Beers, then Glendale's assistant city manager, was appointed interim city manager after Scott Ochoa announced his resignation to accept the top spot at the city of Ontario.
Beers began as a part-time employee in the city's library department in 1987 while a student at Hoover High School and later while attending CSU Northridge.
---