The Glendale Community College football players knelt and bowed their heads in prayer as coach John Rome looked over his team one last time.
For some of the players, it would be their last time playing organized football. For others, there will be another season to look forward to.
But for all, it was their final game under Rome's tutelage.
After 12 years and 117 games as head coach for the Vaqueros, Rome has stepped down to focus more on his daughter, his family and his teaching position at Glendale college.
"I'm the luckiest guy in the world," Rome said. "I got to do what I wanted for 42 years as a coach. To make a living out of it, to have the things you wanted in life — I got to coach football. I got to be with great people and I got to laugh. That's what I'll remember."
Though his final game ended in a last-minute, 41-34 loss to Los Angeles Southwest College on Saturday, Rome walked over to each of his players, hugged them and thanked them for their effort throughout a 2019 season that finished with just two victories.
"I feel bad that we couldn't end it on a win for him," Glendale sophomore quarterback Nathan Eldridge said. "After the way this season has panned out and him not being able to enjoy his year off as a head coach. That shows what we mean to him and how much he means to us.
"He stepped up because we needed a head coach and we knew we could count on him to try to put us in the most successful positions as much as possible."
After the post-game prayer, each offensive lineman lined up to embrace Rome, who finished his career with a 39-78 overall record and 26-54 mark in conference.
"Rome is probably the best coach I've ever had and I've been playing football for 13, 14 years," said sophomore lineman Jacob Real, a Burroughs High graduate. "You know, in high school, everyone's good, but when I came in here, he taught me the basics and all the footwork.
"The way he recruited me, he used to call me after baseball games. Not even football games, baseball games. Always checking up on me. … He's probably the best person here. In football, in Glendale, he's just a very whole-hearted person. I love him to death. I'll do anything for him."
Rome took over the position as the football program's third coach since 1972 after serving as the Vaqueros offensive coordinator for six years under former Glendale coach John Cicuto.
Cicuto resigned after 19 years as coach to focus on his position as the school's as Associate Dean of Athletics, which has since been taken over by his son and former Vaqueros baseball coach, Chris Cicuto.
"It's not an end of an era," Chris Cicuto said. "It's another chapter of Vaquero history, considering there have been three head coaches since the 1970s. It is sentimental to see him walk away from that role, but at the same time, we know his priorities have shifted and we're here to support him with everything he needs."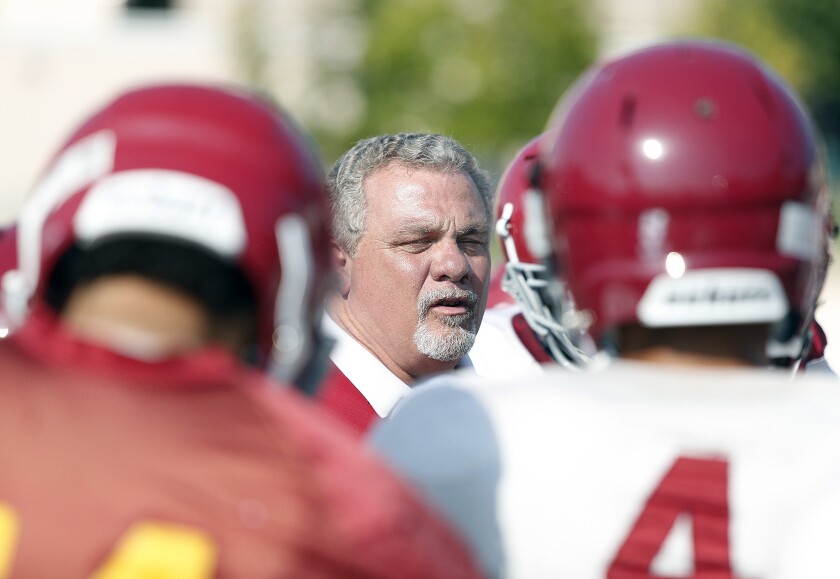 Rome's first head coaching job was at Citrus College for a five-year stint, and has coaching stints elsewhere, including as an assistant at UCLA.
Rome led the Vaqueros to a bowl game in their best season in 2014 with an overall 9-2 record and 6-1 in conference. The season prior, the Vaqueros finished 6-4 with a 4-3 conference record.
A Burbank resident who played defensive lineman at Burbank High, Rome will continue to teach at Glendale college, where he's a tenured kinesiology professor.
"I hope I keep living," Rome said. "I don't want to think about the alternative. I don't want to be like Bear Bryant and die afterwards. I'll check my pulse and keep moving around. I'll raise my daughter and teach for another couple of years. … I don't know what happens in the future. Maybe I'll be somebody's assistant. Maybe if I have time to kill, I'll come back and be an assistant for somebody."
A nationwide search has been conducted to find Rome's successor.
"I know some of his closest and most valued students that have been through the program," Cicuto added. "When they talk about coach Rome, there's an overwhelming sense of security and fondness just because of his paternal style. He has a very loud and strong growl, but when it comes down to it, he certainly a comical genius and he really relates the game to life. He does bring a silver-lining every day when he comes to work."
---