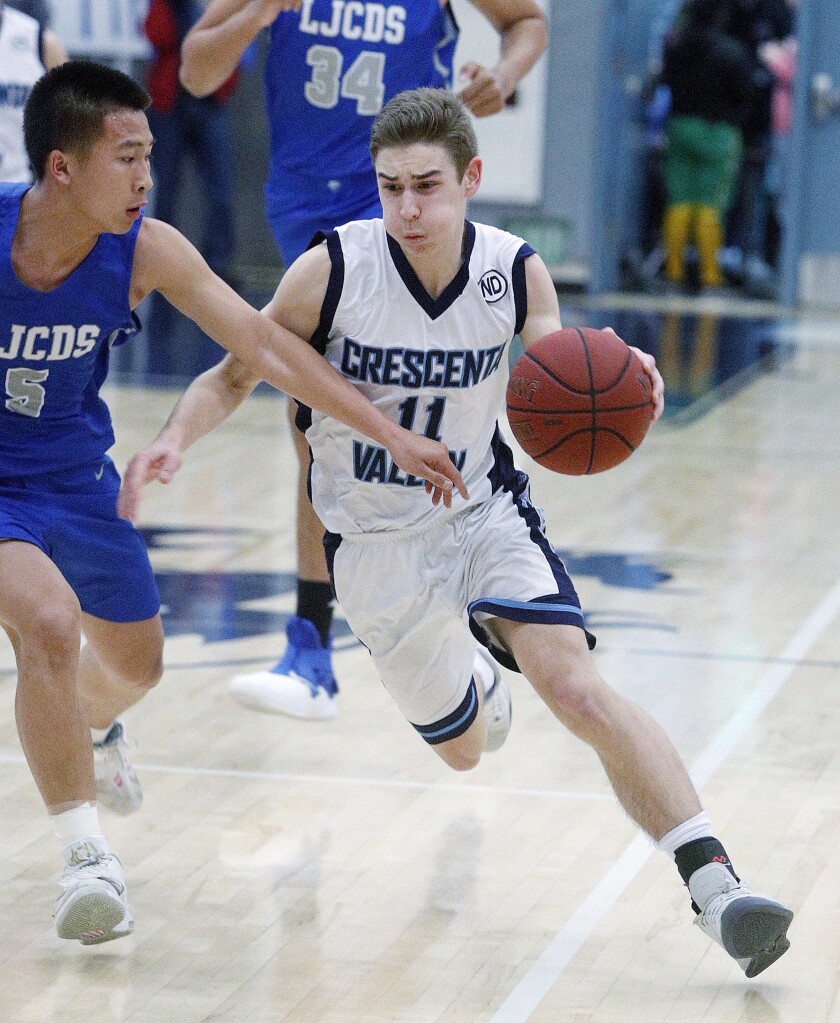 A group of talented local players graced the court last season, leading to their respective boys' basketball teams meeting or exceeding goals.
The biggest story last season came at Crescenta Valley, which enjoyed not one but two fantastic playoff journeys that ultimately led to a benchmark campaign.
In addition to Crescenta Valley, St. Francis, Flintridge Prep and St. Monica Academy each qualified for the CIF playofs in 2019.
Six of the seven coaches from 2019 have returned this year. A former star player at Flintridge Prep will take over as the new coach.
Also, the CIF Southern Section office realigned the divisions in the fall, leading to five of the seven squads shifting to new divisions
Here is a closer look at the teams.
CRESCENTA VALLEY
There have been many successful teams throughout Crescenta Valley's rich history. Perhaps last season's group proved to be one of the more unexpected surprises.
Crescenta Valley went 29-6, 11-3 in the Pacific League for second place behind Pasadena. In the Division II-A playoffs, fourth-seeded Crescenta Valley lost to No. 1, and eventual champion Colony, in the semifinals, 74-54.
Crescenta Valley then competed in the CIF State Division III postseason. Sixth-seeded Crescenta Valley fell to No. 8 La Jolla Country Day, 71-43, in the Southern California regional final. La Jolla Country Day went on to capture the division title.
"We were able to stay within the moment each game, especially in the playoffs," Crescenta Valley coach Shawn Zargarian said. "Looking back, it was incredible to win 29 games and the run through CIF and state was unbelievable. Just a great experience.
"The team that we have this season will be significantly different. We'll have three of our seniors back and five sophomores on the team, so it will be a process. There will be a lot of new roles and a lot of teaching and learning to do."
Crescenta Valley will bring back standout senior guard Tyler Carlson, who averaged 19.4 points per contest and earned a spot on the All-CIF first team. Carlson also set the school record for most three-pointers made in a single season with 125.
Carlson will be supported by senior center Chuck Meyer, senior guard Danny Khani, sophomore forward Ryan Raad and sophomore guards Gavin Shaghoian and Sean Kosco.
The Falcons will now reside in Division I.
ST. FRANCIS
It proved to be a remarkable season for St. Francis and coach Todd Wolfson. St. Francis finished 24-8, 2-4 in the Mission League for fifth place. After picking up an at-large berth in the Division III-AA playoffs, St. Francis fell to Oxnard, 61-49, in the quarterfinals.
"We had a fun run in the playoffs and we gained some good experience along the way," Wolfson said. "We showed how we can compete against some of the big teams in league and the division.
"We are looking at the program today and in the future. We think we can achieve some big things and some good things will happen."
St. Francis will return senior guard Andre Henry, who has committed to UC Irvine. Henry picked up All-CIF first-team recognition after averaging 19.3 points, 11.9 rebounds, 3.9 assists, 1.7 blocks and 1.4 steals per game a season ago.
Henry will be joined by senior forward Kai Glassen and senior guards Jason Gallant and Frederick Harper.
The Golden Knights will now reside in Division II-AA.
FLINTRIDGE PREP
For the first time since 1999, Flintridge Prep will have a new coach. Garrett Ohara stepped down in March after posting a .608 winning percentage and leading the Rebels to a CIF title in 2011.
Flintridge Prep went 14-12, 5-3 for second place in th Prep League last season. Flintridge Prep lost, 49-36, to Temple City in a Division IV-AA first-round playoff road contest.
Stepping in to replace Ohara will be Ramses Barden, a former multi-sport star player at Flintridge Prep who also helped the New York Giants win a Super Bowl in 2011.
Barden played for Ohara from 2000-2004 and picked up All-CIF honors.
Now, Barden will have a chance to shape the program's foundation after serving as Ohara's assistant.
"Garrett is a coach, friend and mentor and I've learned so much from him," said Barden, whose team will remain in Division IV-AA. "It's been about communication, preparation and leadership and we'll continue that here.
"We'll go out there and play to our strengths and take anything the opposition gives us."
Flintridge Prep will be anchored by senior guard Jack Cartwright, senior guard/forward Kevin Ashworth and junior guard Zach Kim.
ST. MONICA ACADEMY
After advancing to the Division V-A semifinals and reaching the state tournament for the first time in program history in 2018, St. Monica finished 12-9, 6-2 in the International League for second place behind Le Lycee last season. The Crusaders lost to Wiseburn-Da Vinci, 72-38, in a Division IV-A first-round tilt.
St. Monica will move to Division V-AA this season.
"I'm pretty optimistic about our team because we have a lot of depth," St. Monica coach Peter Grimm said. "We have good leadership in the backcourt and we'll look to play a little more faster. Every starter from last season returns."
The Crusaders will rely on senior guard Ernie Grimm, senior forward Abe Lemon, sophomore guard Liam Mireles and sophomore forward James christian.
GLENDALE
Expectations will likely be high for Glendale, which went 19-9, 7-7 in the Pacific League for fifth place last season.
Under coach Ib Belou, the Nitros will have 15 players, including 11 seniors.
It's the ideal opportunity for Glendale to challenge for a playoff spot after coming up short last season.
"We'll have a lot of experience, so that will help," Belou said. "Most of our guys have two or three years of varsity experience and we want to move up in our league and get back to the playoffs. The best way to do that is to put ourselves in position to win games."
Glendale, which will move to Division III-AA after being in Division III-A last season, will be led by senior guards David Shamiryan and Manny Kapoushian.
HOOVER
The Tornadoes will look to turn things around after going 7-19, 1-13 in the Pacific League for last place a season ago.
Hoover, which will reside in Division IV-AA for a second straight season and last reached the postseason in 2015, will bring back senior guard Derrick Eliasi and junior guard/forward Shant Kildejian, while looking to get back on track.
"We'll have another young team, but we are hopeful," Hoover coach Jack Van Patten said. "We'll see who can step it up and there's enthusiasm in terms of them playing as well as they can."
GLENDALE ADVENTIST ACADEMY
Glendale Adventist struggled last season, finishing 2-14, 0-7 in the Independence League.
Coach Chris Lindstadt said there's potential for the Cougars to move in the right direction.
"I like our group and the effort they are putting in right now," Lindstadt said. "We're not real big in size, but we'll expect to be competing hard in the games."
Glendale Adventist, which will stay in Division V-A, will be led by senior forward Nic Dorsey and junior guard Anthony Avadesian.
---