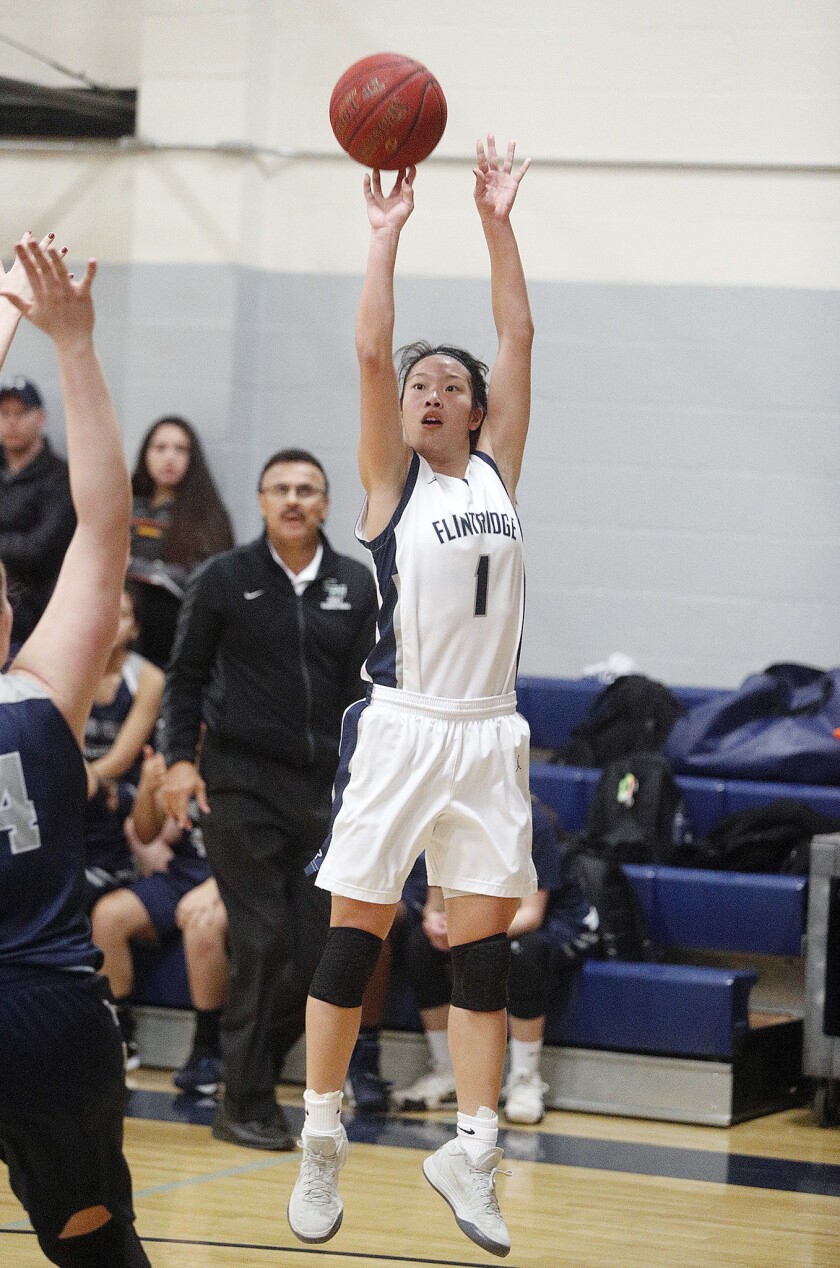 Over the past five seasons, the Flintridge Prep girls' basketball team has enjoyed a wealth of success.
The Rebels have built a foundation that's led to five straight Prep League championships, two CIF Southern Section championship appearances, one CIF title and several trips to the state tournament.
Crescenta Valley, Flintridge Sacred Heart Academy and St. Monica Academy joined Flintridge Prep as the local squads to appear in the playoffs last season.
Holy Family and St. Monica will have new coaches this season.
Four of the eight teams have been moved to new divisions after the CIF Southern Section office realigned the divisions in the fall.
Here is a closer look at the teams.
FLINTRIDGE PREP
Things continue to look promising for Flintridge Prep, which went 25-4, 12-0 in the Prep League before reaching the Division II-A semifinals. Flintridge Prep lost to No. 1 seed and eventual champion Lakeside, 60-51. The Rebels also took part in the CIF State Division II playoffs, falling to No. 1 Mark Keppel, 73-58, in the second round.
With more experience this season, the Rebels are hungry to continue their league mastery and take another run at a CIF title. The Rebels will now reside in Division II-AA.
"I think we showed a lot last season and we lost to a pair of top-seeded teams that were excellent," said Flintridge Prep co-coach Kevin Kiyomura, who shares the duties with Jayme Chan. "We showed people what we are capable of doing and that's what we want to continue.
"We can be very successful and we like the group that we have."
Flintridge Prep will bring back several key players, including senior forward Kaitlyn Chen. Chen averaged 18.1 points, 8.7 rebounds, 4.3 assists and 2.7 steals per game last season and was named an All-CIF first-team selection and league player of the year.
Chen will be joined by senior guard Andie Kim, senior forward Alex Kyriakakis, junior guard Sofia Gonzalez, junior forward Emma Stellar, sophomore guard Ashlyn Zhang and freshman guard Ashley Chen.
"Kaitlyn is one of the best players in our division and we know we can always count on her," Kiyomura said. "We'll have plenty of talent to surround her."
CRESCENTA VALLEY
After splitting the Pacific League title in 2018, Crescenta Valley finished tied for second last season with Pasadena and Burroughs behind champion Arcadia. Crescenta Valley finished 18-11, 10-4 in league and fell, 35-34, to Huntington Beach in a Division II-AA second-round contest.
Crescenta Valley, which will stay in Division II-AA, will look to get back to the top in league with a core of seniors.
"We'll definitely be pretty good," Crescenta Valley coach Jason Perez said. "We'll have a lot of good shooters, so we'll be able to score a lot of points.
"In order to win league, we'll need to be able to rebound against the bigger teams."
Crescenta Valley will return senior guards Denise Dayag, Nataly Minassian and Monique Arezoomanian. They will be supported by senior forward Lily Geck and junior guard Katrina Minassian.
FLINTRIDGE SACRED HEART ACADEMY
The Tologs will compete in the Sunshine League for a second season in a row. Last season, Flintridge Sacred Heart went 17-10, 4-4 in league for third place behind Marymount and Sherman Oaks Notre Dame and lost, 53-43, to Workman in the first round of the Division IV-AA playoffs.
Flintridge Sacred Heart coach Ty Buxman, whose team will remain in Division IV-AA, said he's optimistic the Tologs can contend for a league championship.
"Our goal is to win a league championship, but it's not going to be easy with teams like Louisville and Marymount out there," Buxman said. "We have a pretty good core of returners and they have a lot more experience. We'll see how we continue to develop."
Flintridge Sacred Heart will be paced by senior guards Jenna De Vera and Manami Hayashi and sophomore forward Faith Ellis.
ST. MONICA ACADEMY
St. Monica will have its third coach in as many seasons after the Crusaders brought in Matt Parke over the summer. Parke replaces Rick Allard.
St. Monica captured the International League championship last season. St. Monica finished 14-5, 10-0 in league and fell to Wildwood, 60-59, in a Division V-AA first-round game.
Parke said the Crusaders would like to win another league title.
"First, we want to see improvement each game so that we are playing our best basketball toward the end of the season and take a shot in the playoffs," Parke said. "We'll have some key returners, plus we'll look to see how our younger players can handle themselves."
St. Monica will turn to junior forward Karinna Turrichi, sophomore forward Maggie Lemon and freshman guard/forward Kassie Turrichi.
The Crusaders will be in Division IV-A this season.
GLENDALE
There figures to be a lot of experience in play for Glendale, which finished 13-14, 6-8 to tie for fourth place with Burbank in the Pacific League last season.
Glendale, which shared the league championship in 2018, will look to regroup and make a move atop league under the direction of coach Tadeh Mardirosian.
"It's an older team and we'll be fast," said Mardirosian, whose squad will move to Division III-AA after being in Division II-A last season. "We're excited and we have players who have been with the program for all four years, so they know their expectations.
"We know league will be very good again and we'll look to be right there. We have a very good shot at making the playoffs."
Glendale will be anchored by senior guard Mary Markaryan and senior forward Melissa Zamora.
HOLY FAMILY
Rafael Valenzuela takes over the coaching responsibilities, replacing Greg Ziomek. Holy Family finished 4-12, 4-6 for fourth place in the Horizon League last season.
Holy Family will have just six or seven players and Valenzuela will continue to search for additional depth.
"We're going to be a very young team and we have just one senior," Valenzuela said. "We'll look to improve and see what we can do. It would be great if we could add at least a couple of more players."
The Gaels will turn to senior forward Daisy Rivera and junior guards Julia Wilkerson and Amy Garcia and Mia Rodriguez.
Holy Family will stay in Division V-A.
HOOVER
The Tornadoes remain a work in progress. Hoover went 3-17, 0-14 in the Pacific League for last place a season ago.
Hoover will have a nucleus of seniors, giving coach Stan Watson some optimism.
"There are some good things in that we'll have seven seniors and we'll have some height," Watson said. "It will give us a chance to be more competitive and maybe put us in position to knock off some teams in our league."
Hoover, which will shift to Division IV-A after being in Division IV-AA last season, will be led by senior forwards Hasmik Ter Martirosyan and Adeleen Grigorian, senior guard Talia Nazarian, sophomore forward Paola Gorgeiz and sophomore guard Emily Gharibian.
GLENDALE ADVENTIST ACADEMY
Glendale Adventist Academy looks to be more experienced this season after going 4-14, 2-8 for fifth place a season ago in the Independence League.
Coach Miles Alexander said the Cougars will strive to improve.
"We'll have mostly juniors and seniors, so we'll look to finish better in league," Alexander said. "We need to work a little bit more on teamwork."
The Cougars, who will remain in Division V-A, will turn to senior forward Anna Nicolas, senior guard Chelsea Ng and junior guard Isabel Sandoval to pave the way.
---