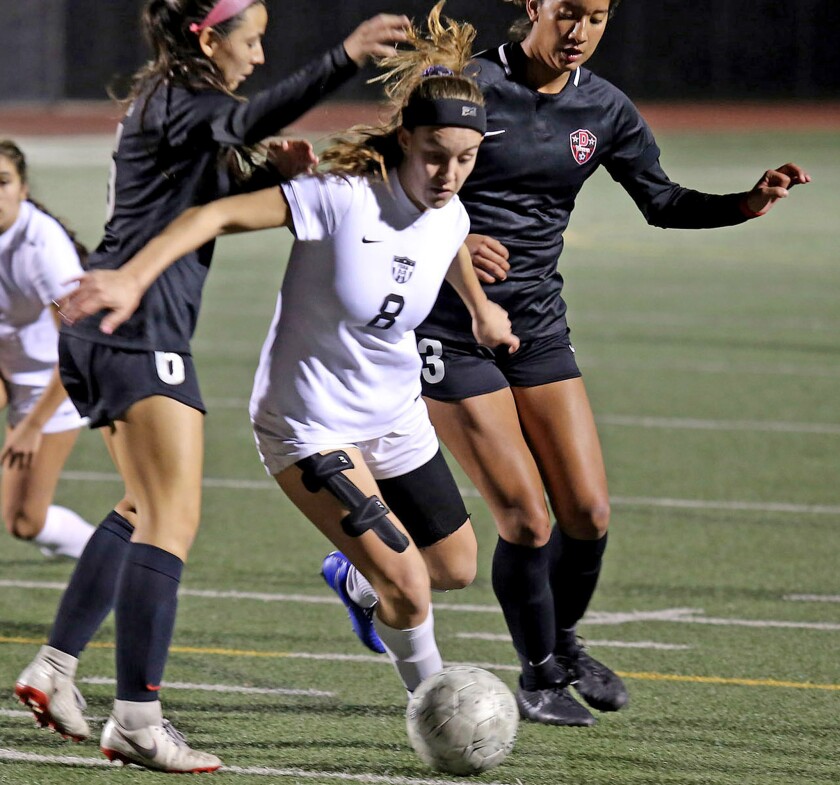 Several area girls' soccer teams enjoyed impressive campaigns last season, culminating with Flintridge Sacred Heart Academy advancing to a CIF Southern Section championship match before winning a Southern California crown. It marked the second Southern California title in program history.
Flintridge Prep, Cescenta Valley and St. Monica Academy also qualified for the postseason in 2019 and will attempt to return this season. Glendale, Holy Family and Hoover didn't make the playoffs and have refined their respective programs.
CIF underwent realignment across the seven divisions for a fourth year in a row, resulting in Flintridge Sacred Heart, Flintridge Prep and Glendale being shifted to new divisions this season.
Here is a closer look at the teams.
FLINTRIDGE SACRED HEART ACADEMY
Flintridge Sacred Heart struggled during the first part of last season before turning things around and achieving plenty of postseason success.
Flintridge Sacred Heart finished 14-5-3, 3-2-3 in the Mission League for second place and reached the CIF Southern Section Division III championship match, falling, 1-0, to top-seeded Oak Hills. However, second-seeded Flintridge Sacred Heart regrouped a week later to win the CIF Southern California Regional Division III title with a 3-0 victory against No. 5 Culver City at St. Francis High.
"What we were able to do last year was quite impressive and we had to rebuild our defense for the most part," Flintridge Sacred Heart coach Mark Snashall said. "We had some rough stretches early in the season, but we believed in our players and system so that we could have some success.
"Now that they've gotten a taste of what it's like to win, they want another taste of it. We gained a lot of experience and we can draw from that. We just have to be ready to show up and play."
The Tologs return junior forward/midfielder Madison Leroy, who received an All-CIF Southern Section nod after registering 25 goals and nine assists for 59 points last season.
Leroy will be joined by senior midfielders Hillary Howard and Madeleine Hara and junior goalkeeper Joshlyn Aguirre.
The Tologs will now reside in Division II.
FLINTRIDGE PREP
After winning the Division III championship in 2018, Flintridge Prep went 22-1-1, 10-0 in the Prep League for first place last season. Flintridge Prep won its fourth consecutive league championship and earned the top seed in the Division II playoffs before falling to visiting Moorpark, 2-1, in a second-round contest.
Expect the Rebels to look vastly different this season, Flintridge Prep coach Esteban Chavez said.
"We've lost a lot of players, especially up front," Chavez said. "But, we've established a culture and a set of standards that we go by and the expectations are to win. I think we have enough to be able to win league again and then we'll go from there."
Flintridge Prep won't be short on talent, as it brings back junior forward/midfielder Mckenna Dominguez. Dominguez finished with 36 goals and 35 assists for 107 points last season en route to receiving All-CIF accolades.
Also expected to pave the way for the Rebels, who have been moved to Division III, are senior defender Natalie Brown, junior defender Melanie Ng and sophomore forward/centerback Kylie Oh.
CRESCENTA VALLEY
Crescenta Valley found itself in contention for the Pacific League title last season under the guidance of coach Tyrashya Peterson. The Falcons finished 14-5-4, 11-1-2 in league for second place behind Burroughs before suffering a 1-0 road defeat against Serrano in a Division III first-round match.
The good news for Crescenta Valley, which will stay in Division III, is that it will return its nucleus in its quest to win a league title.
"We're excited because we return most of our players and it's a very cohesive group," Peterson said. "They have experience and we are capable of progressing. We've been right there in league the last several years and we feel like that will be the case again this year."
Crescenta Valley will be bolstered by senior midfielders Amy Rowe and Kat Thamasian, senior defender Sarah Gabon, junior forward Ashlin Cuesta and junior forward/midfielder Dana Ryan.
ST. MONICA ACADEMY
St. Monica Academy will have its third coach in as many seasons, as Graeme Percy takes over for Sam Barroudi.
The Crusaders went 9-8, 5-5 in the Heritage League for third place last season. St. Monica dropped a 2-1 decision to Mary Star of the Sea in a Division VII first-round road contest.
Percy will look to lead the Crusaders, who will remain in Division VII, to more success with a 13-player squad.
"It will mostly be a younger team and we have just three seniors," Percy said. "We'll observe how we are doing early in the season and set more goals. It's just about competing and enjoying themselves right now."
St. Monica will be led by junior midfielder Karina Martin and junior centerback Genevieve Pulido.
GLENDALE
It might be a rebuilding season for Glendale, which finished 7-6-4, 6-6-2 in the Pacific League for fifth place last season after qualifying for the postseason in 2018.
The Nitros lost nine seniors, leaving coach Victor Aquino in position to find some new players to fill those positions and roles.
"It's hard when you lose that many players, but we do have a nice mix of returners and some underclassmen who have a chance to step in and contribute," said Aquino, whose squad will be in Division IV after being in Division V last season. "Sometimes it's good when you have that kind of makeup because it can bring a better dynamic to the team."
Glendale will be paced by standout senior forward/midfielder Ella Wasson, senior midfielder Zoe Charum and junior forward/midfielder Amelie Araya.
HOLY FAMILY
The Gaels had one of their better seasons in recent years and just missed qualifying for the Division VII playoffs. Holy Family went 8-8, 4-6 in the Horizon League to tie for third place with Alverno Heights. However, the Gaels missed out on extending their season by way of a tiebreaker in which Alverno Heights scored one more goal in league.
Holy Family will look to turn things around with the return of senior midfielder Brianna Cindrich, who finished with 58 goals last season.
Cindrich will be supported by senior midfielder Maya Devora, senior sweeper Samantha Martinez, senior stopper Vanessa Cruz and senior goalkeeper Goalie Maely Lopez.
"My players all now have experience playing together," Holy Family coach Sal Sarmiento said. "We've been playing our unique Euro-Latin system for four years and are hungry to make the playoffs."
The Gaels will again be in Division VII.
HOOVER
Hoover will return a trio of key players while looking to move up in the Pacific League. The Tornadoes went 8-14-2, 2-10-2 in league for seventh place last season.
Hoover, which will remain in Division V, returns senior midfielder Melanie Torres, senior defender Kassandra Martinez and junior forward Madeline Coppersmith.
"We've worked a lot at getting better in the offseason," Hoover coach Luis Ardiano said. "We're pretty confident with the group that we have.
"We're working more on becoming a better defensive team and we'll look to continue to improve on offense."
---