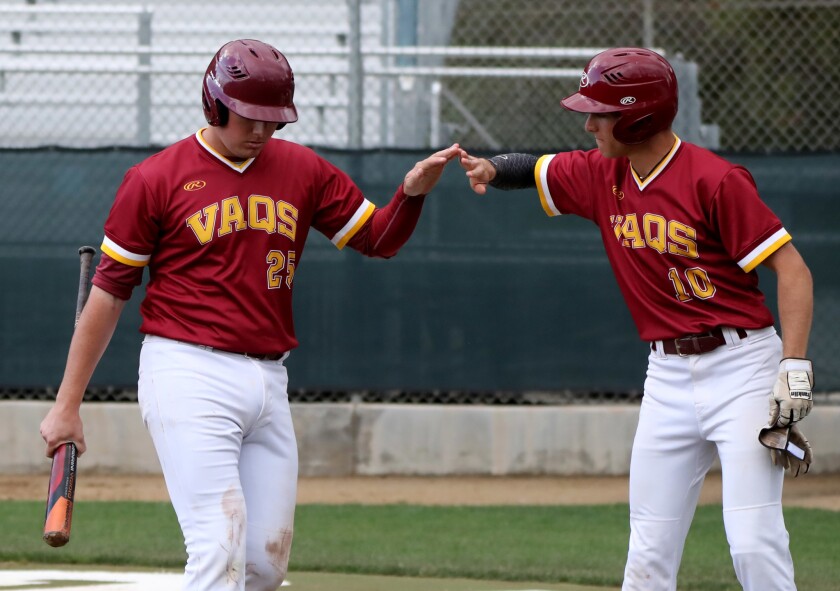 The Glendale Community College baseball team seeks to embrace upcoming challenges in its quest to defend its Western State Conference championship.
A key element in maintaining the back-to-back conference champion's brand of baseball and success will be the team's mixture of a new pitching core and a group of returning position players.
The Vaqueros are coming off a season in which they reached the California Community College Athletic Assn. Southern California Regionals and finished with a 30-17 overall record and a 15-5 mark in conference.
This year, however, the Vaqueros will run into some new conference opponents after the division's realignment as the Western State Conference transitioned from three divisions to two.
"Based on my perception of it, I think it's going to be really, really strong," Glendale second-year coach Alex Kocol said. "If a state champion came out of our conference this year, I don't think anybody would fall out of their chairs. I think our conference can send four teams into the playoffs. It's going to be a really strong year for baseball in our area and the state in general."
In order to come away with another conference title, Vaqueros will have to fend off old Western State Conference East Division opponents in a best-of-three series against the likes of Antelope Valley, Barstow, Citrus, Victor Valley, and College of the Canyons.
Glendale will also have three-game sets against new conference additions from last season's Western State Conference South Division, Bakersfield, L.A. Mission, L.A. Valley and West L.A. Last season, Bakersfield was crowned the Western State Conference South Division champion.
"We've had success in that alignment as well, but it's going to be a different type of season," Kocol said. "It's not going to be where you have to win 18 or 19 games to win conference. Fourteen games might win conference and that's what it used to be where everyone's beating up on each other and it's very close.
"We think we're going to be one of the better ones in the state, definitely in the top five."
Among the returning group of infielders are second-team all-conference honorees Hans Seo, Sammy Martinez and St. Francis graduate Christian Muro.
The Vaqueros should also greatly benefit from returning first baseman and gold glove recipient Casey Slattery, who led the team in runs batted in last season and was drafted by the New York Mets in the 38th round (1,138 overall) of the 2019 Major League Baseball Draft.
The Harvard-Westlake High product hit .325 (54 for 166) with 45 RBI, 38 runs, 12 doubles and eight triples. Slattery, who spent last year as a redshirt freshman after transferring from University of California, earned all-conference second-team accolades.
Kocol will also have returning all-conference first-team outfielders Alex Mills and Trent MacKinney, who was also bestowed second-team Southern California-American Baseball Coaches Assn./Rawlings All-Region honors. MacKinney led the team after hitting .430 (64 for 149), drove in 29 runs, scored 47 runs, collected 10 doubles and knocked four home runs.
"On paper, we have enough to win a state championship," Kocol said. "The expectation is that we're going to be in the postseason and that we're going to go really, really deep. I'm not afraid of telling you that that's one of the goals. … I expect to get there this year than any other year. We should get that far."
At catcher will be new addition in Glendora High grad Emiliano Gonzalez. The Vaqueros will also have versatile infielder Artin Biageyian out of Agoura.
"From a position standpoint, we're going to be able to do a lot of the same things we do a lot of things we did last year," Kocol said. "We had a really historic season, offensively. Obviously, conference is going to be a little bit different, but we hit in the postseason, at least until we got to El Camino. That side of it is a less of a concern. The pitching is going to be all brand new."
The starting pitching crew has plenty of new faces, but returning to the staff are right-handers Reece Matheisen, Guillermo Pinedo, Trevor Hoff, Ethan Durant, and Crescenta Valley High graduate Luke Hempel.
"It's unproven," said Kocol of his pitching core. "It could be really talented. Guys are working really hard, but the question will be can they produce. And they will produce eventually. It's just a question of when."
The new pitching additions Kocol has high hopes for are left-handers Brent Chavez and Tobias Plotkin, a Village Christian graduate. Right-handers include Niko Khoury, Aaron Suval, Burroughs graduate Julian Jaramillo and St. Francis graduate Aaron Treloar.
"We got guys who had incredible careers that are gone, but those guys also developed," Kocol said. "Those guys also came in at one point and we took their lumps with them. They achieved, and that's where we are with this group and this group may be better than any group we've had on the mound."
---