Providence boys' basketball earns share of league title with win over Flintridge Prep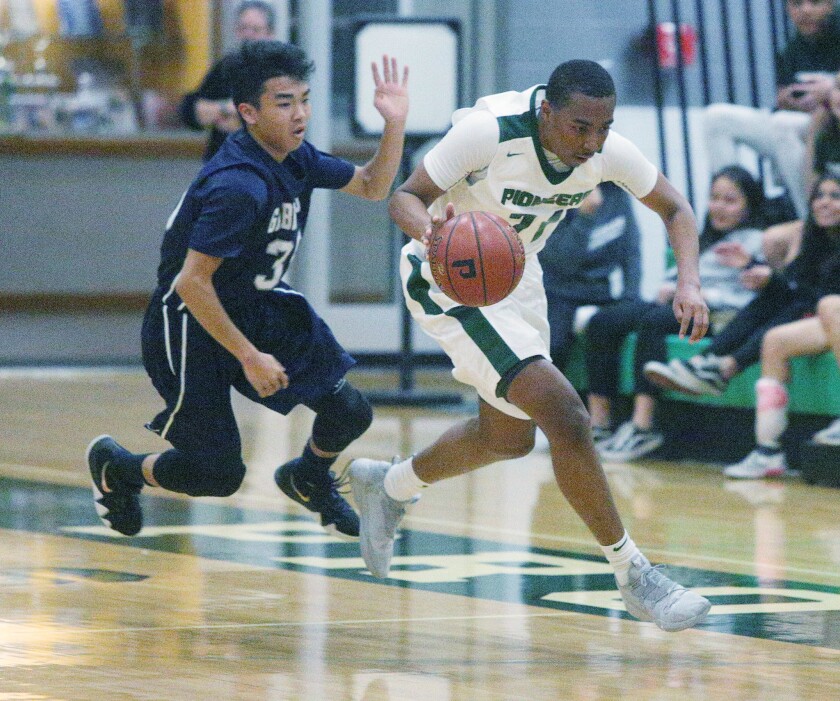 LA CAÑADA — With a chance to earn a title share, the Providence High boys' basketball team set the tempo early in its Prep League game against Flintridge Prep on Tuesday.
Hoping to secure their second consecutive crown on the road against the Rebels, the Pioneers' defense held the hosts scoreless for much of the first quarter while building a lead.
Though Flintridge Prep chipped away at the advantage late in the first quarter, Providence maintained its momentum, winning, 52-31, to earn a share of the league championship.
With two league games remaining, the Pioneers (19-6, 6-0 in league) can claim the outright title with a win Friday at Pasadena Poly.
"Our team came out and defended," Providence coach Brandon Lincoln said. "I don't think we played a very clean game, but I think, defensively, we had very good focus to start. Flintridge Prep plays hard. They have a winning culture. Very tough team.
"Anytime we can go up against a team with that kind of tradition and history and give them the defensive performance we gave them, I think we have to be happy about that knowing the kind of players they have within this program."
Pioneers senior A'Jahni Levias led Providence with 13 points, all in the first half, after he was pulled in the third quarter following a hard foul. Providence senior Collin Ferrell added 12 points and six rebounds and junior Braxton Williams recorded seven points and six rebounds.
"We just want to approach every game hard," said Lincoln, whose team is ranked No. 1 in CIF Southern Section Division III-AA. "We have a handful of kids that experienced a significant run last year in the playoffs so they have a winning mentality, so we're just trying to carry that over. I don't know what our fate is this season, but I want to approach every game with respect and effort knowing how competitive our league is. We want to bring it every night.
"Every team is going to prepare to play us as we are prepared to play them. We just want to bring the effort and focus and bring them our best game as well."
Flintridge Prep (10-12, 3-3) was led by sophomore Joshua Kim with 14 points. Freshman Andrew Jordan chipped in with five points and seven rebounds.
The Rebels missed their first seven field-goal attempts of the game, while the Pioneers took a 13-0 lead.
"I think we struggled defensively as a unit and they're a really good team," Flintridge Prep first-year coach Ramses Barden said. "You have to give those guys credit. They prepared well, they're coached well and they're skilled, smart basketball players.
"They took advantage of every opportunity that we left and then they earned a few things. Obviously, we have some work to do to prepare other good teams because everybody's good at this level."
Levias scored seven points in the Pioneers' opening 13-0 spurt before Rebels sophomore Dylan Mealey's basket at 2:50 in the quarter ended the run.
Back-to-back baskets from Kim cut the Pioneers' lead to 15-6 with 34.0 left in the quarter, but Williams hit a shot to make it an 11-point margin at the end of the frame.
A three-pointer from Rebels senior Jack Cartwright put Flintridge Prep within eight, 17-9, at 6:45 in the second, but a jumper from Michael Joanou sparked a 13-0 run for Providence for a 30-9 lead with 2:18 left in the half.
With 54.2 remaining, Mealey ended the Providence run with a free throw, and Kim closed the quarter with a basket at the buzzer as the Pioneers took a 30-12 lead into the half.
Kim sliced Providence's lead to 32-17 after a three-pointer to start the second half, but the Pioneers went on a 10-0 scoring run before Jordan's basket at 2:44 ended the Rebels' drought.
The teams traded baskets with 2:11 remaining, however, neither would score in the remainder of the frame as Providence led, 46-19.
A put-back from Ferrell gave Providence it's largest lead of the game, 46-22, before the Pioneers made numerous trips to the free-throw line.
"Last time we played them a couple of weeks ago, we didn't have the fire we feel like we could have had," Ferrell said. "We know what we're capable of and, last time, we kind of went below that standard. We definitely wanted to start on a good note and playing our hearts out."
The Rebels made the final two baskets, the last being a three-pointer from Jordan with 1:13 left to make it a 52-31 score.
---