Group of area football players bestowed with All-CIF recognition
It proved to be a successful season for a trio of area football teams, leading to league championships and deep postseason runs.
For the Crescenta Valley High, St. Francis and Flintridge Prep squads, plenty of players got the job done in helping their squads register winning campaigns.
For their excellent work between the lines, 11 area players were bestowed with All-CIF accolades after the CIF Southern Section office unveiled its first-team selections across all 14 divisions at the 11-man level and two divisions in eight-man on Monday.
In all, Crescenta Valley had seven players named, along with three from Flintridge Prep and one from St. Francis. In addition, Crescenta Valley first-year coach Hudson Gossard was tabbed the Division X Coach of the Year
Crescenta Valley led the way after winning the Division X championship. Top-seeded Crescenta Valley went 14-0, 6-0 in the Pacific League and registered a 19-16 win against host Simi Valley in the championship contest.
Leading the charge for Crescenta Valley was junior running back/linebacker Sebastian DeLeon, who was named the division's offensive player of the year. He rushed for 324 yards in 50 carries and scored 11 touchdowns. DeLeon added four touchdown receptions and registered 163 tackles and 5 1/2 sacks in 14 games.
"Sebastian proved to be an unstoppable force and we could use him in so many ways," Gossard said. "We turned to him on offense and he always picked up the tough yards.
"He led our defense in tackles. He's got that great combination of size, speed and toughness."
Crescenta Valley also had Chase Center, Armen Erdoglyan, Chuck Meyer, Vincent Parrott, Colby Rees and Angel Ochoa pick up postseason hardware. They were joined by Kevin Armstead of St. Francis and Flintridge Prep's Max Gitlin, Zach Kim and Ben Grable.
St. Francis tied for first in the Angelus League and Flintridge Prep was third in the Prep League.
Center, a senior quarterback, completed 89 of 137 passes for 1,330 yards. In 10 contests, Center threw 18 touchdowns with three interceptions and completed 65% of his pass attempts before suffering an injury late in the regular season.
"Chase was having a great season right up until he got hurt," Gossard said. "He missed four games and came back in the championship game and that took guts.
"Chase knew how to read the plays well and see the field."
Erdoglyan, a senior, starred on the offensive line and competed in 13 games to help the Falcons win the league title.
"Armen is as tough as nails and he anchored the line," Gossard said. "You could always count on him to do a quality job of blocking."
Meyer stood tall as a senior lineman. Meyer had 37 tackles, including 5 1/2 for a loss, and six sacks in 14 games.
"He always had a huge impact on the defensive line," Gossard said. "What Chuck did for us was unbelievable and he played most of the playoffs with a broken wrist."
Parrott, a senior defensive back, contributed 46 tackles in 14 games.
"With Vincent, he was so versatile and we could plug him in just about anywhere," Gossard said. "He's a quiet leader, yet extremely athletic."
Rees had another outstanding season as a senior receiver. He finished with 30 catches for 469 yards and 14 touchdowns. He contributed three rushing touchdowns in 14 games.
"Colby was our slot receiver and wildcat quarterback," Gossard said. "He brought leadership and character and was such a luxury to our team."
As a senior defensive back, Ochoa notched 58 tackles and six interceptions in 14 games.
"Angel proved to be an explosive player, especially on defense," Gossard said. "You knew going into a game that he would make one or two big plays."
Armstead enjoyed another impressive season with St. Francis, which went 8-3, 2-1 in league.
St. Francis shared the league title with Cathedral and Crespi. Visiting St. Francis fell, 42-14, to Cajon in a Division III first-round playoff game.
Armstead, a senior running back, had 214 carries for 1,390 yards rushing and 14 touchdowns in 10 games. He had 22 receptions for 235 yards and one touchdown.
"Kevin is a very good athlete and he did a great job carrying the ball 25-30 times per game," St. Francis coach Jim Bonds said. "He did so much for us.
"I was most impressed about his maturity level from his sophomore to his senior season. He just kept getting better each season."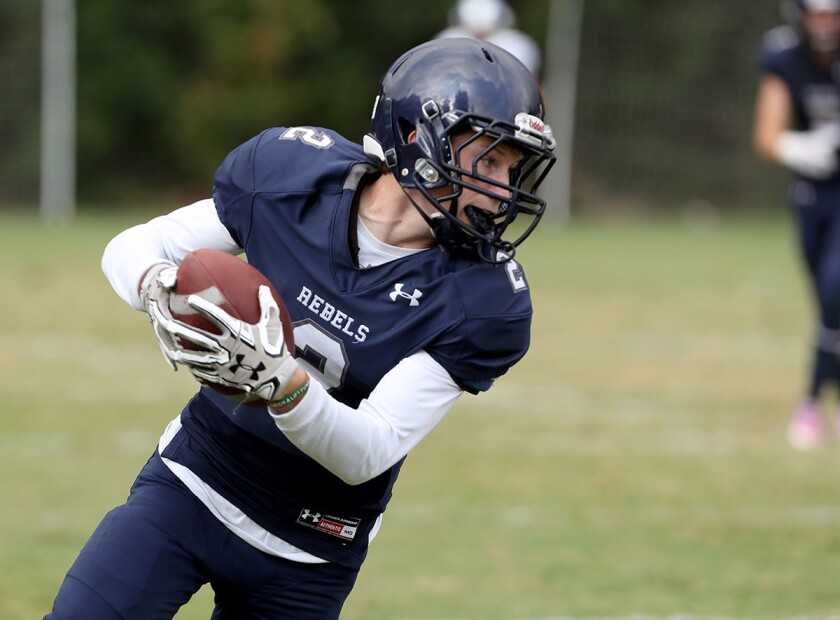 Gitlin, Kim and Grable proved to be pillars again for Flintridge Prep, which finished 10-3, 1-2. The No. 4 Rebels advanced to the Division I semifinals, losing to No. 1 seed and eventual Prep League and CIF champion Windward, 47-14.
Gitlin, a senior quarterback, completed 210 of 324 passes for 2,740 yards. He tossed 57 touchdowns and five interceptions in 13 games.
"Max had to wait patiently for three years before getting his chance and he more than came though for us," Flintridge Prep coach Russell White said. "He's got a great attitude and he knew where to throw the ball in the tough spots."
Kim excelled as a junior wide receiver and defensive back. Kim finished with 87 receptions for 1,085 yards and 21 touchdowns in 13 games. In addition, Kim had 23 tackles and six interceptions.
"We could always count on Zach on both sides of the ball and he just kept it all together," White said. "He's become a better player each season."
Grable, a senior receiver and defensive back, finished with 92 catches for 1,153 yards and 28 touchdowns in 13 games. He added 30 tackles.
"Ben had a great football career here," White said. "He was versatile this year and really led the way by commanding respect from the other teams."
---