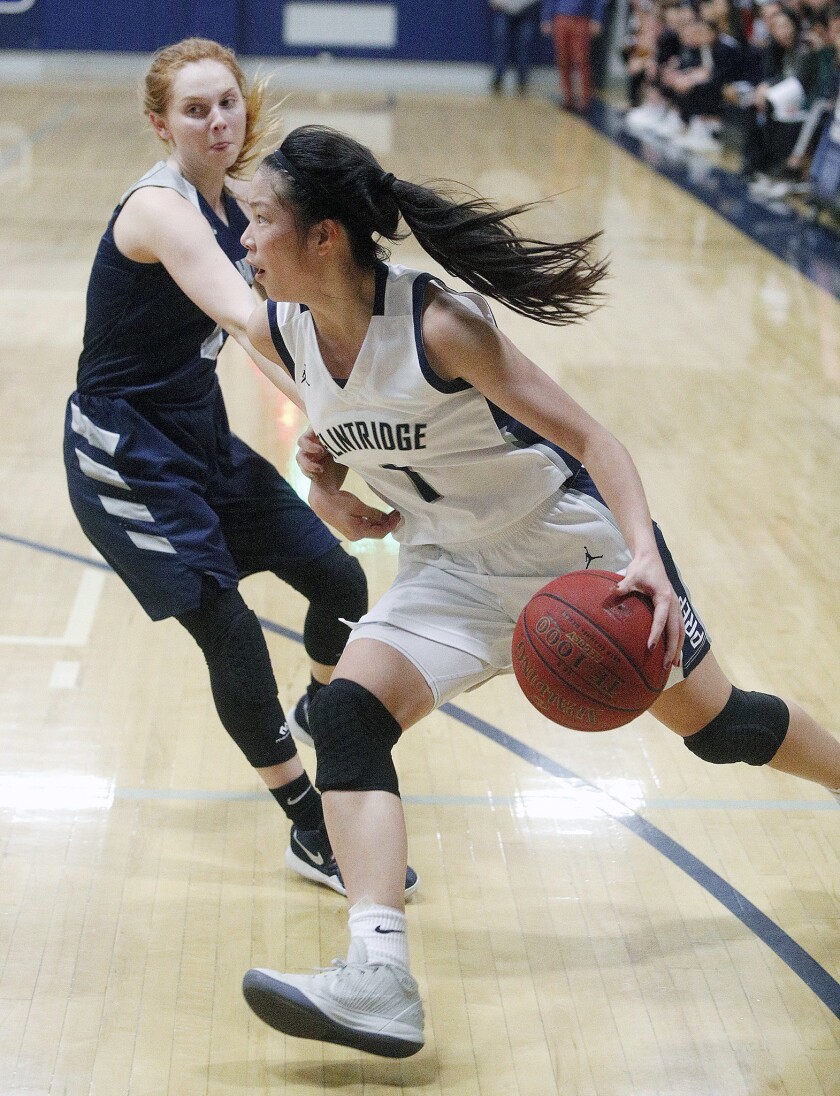 While turning in another magnificent season, Kaitlyn Chen kept multiple streaks alive on the court.
Chen, a standout senior forward/guard on a talented Flintridge Prep girls' basketball team, helped the Rebels win a sixth straight Prep League championship and extend their league winning streak to 57 games.
Chen kept another impressive streak going, as she was tabbed the league's most valuable player for a third season in a row, as voted on by the league coaches.
Chen averaged 18.9 points, 7.3 rebounds, four assists and 2.3 steals per game this season for Flintridge Prep (24-5, 12-0 in league). Flintridge Prep advanced to the CIF Southern Section Division II-AA quarterfinals before falling to No. 1 Orangewood Academy on the road.
The Rebels went 48-0 in league during Chen's career. In addition, she's the program's all-time points leader with 2,009.
"She's just such an amazing player in so many ways," said Flintridge Prep co-coach Jayme Chan, who splits the coaching responsibilities with Kevin Kiyomura. "She had another phenomenal season and she executed completing all of her responsibilities.
"To be a league MVP three straight years is incredible. Kaitlyn deserved it again."
In addition to be named most valuable player, Chen earned a spot on the all-league first team after scoring 547 points.
Joining Chen on the first team from Flintridge Prep were junior guard/forward Sofia Gonzalez and freshman guard Ashley Chea.
Gonzalez, a third-year starter, contributed 12.6 points, 5.7 rebounds and 2.4 steals per contest. She finished the campaign with 364 points.
"Sofia had another super season, including going over 1,000 points in her career," Chan said. "She's got a tremendous amount of confidence and she's very serious about her game."
Chea, a heralded first-year athlete, registered 10.8 points, 3.6 rebounds, 2.4 assists and 1.8 steals per game.
"She's got so much potential and she played her role so well," Chan said. "Ashley got around 30 minutes per game and she found ways to contribute."
Flintridge Prep's Alex Kyriakakis and Ashlyn Zhang picked up second-team recognition.
Kyriakakis, a senior forward, averaged 4.9 points and 4.6 rebounds per game.
"Alex had some big games," Chan said. "People forget about her because teams are paying attention to other players. She knew how to defend the three-point line and change players shots.",
Zhang contributed 6.1 points, 3.1 rebounds and 2.1 assists per game in 28 contests.
"Ashlyn became more confident with her overall game," Chan said. "She was definitely one of our better defenders."
Chen, Gonzalez, Chea and Kyriakakis each played in all 29 games this past season.
---