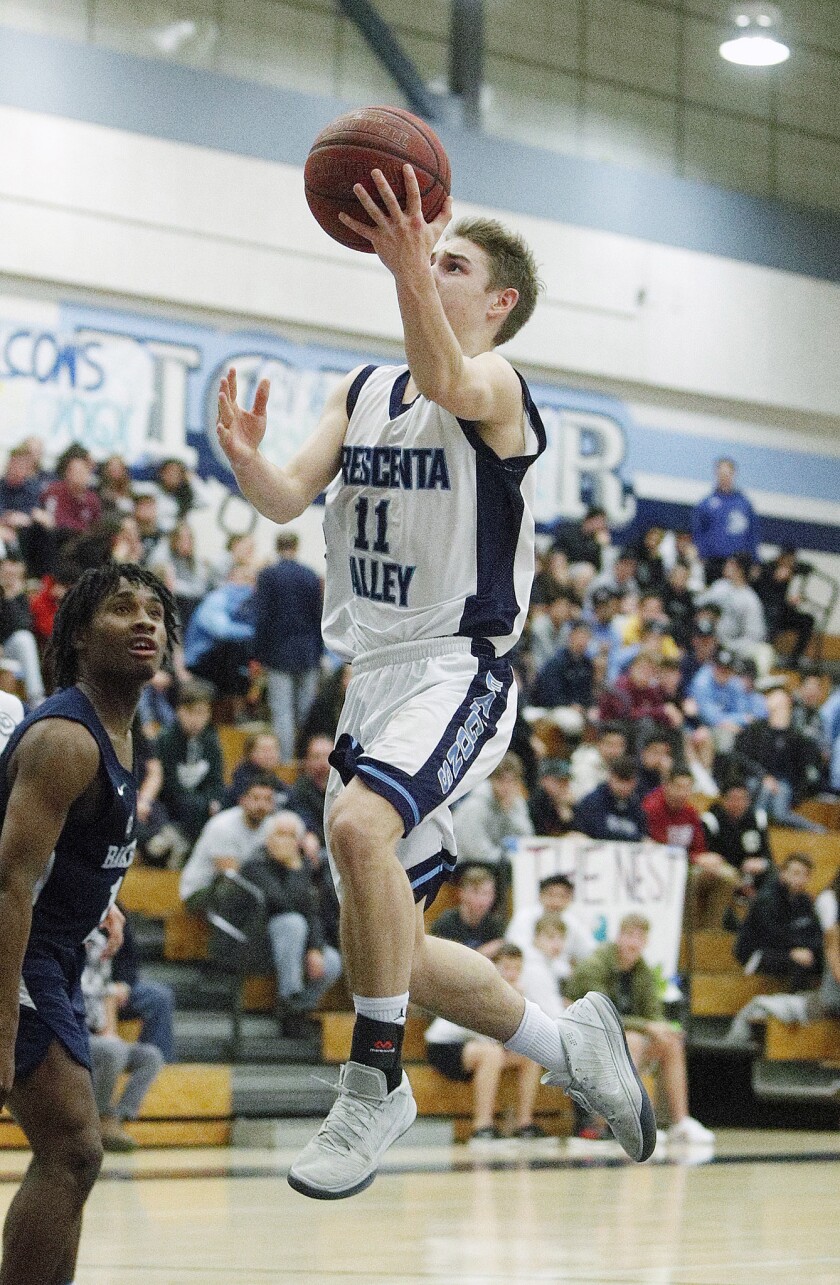 Tyler Carlson never stopped finding ways to improve while also attempting to keep his team atop the Pacific League.
Carlson has been a fixture the past several seasons for the Crescenta Valley High boys' basketball team with his clutch shooting and rebounding efforts. It's paved the way for the Falcons to be one of the area's most successful squads.
The senior guard continued to flourish for the Falcons, who shared the league championship this season with Pasadena this past season.
Carlson compiled some impressive statistics, as he averaged 22.1 points, 4.6 rebounds, 2.8 assists and 1.9 steals per game to win the league's co-most valuable player award with Davian Brown of Pasadena.
Crescenta Valley finished 25-5, 13-1 in league and reached the CIF Southern Section Division I playoffs. Crescenta Valley fell to visiting Crespi in the first round after advancing to the CIF State Division III Southern California Regional championships in 2019.
"It's a pretty big deal getting co-MVP in a super-competitive league," said Crescenta Valley coach Shawn Zargarian, who was named the league's coach of the year after leading the Falcons to their first league title since 2014. "Tyler has now done it in back-to-back seasons.
"He dominated on offense and he found ways to improve on defense. He got better with his rebounding, too. Some of this came with him being double-teamed or even triple-teamed."
Carlson was among eight local players from the Pacific League to be bestowed with all-league accolades.
Chuck Meyer of Crescenta Valley and Glendale's David Shamiryan were selected to the first team.
Meyer contributed 7.3 points, 7.8 rebounds and 1.6 blocks per game as a senior center after helping the school's football team win the CIF Southern Section Division X championship in November.
"He got himself into basketball shape after a very long football season," Zargarian said. "Chuck proved to be a game-changer at both ends of the court."
Shamiryan, a senior guard, stepped up for Glendale with another outstanding season.
Shamiryan averaged 17 points, seven rebounds and four assists per game for the Nitros (17-13, 8-6 for third place). Glendale reached the second round of the Division III-AA playoffs before falling in overtime to eventual champion Salesian.
"David became a better all-around player," Glendale coach Ib Belou said. "He became a more complete player.
"David wasn't just a quality shooter. He got better with his passing and became our best defender."
Crescenta Valley's Danny Khani and Glendale's Manny Kapoushian were named to the second team.
Khani, a senior guard, averaged 9.3 points and 3.1 assists per contest.
"Danny's experience alone was huge and he always found ways to drive to the paint and get to the free-throw line," Zargarian said.
Kapoushian contributed 15 points, six rebounds and three steals per game as a senior guard.
"Manny was the heart-and-soul of our team and he's the most competitive player I've coached at Glendale," Belou said.
Alec Voskanian of Crescenta Valley, Glendale's Manouk Manoukian and Derrick Elasi of Hoover (3-23, 0-14) received honorable mention.
Voskanian, a senior forward, averaged 6.2 points per game.
Manoukian registered 12 points and 10 rebounds per game as a senior forward.
Elasi, a senior guard, averaged 18.6 points and 3.1 assists per contest.
---