Glendale Community College women's basketball receives conference honors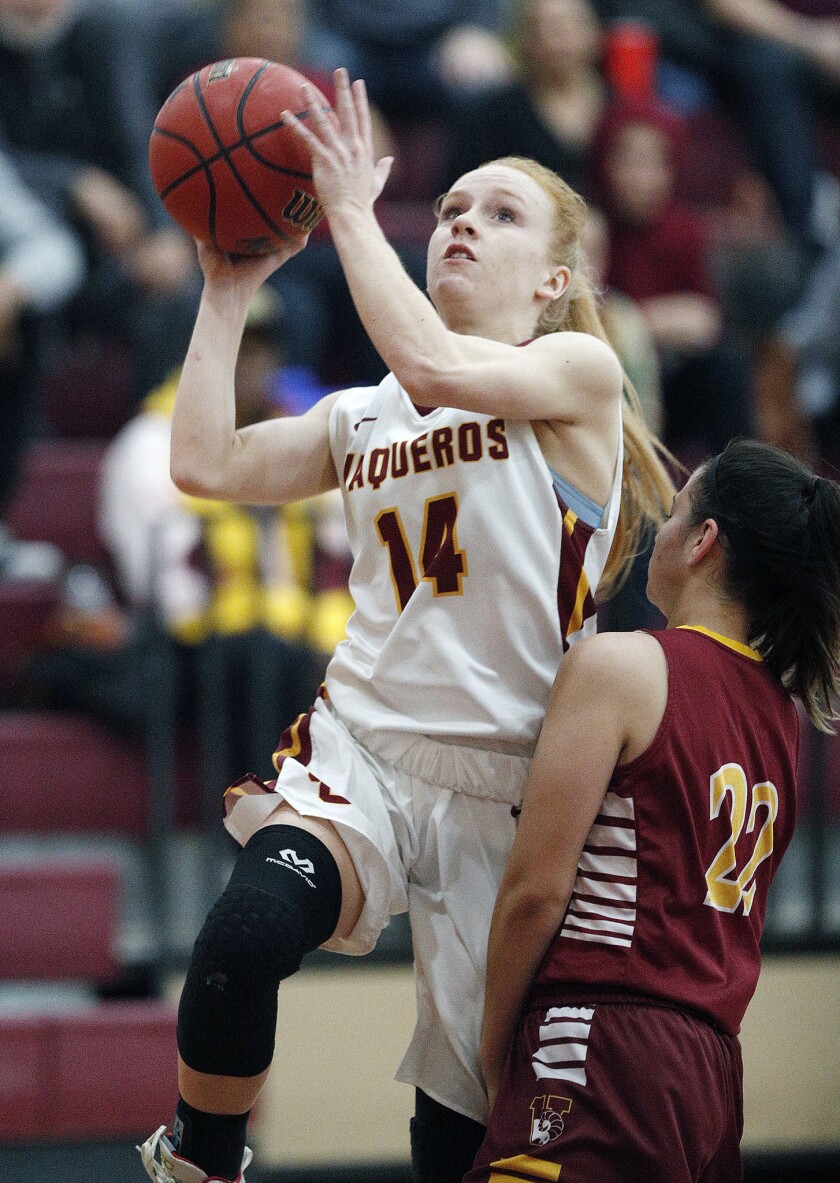 Glendale Community College women's basketball coach Joel Weiss and his group of sophomores made history this past season.
The group that included Tess Oakley-Stilson, Penelopi Trieu, Gloria Bianchi and Zoe Rouse created the backbone of the 2019-20 team that won a record 21 straight games on its way to cementing itself as the most successful Glendale team in history with 27 victories.
On top of finishing with a program-best 27-3 record, Glendale clinched its second straight Western State Conference South Division title for the first time in history and finished with a 13-1 conference showing.
For their remarkable efforts, the quartet of Oakley-Stilson, Trieu, Bianchi and Rouse earned all-conference honors and Weiss was named conference coach of the year.
"It was incredibly fun to be a part of," Weiss said. "It was just 12 people working as hard as they possibly could to reach their potential collectively. We didn't set a goal to win 21 games in a row, win a WSC conference title, or reach the sweet 16. We just wanted to be the best and reach our potential.
"In close to 20 years of coaching, unequivocally, this group reached their potential and exceeded everyone's expectations. I am very appreciative and grateful for players' efforts, and the season was rewarding for everybody involved."
Trieu, Oakley-Stilson and Bianchi also joined former Vaqueros teammate Marlene Salazar as selections to the California Community College Women's Basketball Coaches Assn. Academic All-State Team.
Oakley-Stilson, a La Cañada High graduate who was a constant threat in the paint and from midrange, was also a CCCWBCA All-State third-team selection after averaging 14.9 points per game. The two-time all-conference honoree shot 46.8 % from the field and 80.2 % from the free-throw line.
Trieu was another consistent threat from the field and averaged 11.5 points, shooting 41.5 % and 36.3 % from three-point range.
Bianchi, whose presence in the post provided consistent second-chance opportunities or shots at the free-throw line, averaged 7.9 points, a team second-best 5.6 rebounds and was second on the team in field-goal shooting with 46.4 %.
Rouse's perimeter shooting helped the Vaqueros whenever they needed big-time scoring, but her ability to drive was invaluable, as she averaged 11 points and shot 43.1 % from the field and 38.9 % from three.
"It is hard to find words that really do justice to their impact on this year's team and our basketball program," Weiss said, who led the team to consecutive conference championships with just two division losses in the last two seasons. "They finished their college careers 49-9, which is the best two year record in the history of the program, two conference titles, two playoff wins, two sweet 16 appearances, three of the four on academic All-State teams, and four all-conference selections with one all-state selection. They represented Glendale College and our basketball program extremely well and they're terrific people.
"They have bright futures ahead of them and I'm thankful for the last two years getting to coach them. For me, with just their approach each day, they were all the stuff that coaches want in players and they worked relentlessly day after day for two years. Our coaching staff is very happy for their successes and grateful for their hard work. We are going to miss them immensely."
After dropping their first game of the season to Fresno, 70-60, the Vaqueros embarked on a state-best 21-game win streak that lasted nearly three months. Glendale's lone conference loss was on the road to L.A. Valley, 65-40.
Glendale closed out conference play winning five straight and clinched its second consecutive title on a game-winning three-pointer from Rouse in a 51-48 win over Santa Monica on Feb. 19.
"Coaching awards are a product of team success," said Weiss, who was also named CCCWBCA co-Coach of the Year. "I view that as a team award. It's a compliment to our players commitment more than anything else."
Glendale entered the second round of the CCCAA playoffs as the No. 4 seed after a bye in the first round. In the second round against No. 13 East L.A. College, the Vaqueros won at home, 63-58, to set up another home game against No. 5 Palomar.
Unfortunately, Glendale's season came to an end in the third round for the second consecutive season with a 53-47 loss to the Comets.
---