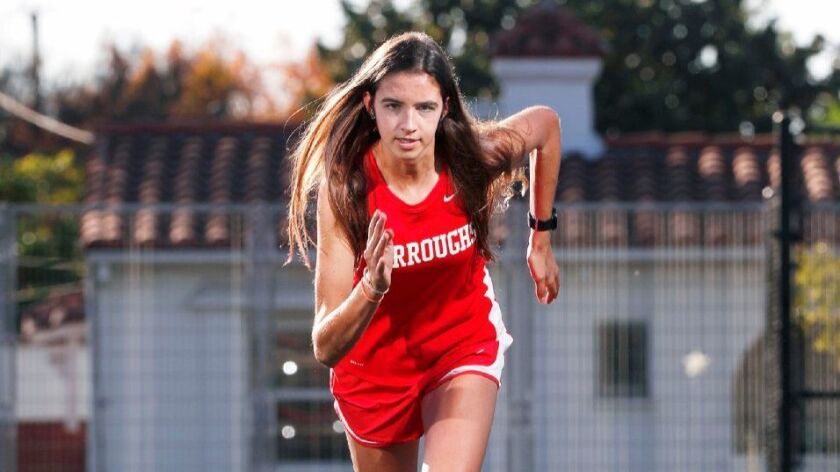 Over the last three years, no area runner has reigned as unquestioned or as unchallenged as Burroughs High senior Emily Virtue.
Beginning in her sophomore season, Virtue claimed eight of nine Pacific League races and accounted for two league titles and one runner-up finish.
She knocked off All-Area Girls' Cross-Country Runner of the Year Candela Fernandez of Burbank her sophomore year and fended off challenges from Arcadia and Crescenta Valley with only one blemish in three years.
This past season, Virtue captured a Fastback Shootout title, won the first two league meets and only placed worse than fifth in one race, while finishing strong at both the CIF Southern Section and CIF State Division I Championships.
She also became her school's first three-time CIF State Finals qualifier. Thus, for a third straight year, Virtue has been honored as the area's best.
The Columbia University-bound senior has been selected as the 2017 All-Area Girls' Cross-Country Runner of the Year by the sports writers of the Burbank Leader, Glendale News-Press and La Cañada Valley Sun.
"She's always puts in the work," Burroughs coach John Peebles said. "The fact that she placed in the top 10 in the state meet for three straight years in Division I says a lot about what she brings to the table."
While Virtue delivered plenty of awe in 2017, she also served as an inspiration.
"I'm really close with her and I've gotten to know her over the years," Burroughs senior Ana Villalpando said. "I have class with her. She was our motivation. Our coach was like, 'Emily's up there and you could be up there, too.'"
For Virtue, the path to glory also included challenges.
"I didn't really set expectations this season because I just wasn't sure exactly of what kind of shape I'd be in," Virtue said. "It's changed and gone up and down and I wanted to be cautious."
A sizable difference between 2017 and 2016 was Virtue's health.
"The fact that she placed in the top 10 in the state meet for three straight years in Division I says a lot about what she brings to the table."
Burroughs coach John Peebles
The previous season, Virtue engaged in challenging Junior Olympic training that left the junior nearly burned out. Virtue lost most of September recovering and learned a valuable lesson.
"I started workouts earlier in the summer because I ran a longer track season junior year," Virtue said. "I also had some injuries at the end, so I had to take some more time off, like three weeks. Starting up after three weeks made a big difference. Just staying healthy helped because the fitness stays with you when you're healthy."
The just-concluded season started well for Virtue, who captured the Fastback Shootout senior race at Mt. San Antonio College's 2-mile course Sept. 2 in 11 minutes, 2.1 seconds.
Two weeks later, Virtue finished fourth in the 2.7-mile senior race at the Mt. Carmel/Asics Invitational in 15:43.6.
The mark and finish were unexpected.
"I felt like my workouts were a lot faster, but in the earlier races, I just wasn't seeing it," Virtue said.
Three days later, Virtue returned to form at the Pacific League's first meet at Arcadia County Park and won in 17:20.44, just a little ahead of Arcadia's Jasmine He (17:25.62).
The duo met again Oct. 12 at Crescenta Valley Park and Virtue gave herself a bigger cushion with a victory in 18:17.6, which eclipsed runner-up He (18:29.7).
Everything seemed right for Virtue, who took silver in the Division I race in 17:05.3 at the Riverside Invitational on Oct. 21 at the Riverside City Cross-Country Course, site of the Southern Section championships.
That strong effort, however, was followed by a blip.
On Nov. 1, a streak of eight consecutive league victories and two straight league crowns ended.
Virtue finished second at league finals at Arcadia in 17:11.42 to He (17:06.89).
"Jasmine had a really good day as well and she had a great race," Virtue said. "I really wasn't feeling it. I definitely know I could have run faster than that, because I had run faster during this season. It just wasn't my day."
A disappointed Virtue went back to familiar territory at the Division I preliminaries in Riverside on Nov. 10, where she finished third in her heat in 17:19.2.
Eight days later, Virtue set a personal record at Riverside by finishing fifth in 16:58.5, which trumped her fifth-place mark of 17:09.1 the previous season.
A year earlier, Virtue had been devastated not to win the Division I Championship. This season, however, she had a different perspective.
"Part of it is she had such a good sophomore year and sometimes the expectations are that you're going to do better and that guarantee is not there," Peebles said. "She realized that after last year and didn't worry about who was going to do better. She just focused on being better."
Virtue's effort also established a new mark of greatness.
Prior to her arrival, the girls' cross-country gold standard at Burroughs was Sadee Martinez, who advanced to the CIF State Division I finals in 2006 and 2007, finishing 20th (18:43) and 10th (18:00), respectively.
Virtue's effort at Riverside punched her ticket to the state meet for a third time, which set a school benchmark.
"If we're just talking about straight accomplishments in high school then she's the best girl, the best Burroughs has ever produced," Peebles said of Virtue.
A year after finishing ninth (17:48.2) in Division I, Virtue placed seventh in the Division I championships in 17:36.1 at Fresno's Woodward Park on Nov. 18.
There was satisfaction in a season and career well-run.
"At CIF Finals and state, I finally put the rest of the season aside and was able to race really well," Virtue said. "I felt strong in those races."
---