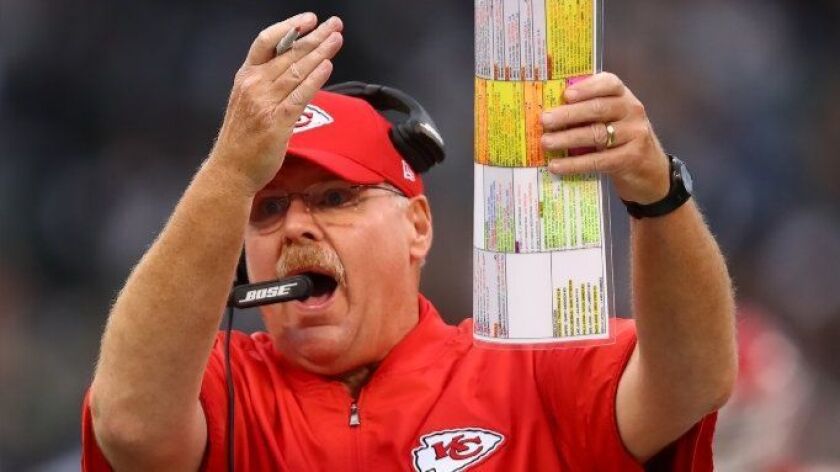 Glendale Community College product on wrong end of nailbiter
For five weeks, the Kansas City Chiefs and head coach Andy Reid, a Glendale Community College alumnus, were on top of the National Football League with a 5-0 record.
In just five days, not only did the Chiefs fall from the ranks of the unbeaten, but they suffered a second loss.
Kansas City suffered an especially bitter defeat Thursday night, losing on the last play of the game to the host Oakland Raiders, 31-30, in a key AFC West battle.
With the defeat, not only did Kansas City fall to 5-2, but the Chiefs have given up ground to the second-place Denver Broncos (3-2) and third-place Raiders (3-4).
The Raiders moved to the Kansas City one-yard line with eight seconds left.
After one offensive pass interference call versus the Raiders and two holding calls against the Chiefs, Raiders quarterback Derek Carr hit Michael Crabtree for a game-tying touchdown with no time left. An extra point sealed the victory.
Kansas City has 11 days off before hosting Denver in another pivotal AFC West contest on Oct. 30.
CV baseball hosts poker night
The Crescenta Valley High baseball team will sponsor a Texas Hold 'Em Poker event at 5 p.m. Oct. 28 at American Legion Hall, 4011 La Crescenta Ave., La Crescenta.
The event will feature a Texas Hold 'Em poker tournament, bunco, dinner and raffle prizes.
The cost per person is $100 at the door. Must be 18 or older. No high school students.
Entry includes 1,500 poker chips, buffet dinner and drinks. Bunco is $40 per person, including dinner and drinks.
For more information, contact Crescenta Valley coach Phil Torres at (818) 249-5871, ext. 6110, Audra Parrott (818) 518-6844 or Amy Harley (818) 517-1304.
CV soccer 3 on 3 championship
The Crescenta Valley Soccer Club is taking sign-ups for a 3 on 3 soccer tournament championship that will take place over two days. The girls' tournament will take place on Dec. 10, while the boys will compete on Dec. 17.
The 3-on-3 style consists of no goalies, two 12-minute halves and three group games plus the finals. The tournament is open to youngsters born between 2010 and 2014 and will be taking place at Crescenta Valley High.
The deadline to register is Nov. 26.
To register, email kurtis.millan @cvsoccerclub.com. For more information, call (508) 233-0297.
---