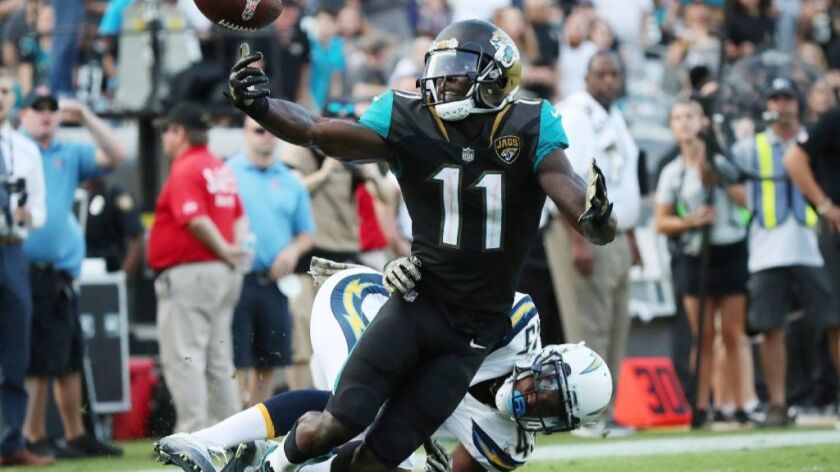 Davis' responsibilities increase with Chargers
A week after debuting as a kick returner, Glendale High alumnus Michael Davis added another first in his rookie campaign with the Los Angeles Chargers.
Davis, a cornerback by trade, had played exclusively on special teams. Yet on Sunday, the 22-year-old saw a few plays on defense in Los Angeles' tough 20-17 overtime road loss to the Jacksonville Jaguars.
According to the Salt Lake Tribune, Davis played six defensive snaps. He finished with one tackle, which came on a punt return in the fourth quarter.
Davis was also flagged in the first quarter for an illegal touching violation on a punt. The penalty was offset by a running-into-the-kicker call versus the Jaguars.
Davis is into double digits for the season as he has 10 tackles in eight games, with two punt returns for 36 yards under his belt.
The Chargers are fading in the playoff race as they're 3-6. Los Angeles hosts the Buffalo Bills (5-4) on Sunday at the StubHub Center in Carson at 1:05 p.m.
Before Sunday, Davis was part of a delegate of Chargers players who hosted a Thanksgiving feast at Los Angeles International Airport for hundreds of Marines who just finished basic training on Tuesday.
Browns, Jackson remain winless
The Cleveland Browns, coached by Hue Jackson, a former Glendale Community College player, slipped to 0-9 with a 38-24 loss Sunday to the host Detroit Lions.
The Browns couldn't hold leads of 10-0 and 24-17 in the loss. Cleveland is 1-24 in two seasons under Jackson.
"I thought that was one of the better versions of the offense we've seen," Jackson told ESPN.com. "[Quarterback] DeShone [Kizer]played probably the best he's played. I see a guy that's starting to get it. That's huge. I'm seeing the results of his work."
Kizer finished 21 of 37 for 232 yards with a touchdown and an interception.
With the San Francisco 49ers win over the New York Giants, Cleveland is the only winless team in the NFL.
Cleveland returns to action Sunday with a home game against the Jacksonville Jaguars.
Huh in Mayakoba Classic
Crescenta Valley High graduate John Huh finished tied for 25th on Sunday at the OHL Classic at Mayakoba at Camaleon Golf Course in Playa del Carmen, Mexico.
Huh registered a two-under-par 69 to finish the four-day event at seven-under-277.
Patton Kizzirie carded a 265, one stroke ahead of Rickie Fowler, for his first PGA Tour win.
Fall ball clinics being held
The Crescenta Valley High baseball team is conducting fall ball clinics on Wednesdays at Stengel Field in Glendale.
A session for ages 7-9 will be held at 5 p.m., followed by a session for those 10-12 at 6.
The cost is $5 per person.
For more information, contact Crescenta Valley baseball coach Phil Torres at cvbaseball@hotmail.com.
Annual Hoop Shoot competition
Glendale Elks Lodge No. 1289 invites all girls and boys, ages 8-13, to participate in its annual "Hoop Shoot" basketball competition at 8 a.m. Dec. 9 at Hoover High's gymnasium, 651 Glenwood Road, Glendale.
The competition is open to all students from public and private schools in the Glendale area. Winners who qualify will go on to represent their schools at district, regional, state and national competitions.
Schools that wish to participate should contact John Jolly at (818) 242-2105 or hoopshoot1289@aol.com.
Falcons Winter Baseball Camp
The 22nd annual Falcons Winter Baseball Camp will run from 9 a.m. to noon Dec. 27-28 at Stengel Field in Glendale.
The camp, conducted by Crescenta Valley baseball coach Phil Torres, will focus on hitting, pitching and more. The cost is $75 per person.
The event is geared for ages 7-13 during the 2017-18 school year.
For more information, contact Torres at (818) 249-5871, ext., 6110, or at cvbaseball@hotmail.com.
---