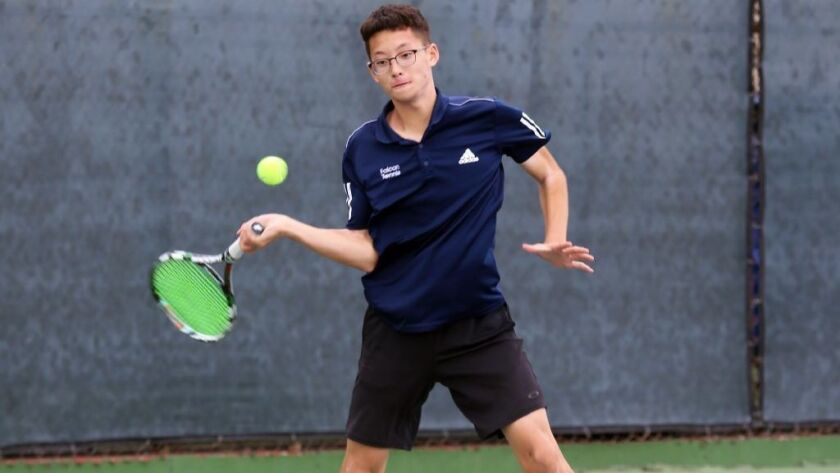 LA CRESCENTA — A light drizzle fell about an hour before the Crescenta Valley High and Burbank boys' tennis teams were set to meet in a Pacific League match Tuesday.
The precipitation disappeared just before the Falcons and Bulldogs took the court, yet Crescenta Valley coach Sam Hyun and Burbank coach Loi Phan agreed to shorten the contest once either team picked up 10 victories.
Crescenta Valley was in command throughout, getting three wins in singles from Jacob Lee to register an abbreviated 12-0 home win.
Crescenta Valley (12-4, 10-1 in league) stayed within one match of first-place Arcadia, which won the league title last season, in the hunt for the league championship with the two squads scheduled to face off Thursday at Crescenta Valley.
Burbank (7-4 overall and in league) will finish third ahead of cross-town rival Burroughs, as the playoffs will begin in about two weeks. Burbank will take on visiting Burroughs on Thursday.
"It was raining a little bit before the match began and we wanted to get it in," said Hyun, whose team advanced to the CIF Southern Section Division II quarterfinals last season. "There was a 50% chance of rain and then it started to drizzle late in the match, so we didn't want to risk anybody getting hurt.
"I think we feel very good about where we are right now and we'll see if we can make another deep run in the playoffs. With the league, Arcadia is super good and CV, Burbank and Burroughs are all good and we'll all be going to the playoffs."
Crescenta Valley, which registered a 14-4 road win against Burbank on March 7, turned to Lee to pave the way.
Lee was the only player to win three sets, going, 6-2, 6-0, 6-1.
"We knew about the rain and how it might be a factor," Lee said. "I'm pretty used to playing three sets each match and it just worked out that way again today.
"It's just a good way to get some more experience out there. I'm feeling really confident with the way I'm playing right now."
Crescenta Valley received two wins apiece in singles from Carlos Vicencio, 6-1, 6-3, and Erik Babayan, 6-4, 6-4.
In doubles, the Falcons got two victories each from Justin Kim and David Kim, 6-1, 6-1, and Patrick Chmielewski and Augustine Jun, 6-1, 6-0. Crescenta Valley received a 7-6 (9-7) doubles win from Homin Lee and Adi Saravanan against Parker Katz and Dominik Sumera.
Phan, who guided the Bulldogs to an appearance in the Division III quarterfinals last season, said the Bulldogs have continued to improve despite hitting a speed bump Tuesday.
"We're pretty young, but I like our guys," Phan said. "Our players are either freshmen or sophomores in singles.
"It will be nice to go to the playoffs with a young team and they can pick up a lot of experience. With today, it was right to call it early. Both teams are going to the playoffs, so it's best not to get anybody hurt."
The league tournament will begin with first- and second-round matches at 1 p.m. Monday at Burroughs. The semifinals and finals will occur at 1 p.m. April 24 at the same site.
Twitter: @TCNCharlesRich
---