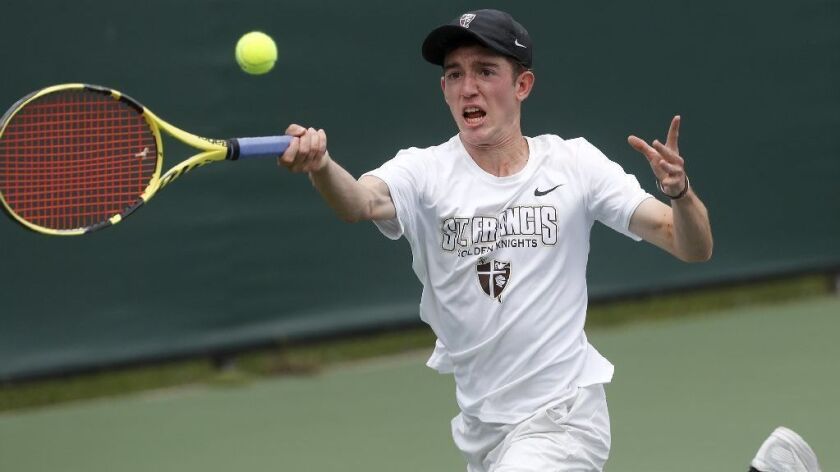 Ian Freer has played in many high-profile tournaments throughout his burgeoning career.
What the St. Francis High senior tennis player wanted most was to put himself in position to close out his high school career with a major victory.
Freer had the opportunity he pined for when he participated in the CIF Individual Tournament throughout the week.
Freer reached the summit Thursday, posting a 6-3, 6-2 win against Kyle Pham of Corona del Mar in the singles title match at Seal Beach Tennis Center to bring home the championship plague.
It's been a whirlwind week for Freer, who won the event for the first time and will be graduating Saturday. Freer became the first area athlete to capture a singles title since Glendale's Dave Reed won back-to-back crowns in 1960 and 1961.
"Lots to think about, but it's just a great feeling to win an event like this," said Freer, who finished runner-up in the Mission League Tournament. "It's pretty special and in a lot of ways it was unexpected.
"You are playing against some of the best players around Southern California and it's a test each match. I think I just started to play well at the right time."
Pham recorded a 6-3, 7-6 (7-4) semifinal win against top-seeded Brett Brinkman of Chaminade, who defeated Freer in the Mission League final.
Earlier Thursday, Freer registered a 6-2, 6-2 semifinal win against Donovan Lilov of Temecula Valley.
St. Francis assistant coach JP Wammack, who filled in for coach Ron Zambrano, said Freer became more confident with each victory.
"It's always a challenge," Wammack said. "Ian knew how to handle each situation and he got stronger with each win.
"He played a great player in Kyle and it was Ian's all-around game that put him in position to win. Ian is a very quick player and he ran down a lot of shots and made Kyle have to work. It's great for Ian because people remember you when you win CIF."
The Claremont McKenna College-bound Freer, a reigning All-Area selection who helped St. Francis finish third in league and advance to the CIF Southern Section Division II quarterfinals, opened the event Monday with a first-round bye at the Jack Kramer Club in Rolling Hills Estates. He recorded a 7-5, 7-5 victory against Allan Tanaka of North Torrance in the second round before posting a 6-3, 7-6 (7-4) third-round win against Zihao Wang of San Marino.
On Wednesday, Freer earned a 6-1, 6-1 round-of-16 win against Marcus Sebastian of Calabasas before registering a 7-5, 6-1 quarterfinal win against Daniel Cheung of Le Lycee at the Seal Beach Tennis Center.
La Cañada's doubles team of Ben Lee and Jack Manion saw their season end Wednesday in the round-of-32 match at Seal Beach Tennis Center
The duo, which won the Rio Hondo League doubles title for the first time, suffered a 7-5, 6-2, defeat against Arcadia's Jimmy Liu and Hellman Zao.
"We had our chances," said La Cañada coach will Moravec, whose team reached the Division I quarterfinals. "We were down, 5-1, and we tied it at 5 in the first set. You face better competition each round and it's about serving strong, getting to the net and putting shots away.
"The momentum really turned heading into the second set, but Ben and Jack had a great season and got a lot done."
---