James Williams (Burbank High, 2015) Washington State redshirt junior: For a third straight season, the explosive running back will be playing in a bowl game.
Williams is part of a historic Washington State team that is participating in a school-record fourth consecutive bowl game, while tying the school record with 10 wins.
The No. 13-ranked Cougars (10-2) also finished tied atop the PAC-12 North Division and will be heading to San Antonio to take on No. 24 Iowa (8-4) in the Alamo Bowl on Dec. 28.
The game is scheduled for 6 p.m. and will be aired on ESPN.
"It feels real good to be on this team," Williams said via a phone interview. "This team just has a different chemistry and we played together through a lot of adversity. There have been a lot of people that doubted us and that's what's pushed us to play for each other."
Williams is looking for his first bowl victory as his squad is coming off back-to-back Holiday Bowl defeats.
Williams earned a PAC-12 honorable mention in a breakthrough season in which he led the Cougars in touchdowns (16), scoring (96 points), receptions (76), rushes (119) and all-purpose yards (1,112).
"I improved on a lot of things I didn't do well last year," Williams said as the reason behind his big season. "People talked about the receptions, but I want to get better at everything. People who know me know I'm always working on improving."
Williams carried for 552 yards (4.6 average) and 12 touchdowns, while he finished with 560 receiving yards (7.4 average) and four scores.
Avery Williams (St. Francis High, 2016) Boise State redshirt sophomore: His second season in Idaho has brought about a second straight bowl appearance for Williams and the Broncos.
Mountain West Conference West Division champion Boise State (10-3) will look to defeat Boston College (7-5) in the First Responder Bowl in Dallas on Dec. 26 at 9:30 a.m. The game is scheduled to be shown on ESPN.
"Here at Boise State, we just have a strong winning tradition, so just to uphold that and be a part of it has always been great for me," Williams said.
Williams was his squad's top special teams player last season and earned more accolades this year as he was named a Mountain West Conference honorable mention as a return specialist and defensive back.
As a defensive back, Williams has played in all of Boise State's 13 contests and has 49 tackles, fifth-best on the squad, along with two interceptions, nine break-ups, three forced fumbles, one fumble recovered and one blocked kick.
"I was a lot more active on both my roles and it was a lot more rewarding to get big-time plays made on both sides," Williams said.
On special teams, he's averaging seven yards a return on 18 punts, while he returned one kickoff this season for a touchdown.
"It will be nice to be out of this cold weather and into the sun," Williams added.
Ty Gangi (St. Francis High, 2014) Nevada football senior: For the first time in three years, the Nevada Wolfpack is heading to a bowl game.
Perhaps it's fair to say that no single player had as big an impact in this season's success as did the Glendale native as his squad finished 7-5 and third in the Mountain West Conference West Division.
Gangi's reward is a visit to Tucson on Dec. 29 to face Arkansas State (8-4) in the Arizona Bowl. The game is set for a 10:15 a.m. kickoff and to be televised on the CBS Sports Network.
Nevada's quarterback has played in 11 of his team's 12 games and completed 250 of 409 passes (61%) for 3,131 yards and 23 touchdowns versus 11 interceptions. He's also rushed 45 times for 149 yards and three touchdowns.
For his efforts, Gangi shared the team's Most Valuable Player award, the Golden Helmet, with linebacker Malik Reed
The honor is the second straight for Gangi, who becomes the first Wolfpack player to do so since Colin Kaepernick from 2008-2010.
Trenton Irwin (Glendale native) Stanford University junior: Another year, another bowl game for the Rosemont Middle School and Glendale Bears product.
The three-time PAC-12 All-Academic honorable mention is on a Stanford team that finished 8-4 and third in the PAC-12 Conference North Division. The Cardinal will travel to El Paso, Texas, on Dec. 31 to take on the University of Pittsburgh (7-6) in the Sun Bowl.
The game will be shown on CBS at 11 a.m.
Irwin, a receiver, played in 12 games and tied for team best in receptions with 60, which translated into 685 yards and two touchdowns.
Maybe his best effort came at the Rose Bowl, as Irwin caught seven receptions for 103 yards and one touchdown in a 49-42 victory over UCLA on Nov. 24.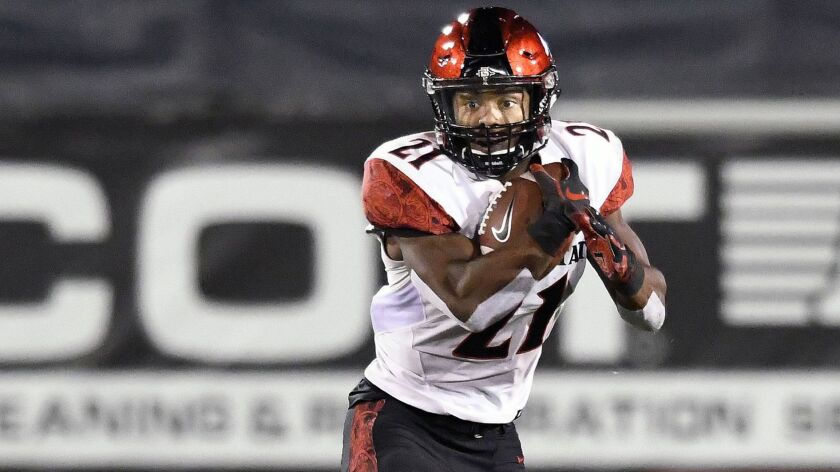 Chance Bell (Burroughs High, 2016) San Diego State redshirt freshman: It's been a year of debuts for the 2016-2017 Burbank Leader All-Area Boys' Athlete of the Year.
The running back saw his first collegiate action this past season with San Diego State.
Now he'll take part in his first bowl game as the Aztecs (7-5), who finished fourth in the Mountain West Conference West Division, face Ohio University (8-4) in the Frisco Bowl in Frisco, Texas, on Wednesday.
The game will be television on ESPN at 5 p.m.
While freshmen and redshirt freshmen are not allowed to address the media per team rules, San Diego State offensive coordinator Jeff Horton spoke on how Bell has impressed him.
"Chance is starting to really develop into a player for us," Horton said. "He redshirted as a true freshman and really did an outstanding job on the scout team and showed some good toughness and competitiveness in tough duty."
Bell, who finished with Burroughs' all-time rushing record (4,525 yards), finished as San Diego State's No. 3 runner while playing in four games.
Bell rushed 40 times for 189 yards and his 4.7-yard-per-carry average was second-best on the squad for any player with a minimum of 20 rushes.
"This year, he stepped up when called upon and he's got into games, ran hard and taken advantage of the opportunities that he has received," Horton said. "He's really showed that he's going to be a guy who's going to help us down the road as we progress."
Bell saw action in three of the Aztecs' final five contacts.
Mason Williams (St. Francis High, 2015) Duke redshirt junior: The one-time Golden Knights standout is making his bowl debut with the Blue Devils.
Duke posted a 7-5 record and took sixth in the Atlantic Coast Conference Coastal Division.
That effort earned Williams and the Blue Devils a trip to Shreveport, LA, to take on Temple (8-4) in the Independence Bowl on Dec. 27. The game is scheduled for 10:30 a.m. and set to air on ESPN.
"It's very exciting because my first two years I was at Penn and then last year I sat out for redshirt rules, so being in a bowl is something that I've been looking forward to," said Williams, brother of Avery Williams. "I've seen it from the sidelines and now I'm happy to be a part of it."
Williams spent his first two collegiate seasons at Ivy League University of Pennsylvania, helping the Quakers earn a share of Ivy League crowns.
After redshirting in 2017, Williams saw the field this season, as he played in seven games and registered a tackle as a reserve defensive back.
"It's been exciting to play ACC football and the guys are bigger, stronger and faster than what I've seen at Penn, but I have confidence that I can play at this level," Williams said.
Daniel Scott (St. Francis High, 2017) California redshirt freshman: The 2017 All-Area Player of the Year saw some action for the surprising Golden Bears this year.
Cal finished 7-5, fifth in the PAC-12 North Division, and earned a berth to the Cheez-It Bowl against Texas Christian University (6-6) on Dec. 26 at Phoenix's Chase Field. The game time is set for 6 p.m. and will be televised on ESPN.
"It's a great experience and I think it's good for the program, it's good for the school and it's good for us young guys as well," Scott said. "That was one our main goals this year, to get to a bowl game. Now we want to win it."
The reserve defensive back and special teams player took part in nine games and finished with three tackles and one fumble recovery.
While Scott's best performance was a two-tackle effort in a 37-7 loss to UCLA on Oct. 13, perhaps Scott's favorite game was his team's come-from-behind 15-14 win over USC at the Los Angeles Memorial Coliseum on Nov. 10.
"Everyone came together as a team and we just gutted it out," Scott said. "It was a great win not only for the program and for us, but it's always good to go back to So Cal and get a 'W.'"
Conor Dubin (Flintridge Prep, 2009) Utah State defensive graduate assistant: The former Flintridge Prep player and assistant coach is bowl bound.
Dubin's Aggies finished a stellar year in which they posted a 10-2 record and finished tied atop the Mountain West Conference Mountain Division with Boise State.
For its efforts, Utah State punched its ticket to the New Mexico Bowl in Albuquerque on Saturday, where it faced face North Texas (9-3). Utah State rolled to a 53-13 victory.
"It was a really good experience this year and we started out with Michigan State and had some televised games this year," Dubin said. "This was a program that had several goals this season and we accomplished a lot."
Dubin is in his first season at Utah State after a three-year stint at Arizona State, where he moved up to defensive quality control coach in 2017.
"I wouldn't be here without Flintridge Prep," Dubin said. "They took a chance on me years back and I will always consider myself part of the [former coach] Antonio Harrison tree."
---