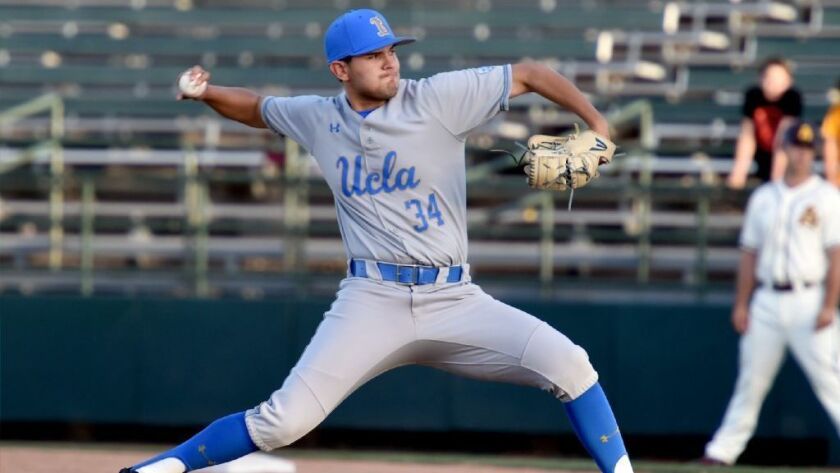 The following are updates on local athletes at the collegiate level.
Felix Rubi (Glendale Community College, 2018) UCLA baseball, junior: Rubi made a seamless transition from Glendale college to UCLA and had an immediate impact in the Bruins successful season.
Rubi, a pitcher, finished 2-0 with a 1.31 earned-run average in 11 appearances (three starts). The right-hander struck out nine and walked seven in 20 2/3 innings. He surrendered 12 hits and five runs (three earned). Opponents batted .160 against Rubi.
Rubi, a former All-Western State Conference East Division honoree, picked up one of the biggest victories of the season for the Bruins in the regional tournament June 2. With UCLA facing elimination, Rubi came up huge against Baylor. Rubi came on in relief, holding Baylor to one run and one hit in three innings to propel the Bruins to an 11-6 win.
UCLA finished 52-11, 24-5 to capture the PAC-12 Conference by two games over Stanford and advance to the NCAA Division I Super Regionals. UCLA fell to Michigan in the three-game series at UCLA, which spent part of the season as the top-ranked team in the country.
Sammy Fabian (Glendale High, 2017) UC Santa Barbara softball sophomore: Fabian, a former All-Area Softball Player of the Year and News-Press Girls' Athlete of the Year, turned into another stellar campaign for the Gauchos.
It led to Fabian, an outfielder, receiving postseason hardware for the second season in a row.
Fabian got plenty accomplished, including being tabbed Big West Player of the Week for the first time to end the season. Fabian wrapped up the final week of the season in style after helping spark the Gauchos to a series victory against Cal Poly San Luis Obispo. She batted .583 (seven for 12) in the final series and drove in two runs to complete the week
Fabian finished the season batting .404 (67 for 166) and led the team in hits, runs (24), stolen bases (10), doubles (eight), on-base percentage (.431) and slugging percentage (.464). She became just the third player in UCSB history to bat higher than .400 en route to earning All-Big West Conference first-team accolades.
Santa Barbara finished 10-42, 4-17 in conference for last place in the eight-team conference.
Drew Atherton (Crescenta Valley High, 2018) Cal Poly Pomona baseball freshman: The right-hander went 2-2 with a 3.32 earned-run average for the Broncos. In 15 appearances (six starts), Atherton, a Pacific League honoree, struck out 17 and walked 13 in 43 1/3 innings. He allowed 18 runs (16 earned) and 44 hits to help the Broncos win the California Collegiate Athletic Assn. Tournament title.
Atherton picked up wins against Cal State San Marcos and Cal State Stanislaus on April 13 and May 10, respectively.
Against Stanislaus, Atherton notched his first career win. He surrendered five hits and two runs in his 5 1/3 innings to help Pomona record a 3-2 CCAA victory. Against Cal State San Marcos, Atherton went six innings, yielding one run on five hits and struck out two in a 5-1 CCAA win.
Pomona defeated Monterey Bay, 6-4, in a winner-take-all CCAA title game on May 11.
The Broncos advanced to the NCAA Division II West Regional. They began with an 11-6 win against Cal State Monterey Bay on May 16. Pomona suffered a 15-3 loss to top-seeded Azusa Pacific University, ranked 24th in the nation, on May 17 and followed with a 19-2 loss the Azusa Pacific on May 18.
Pomona finished 30-28, 23-21 for sixth place in the CCAA.
Abby Sheklow (Crescenta Valley High, 2017) Albion College women's lacrosse sophomore: Sheklow, a former All-Pacific League selection, turned in an impressive season for the Britons. The attacker tallied 36 goals and 15 assists for 51 points in 19 matches and had 38 ground balls for playoff-bound Albion.
Sheklow, who helped Crescenta Valley win a league championship in 2017, picked up some recognition throughout the campaign with the Britons (14-5, 7-1 in the Michigan Intercollegiate Athletic Assn.). She was selected the association's offensive player of the week for the week of Feb. 18, registering three goals and three assists in a season-opening 12-11 nonconference road victory against Carthage (Wis.) on Feb. 16. She collected five goals in a 15-14 nonleague road victory versus Ohio Northern on March 14.
Albion posted a 16-14 win against Hope in the MIAA championship match on May 4. Sheklow had one assist and two ground balls.
Albion College suffered a 19-5 defeat against Catholic University in a first-round match of the NCAA Division III Women's Lacrosse Championship on May 11.
Several Glendale High graduates play for Albion, including Ariella Ruiz, Ashley Iglesias and Jenina Villabroza.
Ruiz, a senior midfielder, had four goals, two assists and seven ground balls in nine matches. Iglesias contributed three goals and 11 ground balls in 19 contests as a sophomore defender. Villabroza, a junior goalkeeper, finished 6-3 and had 108 saves in 11 matches.
Jennie Chacon (Crescenta Valley High, 2018) Pasadena City College softball freshman: Chacon helped Pasadena qualify for the postseason and picked up postseason hardware.
Chacon, a catcher, batted .329 (28 for 85) with 21 runs, 15 runs batted in and eight stolen bases in 38 contests for the Lancers.
Pasadena advanced to the Southern California Regionals. It suffered a pair of losses — 8-3 and 4-2 — to host Santiago Canyon. In two postseason games, Chacon went two for six with one run and one run batted in.
Chacon was bestowed with South Coast Conference North Division second-team accolades.
Pasadena finished 26-16, 14-8 for second place in the division.
---