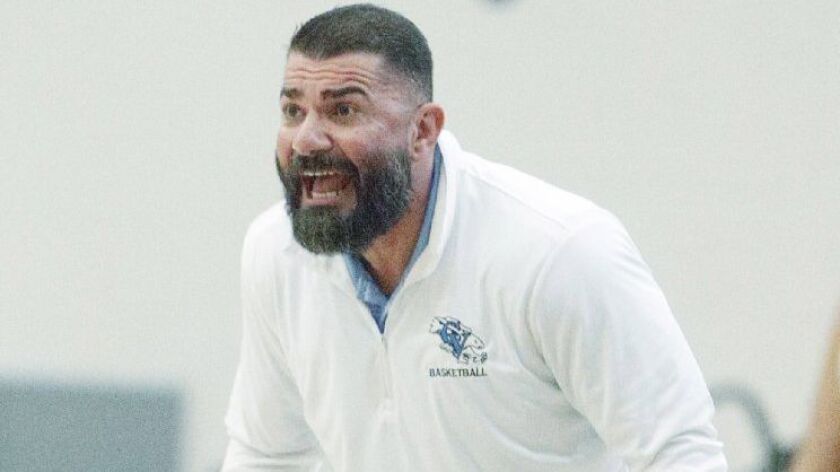 GRANADA HILLS — With a four-point lead and 11.3 seconds left in its CIF State Division III Southern California Regional semifinal, Crescenta Valley High boys' basketball coach Shawn Zargarian pulled up his sweater to wipe off his sweat-covered forehead and looked over to the Granada Hills Charter bench.
The Falcons' 14-year coach puffed his cheeks, exhaled and smiled at longtime friend and Granada Hills coach Don Loperena, who raised his eyebrows and nodded with a smirk in response.
The coaches faced each other in a playoff game and it came down to the wire in Granada Hills on Saturday. But it was Zargarian who smiled last.
With 0.6 seconds left, Granada Hills' senior Joel Carillo missed the second of two free throws and Crescenta Valley grabbed the rebound to seal a 58-57 victory to advance to the state regional finals and extend its historic season.
"It almost felt like we could've just played 10 seconds on a one-possession game," Zargarian said. "We talked about it before. He said, 'If we could turn you over, we'll be Ok.' Then I said, 'If we can make three-point shots, we'll be okay.'
"We played them so many times, we knew that was going to happen. I think we kind of laughed and winked at each other saying, 'Hey, this is kind of what we expected tonight.'"
The No. 6 Falcons (29-5; CIF Southern Section Division II-A semifinalist) will host No. 8 La Jolla Country Day (21-13; CIF San Diego Section Division I semifinalist) in the CIF State Division III regional finals at 7 p.m. Tuesday.
La Jolla Country Day defeated Fairmont Prep, 73-62, in its regional semifinal Saturday.
"We're playing for a state regional championship and we're one game away from going to Sacramento," said Zargarian. "This is big-time stuff. This is what you dream of.
"I've been a part of Crescenta Valley basketball since I was 16 years old. Non-stop. I'm 41. In my 25 years being part of it, I've been to the CIF title game when I was a junior, but this is unbelievable what we're doing right now."
The semifinal victory ties the program's most successful season with 29 wins.
Granada Hills, the division's No. 2 seed and the CIF Los Angeles City Section Division I champion, closed its season at 19-13.
Though Crescenta Valley led at the end of the first two quarters, the Falcons saw their lead chopped away at toward the end of the third and Granada Hills led, 46-40, at the start of the fourth.
Midway into the final quarter, Falcons senior Andreyas Boghossian scored six points as the visitors went on a 10-0 run to lead, 55-50, with 1:30 left.
The teams battled it out at the line, where Castillo missed the second of his two shots at the line that saw the Highlanders' season end.
"We didn't pull back," Loperena said. "We continued to play aggressive. We got into foul trouble and put good shooters at the line and, ultimately, that foul differential and the free-throw shooting was the difference in the ball game.
"We'll all be rooting for Crescenta Valley down the line and hope they still have some of those three-pointers left. There were some big shots with guys right in their eyes. Great high school basketball game tonight."
Boghossian finished the game 16 points and seven rebounds with three three-pointers. Falcons junior Tyler Carlson added 14 points and junior Chucky Meyer tallied 12.
"I just wanted to win really badly," Boghossian said. "I'm a competitor. Losing didn't feel like an option to me. I just got lost in the game."
Granada Hills was led by Jesse Bannout, who had 19 points and seven rebounds.
The Falcons enjoyed its largest lead, 19-8, with three minutes left in the first quarter, but closed out the quarter with a 22-13 lead.
The Highlanders picked it up in the second quarter and outscored the visitors, 11-2, in the middle of the quarter to take a 29-28 lead with 3:17 left.
Boghossian nailed a three-pointer with the first-half clock winding down to give Crescenta Valley a 33-31 lead.
Crescenta Valley struggled to control possession and dribble down the court in the third quarter, and Granada Hills capitalized with an 8-0 run to even the score at 37 with 3:58 left before taking a two-point lead.
Boghossian drained another three with 2:54 left to give the Falcons a one-point advantage, but the Highlanders answered with a three-pointer with 1:20 left to lead, 42-40, at the end of the third.
The Highlanders scored easily in the paint to gain their largest lead of the game, 46-40, before a pair of free throws from Boghossian tied it at 50 with 4:08 left.
"We knew it was going to be a battle," Zargarian said. "We knew it was going to go down to the wire. We knew it would be a one-or-two possession game. We kept trying to stress to our guys to keep their composure, stay calm, don't get rattled and do what you do. And they did."
Twitter: @ReporterVince
---