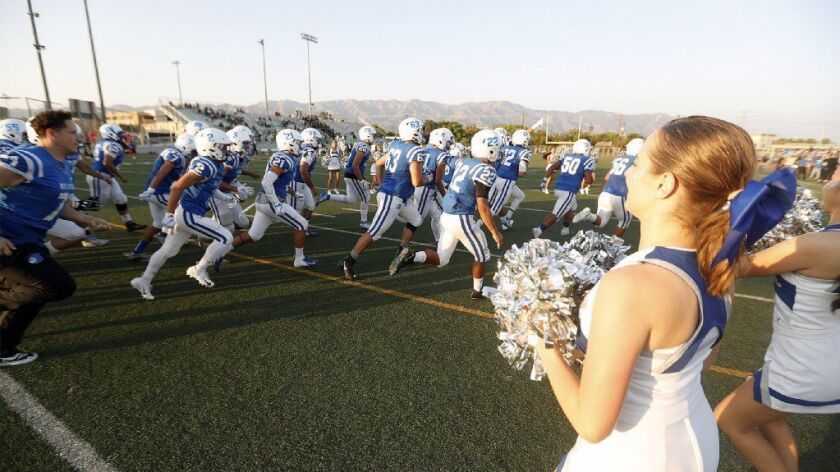 Shortly after Hoover High officially announced in May that it wouldn't field a varsity football team for the next two seasons, five area teams scheduled to face Hoover in the 2019 season were forced to scramble.
It took some creativity, communication and luck for Crescenta Valley, Glendale, Burbank, Burroughs and La Cañada to find replacement contests. However, all five programs will play 10 games after finding other options, though their schedules will look a bit different than originally planned.
Hoover and Glendale Unified School District officials announced the decision not to play for the upcoming season in a press release May 15: "In order to give these new recruits time to build their strength and skill level, Hoover will field a freshman/sophomore team this fall. Hoover plans to grow into junior varsity in fall 2020 and have a competitive varsity program by fall 2021."
The decision stemmed from a lack of interest and low numbers within the Hoover program. Last season, Hoover was forced to forfeit its final four games, including the annual "Battle of the Victory Bell" game against cross-town rival Glendale, following an on-campus brawl Oct. 3 that involved Tornadoes football players. Some athletes were suspended from school following the incident and some members of the coaching staff were placed on administrative leave before being reinstated.
Hoover also called off Pacific League games against Pasadena, Burroughs and Crescenta Valley.
Leading into the week of the rivalry contest, the Glendale Unified School District agreed to let Glendale and Hoover play in the traditional homecoming game. However, the game was called off less than three hours before kick off, with the district citing safety concerns.
With Hoover no longer in the picture for the upcoming campaign, area athletic directors and coaches went through their schedules with a fine-tooth comb to find new opponents for 2019.
La Cañada and Hoover were set to play a season-opening nonleague game Aug. 23 at La Cañada. Now, La Cañada will travel to Hacienda Heights Wilson on Aug. 23.
"We had gotten word about two months ago that Hoover might be dropping its program," La Cañada coach Jason Sarceda said. "We just wanted to be prepared either way.
"We wanted to play a zero week game and we were fortunate to find Wilson available. They just so happened to have an opening in their schedules, too."
Burroughs was scheduled to face Hoover on Oct. 10 in the seventh week of the season. Instead, Burroughs will meet visiting Hueneme in a zero week game Aug. 3 and will have its bye in the seventh week.
"We didn't want to play just nine games, we wanted the traditional 10-game season," Burroughs coach Rand Holdren said. "We had to change some things up and we were able to get to 10 games.
"We had to be ready to make other plans in case Hoover decided to not field a varsity team. So, we got a good opponent in Hueneme from Ventura County. It will be a very good test for our guys. We'll just take a bye later in the season now."
Crescenta Valley was slated to battle Hoover in the eighth week on Oct. 18. With that no longer an option, Crescenta Valley will face visiting Santa Rosa Academy the same date.
"Santa Rosa is a small school from Riverside County and they found us; I don't know how," Crescenta Valley first-year coach Hudson Gossard said. "Things just seemed to go quickly after we saw we needed to add an extra game. I guess [Santa Rosa Academy] needed an extra game as well.
"It will be strange not facing a traditional league opponent in Hoover, but it was very important to find another game so we will have 10 to take part in."
For Burbank, it was set to face Hoover in a ninth-week tilt on Oct. 25.
Things will look a bit different with Burbank's schedule. The Bulldogs will travel to face Orange Vista in Perris on Sept. 6 instead. Burbank was originally scheduled for a bye Sept. 6 and instead will have its bye in the ninth week, leading up to the annual "Big Game" rivalry showdown for city bragging rights against Burroughs the following week.
"It's really difficult to find a replacement game in the ninth week because just about all of the tams are involved playing league games," Burbank coach Adam Colman said. "We looked at a lot of things in terms of finding teams from L.A. City Section and teams in the Central and San Diego sections in CIF to play. Orange Vista had an opening and it looks like a good fit."
For a second straight season, the "Battle of the Victory Bell" between Hoover and Glendale will be on hiatus. The rivalry game dates back to 1930 and is one of the longest-standing rivalry games in the state.
It also served as the homecoming game for both schools.
Glendale will now play in the fourth week — originally a bye — against host Capistrano Valley Christian on Sept. 12. Glendale and Hoover were scheduled to square off in the final week of the regular season on Nov. 1. Now the school's freshman-sophomore teams will be playing that day at Moyse Field.
"It's going to be strange for me having been here for almost 30 years and seeing the rivalry unfold," Glendale athletic director Pat Lancaster said. "It's strange that the rivalry won't be continuing this year. We really need Hoover and Hoover needs us.
"We had to switch some things up and we were lucky to find Capsitrano Valley Christian. They had an opening the fourth week and it turned out to be a perfect fit in the schedule. I applaud all of our area teams for being able to find replacement games because it's certainly no easy task."
---