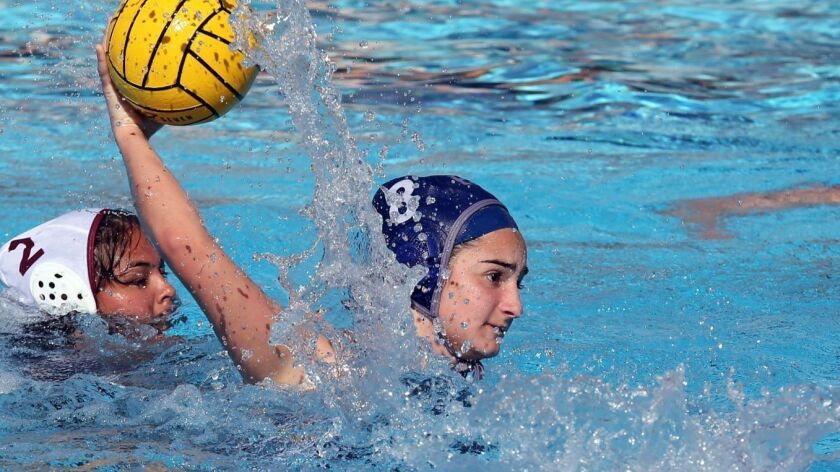 PASADENA — The Flintridge Prep girls' water polo team displayed a sufficient defensive effort that suffocated an offense trying to stay afloat.
In its CIF Southern Section Division VII quarterfinal match against Fontana on Saturday, Flintridge Prep didn't allow the visitors an inch of space on possession.
The Rebels' defense swarmed any and every opportunity the Steelers had, yielding one goal in the first half.
Defense turned into offense, and Flintridge Prep capitalized on turnovers as the Rebels advanced to the semifinals with a convincing 12-4 win at Pasadena Poly.
The Rebels, who tied for second in the Prep League, will next face Carpinteria on Wednesday at a time and site to be determined. Cartinteria defeated Chadwick, 9-7, in a quarterfinal Saturday. Flintridge Prep will be the designated home team.
Flintridge Prep, the No. 3 seed which improved to 14-3, was backed by a five-goal performance from Natalie Kaplanyan, who set the tone early with a steal that was turned into the opening goal at 4:18 in the first quarter.
"Coming into this game, we knew that we needed to dictate how the game went and we needed to play our game and not let them take over," Kaplanyan said. "We had to start off strong and we stayed focused in practice, so these past couple of days, we just went all out and we knew we wanted to take it all home."
Kaplanyan also had two assists, while junior Paige Nixon added a hat trick and senior Lara Freidman registered five assists.
"Inside, we all wanted to win this," Kaplanyan said. "We all wanted to win it all the way. All that confidence comes from wanting to get that ring at the end."
The quarterfinal performance was a culmination of the season's progression, Flintridge Prep coach Andrew Phillips said.
"There has been loads of preparation and real attention to detail over the season as we progressed, [especially] throughout the tournament two weekends ago at Los Altos," Phillips said. "It was a great time for us to take strides as a team, build team chemistry, build a defense and filter out all our mistakes on offense.
"We have a game plan that we like to adhere to and it's textbook now. It's almost muscle memory."
The victory sends Flintridge Prep to its first semifinal appearance in program history, a season after the Rebels made the playoffs for the first time since 2003.
"It's a season-long effort," Phillips said. "It's been something they've been working for since the beginning of the season. We've been preparing for CIF. If we lose a game by 10, we're taking something out of that game. If we win a game by 10, we're taking something out of that game, so it's a season-long process.
"We're not done, that's for sure. We're just looking to progress every game. I just want to be ticky-tacky about everything."
The Rebels led, 3-0, at the end of the first quarter, fueled by a pair of goals from Kaplanyan.
Fontana (19-7; San Andreas league champion) had looks on offense, but its three shots in the first quarter were all off-target, while Flintridge Prep hit the mark on its first five attempts.
The Rebels defense continued to shut down the Steelers, as Kaplanyan recorded her fourth steal that transitioned into Nixon's first goal assisted by Friedman for a 4-0 lead at 5:39 in the second.
"[There was] a lot of communication and, in practice, we work on counter-attacks and transitioning, so it was a whole bunch of cutting them off and communicating with each other as a team," said Kaplanyan, who has scored 23 playoffs goals.
The Steelers quickly responded with a goal from Aileen Hernandez to cut the lead to 4-1 with 5:22 left in the half. But the Rebels responded a minute later with Nixon's second goal to restore the four-goal lead.
Kaplanyan scored her third goal with 32 seconds left in the half to make it a 6-1.
The Rebels added to their lead with a goal 39 seconds into the second half that made it 8-1, with Kaplanyan's fourth goal coming at 5:02 in the third.
Melody Hernandez, who finished with a pair of goals for Fontana, got the Steelers on the board in the second half with a goal midway into the third quarter to cut the lead to 8-2.
Nixon notched her hat trick with 2:31 left in the third to make it a seven-goal lead for Flintridge Prep, before Kaplanyan tallied her fifth goal for a 10-2 lead with 32 seconds left in the quarter.
Flintridge Prep extended its lead to 11-2 at the start of the final quarter and the offense didn't let up.
However, the teams ended even at 2 in the final quarter after the Steelers tacked on two goals late.
Twitter: @ReporterVince
---