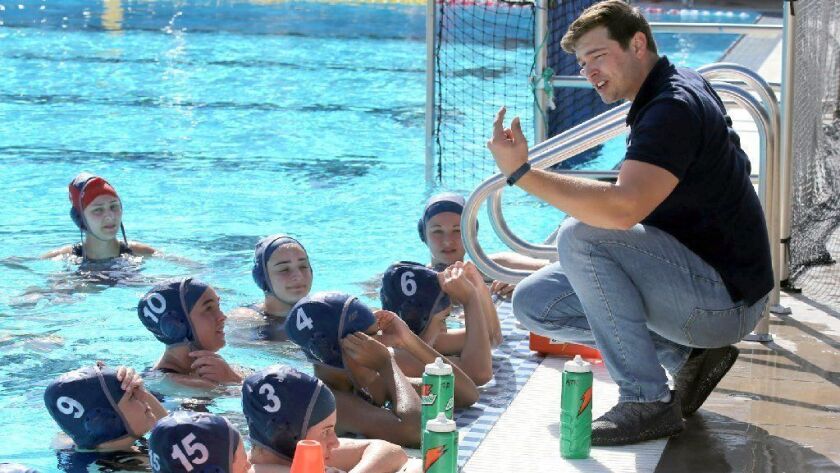 PASADENA — Forget about the long playoff drought and not coming close to appearing in a CIF Southern Section championship match. That's all now a distant memory for the Flintridge Prep girls' water polo team.
Looking to extend its historic season, Flintridge Prep arrived on the doorstep of making its first trip to a CIF Southern Section final contest when it faced Carpinteria in a Division VII semifinal match Wednesday.
Backed by an impressive effort from its standout sophomore utility player and another superior defensive showing, Flintridge Prep checked another box.
Flintridge Prep punched its ticket to the championship contest, getting six goals from Natalie Kaplanyan to register a 9-6 win versus Carpinteria at Pasadena Poly.
Third-seeded Flintridge Prep (19-8) will meet No. 1 Katella (25-7) in the title match at 9:30 a.m. Saturday at William Woollett Jr. Aquatics Center in Irvine.
Kaplanyan scored five goals in the first quarter to ignite Flintridge Prep, which ended a 15-year playoff drought last season.
Carpintera (14-6) did all it could to stop Kaplanyan, a reigning All-Area first-team selection, but to no avail.
"Right now, I'm just really proud of what we've been able to accomplish," said Kaplanyan, who has scored 29 goals in four postseason matches. "You could see coming into the season how much improvement we've made individually, but then you see it throughout the team and now we are going to the championship game.
"We started off strong and that helped us a lot today. Our defense stepped up again. It hasn't really sunk it yet that we are going to the finals."
Flintridge Prep, which tied for second with Chadwick in the Prep League behind Pasadena Poly before topping Nogales, Heritage, Fontana and Carpinteria in the pl;ayoffs, got two goals from Makena Walklett and one from Mona Patterson.
The Rebels jumped out to a 5-1 lead in the first quarter and held the Warriors and relegated them to mostly perimeter shots.
Kaplanyan scored all five of her goals within four minutes to propel Flintridge Prep, which became the first area girls' team to reach the finals since Crescenta Valley in 2013. Her third goal made it 3-1 on a man-advantage opportunity with 2:58 remaining.
"You saw why she's a top player," Flintridge Prep coach Andrew Phillips said. "She definitely leads our team in many aspects, but she has the support from her teammates and they all play such good defense.
"It just means a lot right now to see what we've accomplished these last two years. They've all worked hard and they know they can do better. We're not done yet."
Walklett closed out the first-half scoring with 5:15 to go in the second quarter to make it 6-2.
"It's very exciting when you can accomplish something like this for the first time," said Walklett, a junior. "Everything comes together and you just want to keep progressing as a team.
"Usually, our first quarter is our worst quarter. We wanted to get out of that. We were able to get up at 5-1 and you just become that much more confident."
Kaplanyan converted on a five-meter shot to give the Rebels a 7-2 lead with 4:55 left in the third quarter before Carpinteria, which shared the Citrus Coast League championship with Santa Paula, closed to within 7-4 on a goal by Sadie Mead with 3:20 remaining in the quarter.
Walklett scored on a five-meter shot with 1:27 to play in the third quarter to make it 8-4.
Mead, who finished with three goals, increased the lead on a man-advantage chance with 4:30 left in the fourth quarter before Patterson made it 9-5 less than a minute later.
Flintridge Prep goalkeeper Lauren Bennett registered seven saves before appearing to suffer an injury in the final minute of the third quarter. Reserve goalkeeper Tess Robertson-Neel came in and made two saves the rest of the way.
Carpinteria got one goal apiece from Cassidy Hajducko, Alex Zapata and Amy Perez.
Twitter: @TCNCharlesRich
---