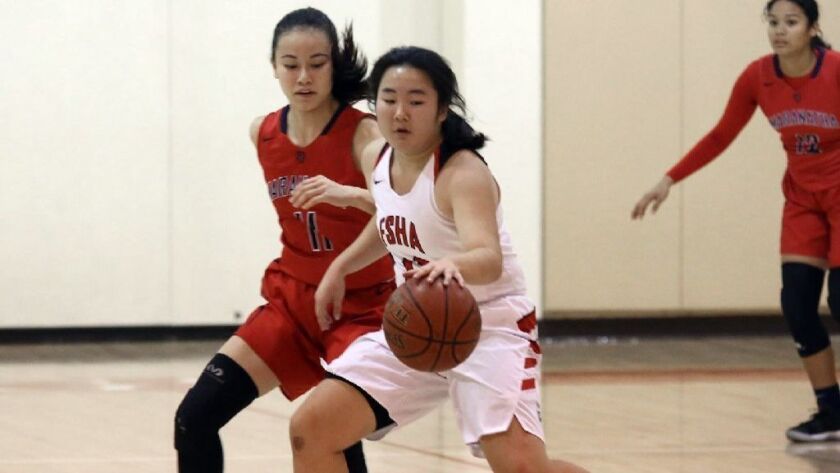 LA CAÑADA — Perhaps suffering its first loss in 10 games might not be the worst thing to happen to the Flintridge Sacred Heart Academy basketball team.
Time will tell for the Tologs, who have already surpassed their win total of just two games from last season and are off to one of their best starts over the last decade.
Flintridge Sacred Heart encountered a speed bump Thursday in the form of a 71-25 nonleague home defeat against talented Maranatha.
Still, the defeat didn't put a damper on what the Tologs (12-4) have accomplished during the first five weeks of the season under the direction of coach Ty Buxman.
"We still have our core and we've added a few freshman into the mix," said Buxman, whose team entered Thursday's contest fresh off winning a championship in the Pasadena Poly Tournament. "I think we've gained a lot of experience and we've been doing a lot of things well on offense and defense.
"We ran into a very good team tonight in Maranatha and it's the best team we've seen so far this season."
Flintridge Sacred Heart, ranked 16th in CIF Southern Section Division IV-AA, trailed the entire contest and couldn't stop the speed and transition game presented by Maranatha (8-3), which came into the game fresh off a 100-9 nonleague victory against Pasadena Armenian General Benevolent Union on Wednesday.
The Minutemen, 10th in Division IV-AA, went on an 11-0 run to build a 17-2 lead late in the first quarter. Maranatha had nine steals and forced the Tologs — who had last lost Nov. 20 against Montclair in the Mark Keppel Tournament — into 17 turnovers.
"[Maranatha] got out in transition and our transition gave up a lot of three-pointers and some wide-open layups and outside shots," Buxman said. "If you don't contest those three-pointers and close down the lane, then it makes it harder."
The Minutemen received 21 points, six assists and three steals from Patil Yaacoubian, who made a three-pointer to give Maranatha an 11-2 lead with 5:12 remaining in the first quarter.
Maranatha got 17 points from Emily Jordan and eight points apiece from Naomi Turner and Merci Turner.
Maranatha held a 22-10 lead after the first quarter before building a 32-17 halftime advantage.
Flintridge Sacred Heart was led by Bella Fraley, who finished with seven points. Manami Hayashi added six points and seven rebounds for the Tologs.
"They have a very good team and they are good at making shots," Hayashi said. "I thought we could have done a better job on defense.
"We are off to a very good start to the season, but there's room for us to improve. We have a team that's open to taking advice from each other and that's helped us a lot on the court. There's good communication and everybody knows their job out there."
Flintridge Sacred Heart won't play again until Jan. 2, when it meets host San Marino in a nonleague contest.
Flintridge Sacred Heart will begin Sunshine League competition Jan. 10 against Marymount after being in the Mission League the past two seasons.
Twitter: @TCNCharlesRich
---