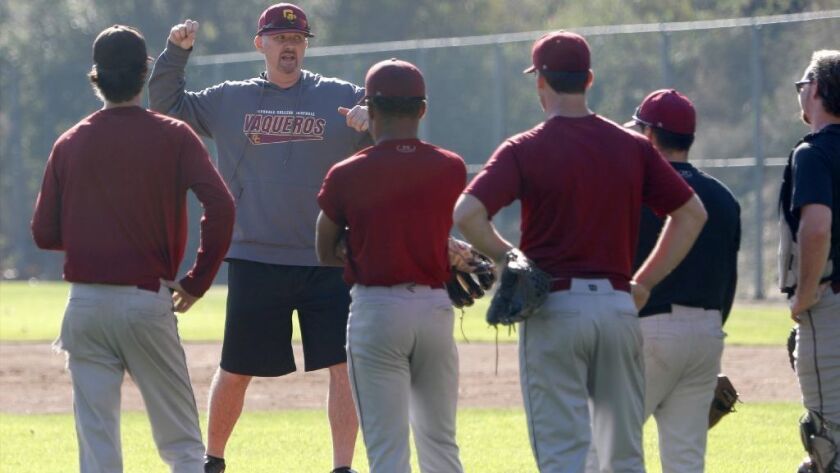 Alex Kocol is eager to walk to home plate and exchange lineup cards with the opposing coach while meeting with the umpiring crew to discuss field ground rules prior to a game.
It will mark the first time Kocol will do so as a head coach after being named interim coach of the Glendale Community College baseball team in August.
Kocol, who has served as associate head coach at Glendale since 2011, takes over for Chris Cicuto. Cicuto, who had been the head coach since 2003 and piloted the Vaqueros to six Western State Conference championships and one appearance in the California Community College Athletic Assn. state playoffs, stepped down to focus on his new role as the college's interim associate dean of athletics.
It's an opportunity Kocol has embraced and it will come to fruition when Glendale begins its season at noon Saturday with a nonconference road contest against Mount San Antonio.
"I'm definitely excited about being a head coach after having learned so much from Chris over the years," Kocol said. "It's a great chance for Chris to learn some things with his new job and I'm always looking to learn as a coach. I can still turn to Chris and ask him questions.
"I know most of the players, so it's not that hard of a transition. You want to bring in guys and develop them. You want to make sure they are adaptable. It will be exciting to make out a lineup card."
There will likely be a lot of talent scattered across the diamond for Glendale, which went 30-13, 17-3 in the division and advanced to the CCCAA Super Regionals last season. Glendale defeated Pasadena in the Southern California Regional before falling to Mt. San Antonio College in the Super Regionals.
"We have some unfinished business to take care of," Kocol said. "I think we were a better team than how we finished last year.
"Most of the players know me and there's lots of continuity. That's a big thing to have. We'll also look for the new players to provide an impact. We'll have some depth."
Depth will begin in the starting pitching rotation for Glendale, which won the division by one game over rival College of the Canyons in 2018.
The rotation will be led by a group of sophomore right-handers, including Dexter Wilkerson, Kevin Holcomb, Gerry Ramirez, Joe Serna and Kyle Nicol, a Burroughs High graduate who transferred from Cal State Northridge.
Wilkerson earned all-conference honors after going 3-4 with a 3.16 earned-run average in 12 appearances last season. He struck out 57 in 57 innings.
Holcomb picked up all-conference accolades after he went 4-1 with two saves in 15 outings. Ramirez was named all-conference while finishing 4-2.
They will be joined by freshmen Luke Hempel (Crescenta Valley) and Ethan Durant.
"There's lots of experience," Kocol said. "We can move some guys to the bullpen so we have plenty of options. Maybe we can have some of those guys throw anywhere from 60 to 80 innings."
Nicol, a former All-Area pick, and Holcomb might anchor the bullpen, along with Dusty Wilson (Hoover).
A group of catchers should bolster the squad, including sophomore Matthew Choi and freshmen Matthew Shaugabay (Burbank) and Nick Martin. Shaugabey received an All-Area nod last season.
Sophomore Andrew Tinoco and freshman Casey Slattery will split time at first base.
Lucas Sakay, a sophomore, will be at second base. Sakay was bestowed with all-conference honors last season after batting .299 and earning a gold glove award.
Among those battling at shortstop will be freshmen Christian Muro (St. Francis), who earned All-Area recognition last season, and Amani Lawrence.
Sophomore Hayden Luff and freshmen Hans Seo and JD Schaffer (Crescenta Valley) will vie for the starting spot at third base.
Sophomore Brandon Lewis (St. Francis) will be in left field. Returning in center field is Tom Tabak, who picked up all-conference recognition after batting .344 with nine doubles, 27 runs batted in, 43 runs and 19 stolen bases last season.
Looking to win a starting job in right field will be sophomores Fernando Rosales, Mitch Rathbun and Jose Martinez, along with freshman Alex Mills.
Glendale will begin division competition March 7 with a home contest against Barstow at Stengel Field. The Vaqueros will wrap up the regular season April 26 with a home division game versus Victor Valley.
"It's going to be a tough conference once again," Kocol said. "You've got College of the Canyons and Citrus up there and then you have teams in Victor Valley, Barstow and Antelope Valley who will look to close the gap. You have to be ready for all of those games in conference."
Twitter: @TCNCharlesRich
---