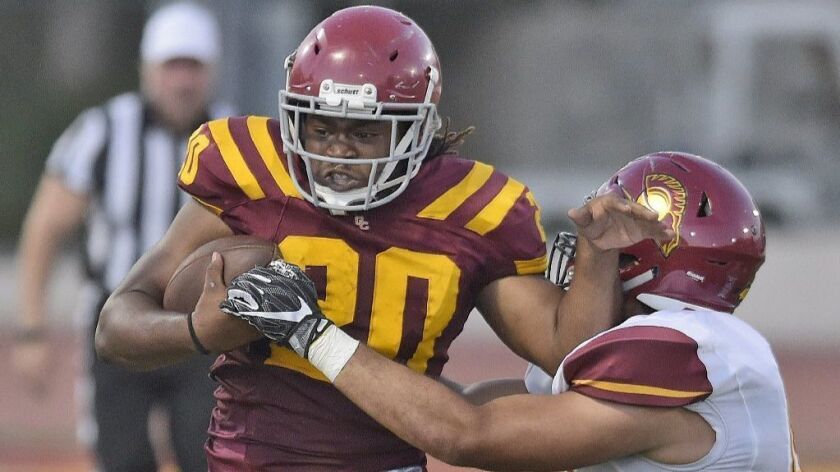 GLENDALE — It's hard to win a football game with more penalty yards than total offense.
Penalties, along with mistakes, are sometimes a byproduct of a young team. Such was the case for Glendale Community College on Saturday night
The Vaqueros committed 15 penalties for 152 yards while gaining 145 yards on offense.
Stat-wise, it was the most telling story of a 41-14 nonconference home loss to Pasadena City College. But mistakes not seen on paper were also aplenty, which contributed to the setback.
"It's concerning," Glendale Coach John Rome said. "We made a ton of mistakes — penalties, missed assignments, missed tackles and blocks. Our [quarterback] situation isn't set yet..."
Pasadena (2-0) actually committed more penalties (17 for 176 yards), but 497 yards on offense overcame it.
Glendale (0-2) used three quarterbacks in the game, Nathan Eldridge, Marcus Matchie and Anthony Parhms. Eldridge started the game and completed 10 of 13 passes for 48 yards. Parhms entered the game on Glendale's final drive of the game and gave the Vaqueros their biggest play of the contest on offense with a 34-yard run.
Highlight plays were few and far between as Glendale gained just 42 yards in the first half. Johnny Reed's pick-six from 27 yards out gave Glendale a much-needed score after Pasadena took a 21-0 first quarter lead.
Khaled Wahezi had the first of three Glendale interceptions off Pasadena's backup quarterback Isaia Ah-Hing. He returned the interception deep into Pasadena territory but a penalty forced Glendale's offense to start at the Pasadena 42 — a drive that would end in a punt.
Much like the opening drive of the game, the Lancers scored a touchdown to open the second half, increasing their lead to 28-7 on Mario Bobadilla's touchdown to David Telles.
Bobadilla finished the game completing 14 of 22 passes for 225 yards and three touchdowns.
Glendale answered back midway through the third with a six-yard touchdown from Adayus Robertson.
A pass from Eldridge found Jalen Lawrence in stride for what would have taken the ball deep into Pasadena territory, if not cut the Lancers lead to seven. However, Lawrence couldn't haul in the reception and the Vaqueros were forced to punt.
Rome attributed some of the mistakes to inexperience.
"We're a freshman-laden team," Rome said. "All of our quarterbacks; all but one receiver; defensively our corners and defensive line.
"It's only our second game. We'll get better as the season progresses. I saw glimpses of improvement, despite what the score says."
Charles Suey's interception gave Glendale another opportunity to cut into the lead on a drive starting on the Lancers' 36, but a turnover on downs dashed those hopes.
Pasadena added a pair of touchdowns in the fourth to put it away against its former conference foes.
"One step at a time," Rome said. "Our goal is to win conference and we have two more games to get ready."
Burbank High graduate Forest Fajardo had four catches for 38 yards for the Lancers.
---