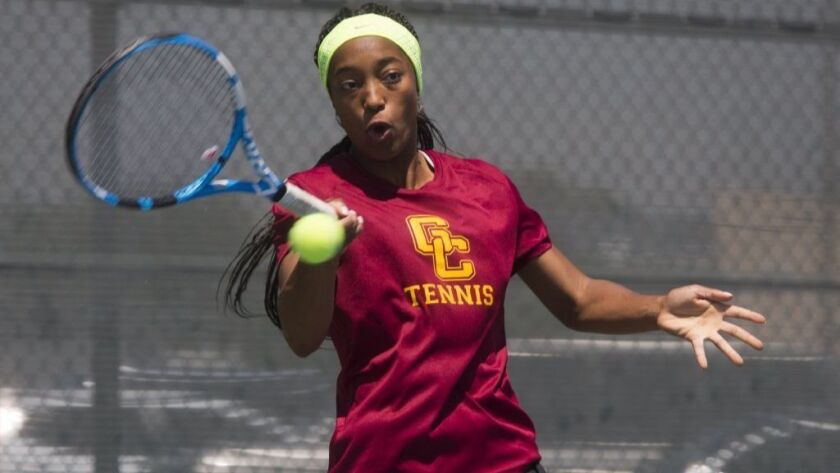 NORWALK — Having not lost since Feb. 1, the Glendale Community College women's tennis team looked unbeatable.
The fourth-seeded Vaqueros, however, showed their mortality at Saturday's CCCAA Dual Team Southern California Tennis Regional Championships against a formidable and familiar hurdle.
Top-seeded Cerritos College flexed its muscles and secured a title via a 5-0 victory over Glendale in Norwalk.
The crown is the second in three years for the Falcons, who own a 22-match winning streak.
The loss snapped Glendale's 21-match winning streak as the Vaqueros finished the team portion of the season with a 22-3 record, a Western State Conference title and advancement to the Southern California finals for the first time since 2015.
Saturday's defeat was the second for the Vaqueros versus Cerritos (23-1) this season, as the Falcons romped to a 9-0 victory in Glendale on Jan. 30. Glendale was last defeated, 5-4, by Irvine on Feb. 1
"I told the girls before the match that it was now or never," Glendale coach Deo Sy said. "We got to this point for a reason. Today, the match didn't go the way we wanted it to; there are just a few things we do that get us out of our game, but Cerritos is a very good team."
Cerritos led, 3-0, after doubles play and the race to secure the clinching fifth point was on.
The Falcons were first victorious at No. 6 singles as sophomore Diviana Bravo defeated Glendale's Felicia Moradian, 6-0, 6-1, for a 4-0 lead.
A few minutes after that victory, Cerritos freshman Kseniia Prokopchuk secured the title with a 6-0, 6-0 win over Vaqueros sophomore Hailey McNall.
Once the triumph was completed, the remaining four singles sets were halted and Cerritos was declared the champion.
"I don't think we're much better than Glendale, maybe just a little bit better at each spot right now, but they're a really tough team," Cerritos coach Quinn Calderon said. "They have great ball-strikers and maybe we just have a little more experience. It's a great win for us against, in my opinion, the second-best team in the state."
The last time the Vaqueros faced the Falcons in January, Glendale won eight total games in three doubles sets.
This time around, the Vaqueros won two more, but were swept again.
The best effort came from the duo of WSC singles champion Miah Webb and sophomore Sabrina Subero, which lost at No. 2 doubles to Petra Such and Moa Lindstrom, 8-5.
Cerritos' No. 1 duo of Lisa Suzuki and Prokopchuk, the South Coast Conference champions, defeated WSC doubles champions Srna Lepchevska and McNall, 8-2, while the Falcons' No. 3 duo of Itzi Torres and Bravo topped Glendale's Ruth Kachatorian and Moradian, 8-3.
"It feels like we just needed to work harder against them," Subero said. "I think we can beat them, but it's hard and we need to work on it. When we lose, we get down and some players give up and we can't do that."
Cerritos moves on to Wednesday's CCCAA state team championship match in Ventura.
Individually, the Vaqueros will conclude the season at the CCCAA State Championships in Ojai, beginning Thursday.
---