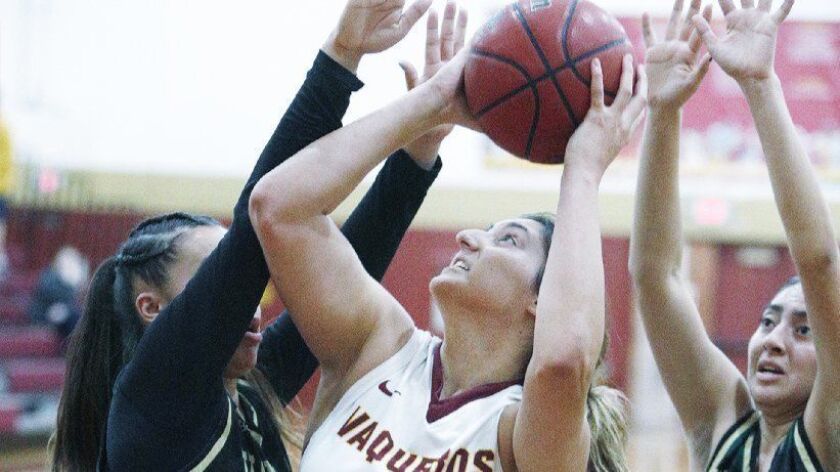 With six players returning, including a pair of all-conference selections, things appear bright this season for the Glendale Community College women's basketball team.
Having an experienced group might make the Vaqueros even hungrier to put together a third straight winning season and in line for a playoff appearance for the first time since 2003.
Grasping fundamentals continues to be a top priority for Weiss and his group.
"There's a lot to look forward to and having six returners will be helpful because they've been through the battles," Weiss said. "We also have a good group of freshmen and we think they can contribute, too.
"We have people who can score and rebound, so we've been practicing hard so we'll be ready for any situation in a game."
Glendale will begin its season Friday against Grossmont in the Riverside Tournament.
The Vaqueros bring back forward Sylvia Vartazarian (Glendale High) and guard Cheyenne Jankulovski. Vartazarian averaged 11.8 and 7.9 rebounds per game and Jankulovshi contributed 13.8 points, 4.8 rebounds and three assists per contest en route to receiving all-division first-team recognition.
"We'll definitely be counting on them to lead the way," said Weiss, who is 32-22, 12-8 at Glendale. "Sylvia is a unique match-up problem because she's tall and quick and she can shoot the three-pointer. Cheyenne is athletic and smart and she can play strong defense."
Glendale will have nine freshmen in the mix shooting to earn spots in the starting lineup, including a group from the area. They are forwards Natalie Martirous (Crescenta Valley) and Tess Oakley-Stilson (La Cañada) and guards Sarah Perez (Crescenta Valley) and Sophia Jimenez (Burbank).
The Vaqueros finished 16-10, 6-4 in the Western State Conference East Division last season. L.A. Valley won the conference championship, followed by Antelope Valley. Glendale went 0-4 against L.A. Valley and Antelope Valley last season. L.A. Valley reached the second round of the Southern California Regionals and Antelope Valley made it to the first round last season.
The division, which was created two seasons ago, also includes Citrus, Barstow and Victory Valley.
Might Glendale be in position to make a climb in the division this season?
"I'm not into prognosticating how we or the other teams in our division will do or what they'll be like," Weiss said. "I'm sure our division will be real good again, but we can really only focus on what we can do and what we can control."
Glendale will tip off division play Jan. 19 at home against Barstow and will wrap up the regular season Feb. 22 at L.A. Valley.
Leading up to division action, Glendale will participate in five tournaments. Glendale will host a tournament Dec. 19-21.
Twitter: @TCNCharlesRich
---