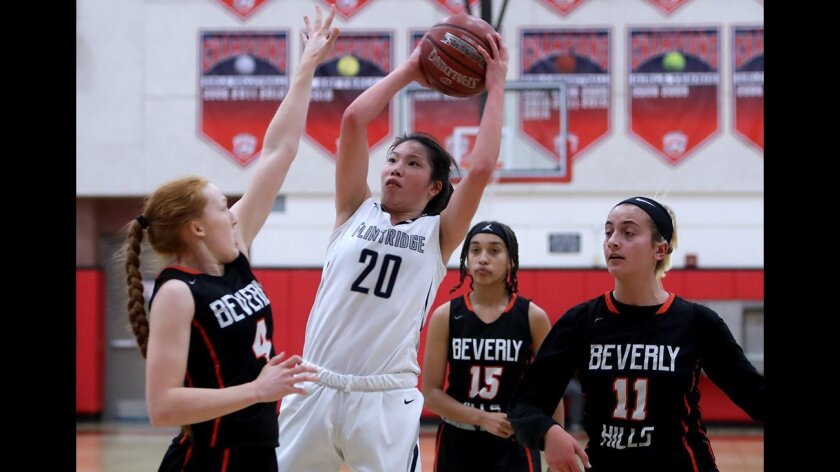 There were plenty of story lines that took place on the court for many of the area girls' basketball squads during the 2017-18 campaign.
Flintridge Prep marched to the CIF Southern Section Division III-A championship with a core of young players and advanced to the state tournament.
Crescenta Valley and Glendale earned a share of the Pacific League title with Burroughs on the last day of the regular season.
St. Monica Academy joined Flintridge Prep, Crescenta Valley and Glendale as the only teams to advance to the postseason.
Most of the teams have been moved to new divisions after the CIF Southern Section office realigned the divisions in the fall.
All eight programs have outlined their goals for the upcoming season.
Here is a closer look at the teams.
FLINTRIDGE PREP
The Rebels enjoyed a splendid season, culminating in a fifth straight Prep League championship and a trip to the championship game before competing in the CIF State Division III tournament. Fourth-seeded Flintridge Prep lost to second-seed Beverly Hills in the Division III-A title game, but the Rebels picked up plenty of experience as they will look to carry that over under co-coaches Kevin Kiyomura and Jayme Chan.
The prospects appear bright again for the Rebels, who earned berths in CIF finals games two of the last three seasons.
"We hope to start where we left off," said Kiyomura, whose team was moved to Division II-A. "We have 11 returners in the mix and most of them have a lot of experience and we'll look to use that to our advantage.
"The goal early on is to get prepared for league and it will be better with the addition of Providence. We have a lot of good players who are set to try to win league again."
Of great significance, Flintridge Prep (24-7, 12-0 in the Prep League last season) returns junior forward Kaitlyn Chen, who averaged an area-best 21.2 points per game and registered 8.7 rebounds, 3.5 assists and 2.8 steals Chen, the league's most valuable player, added 24 points, eight rebounds, 4.3 assists and 2.8 steals per game in the playoffs and picked up All-CIF Southern Section first-team recognition before being selected the All-Area Girls' Basketball Player of the Year.
Chen will be flocked by senior forward Madison Manning, junior guard Andie Kim and sophomore guard/forward Sofia Gonzalez, who also received All-Area and All-CIF accolades after averaging 10.1 points per contest.
CRESCENTA VALLEY
Crescenta Valley has had a terrific run the last three seasons, including a CIF championship and two Pacific League titles.
The success achieved by the Falcons (20-8, 11-3) has them looking to continue that upward climb.
"We have quite a few experienced players, so they have a good understanding of what to expect," said Crescenta Valley coach Jason Perez, whose team fell in the first round of the Division II-A playoffs to Newbury Park and will remain in the division. "The goals are to win another league title and compete for a CIF title. We have a very deep team and a lot of size."
Expected to pave the way for Crescenta Valley are senior guards Caity Bouchard and Georgina Kregorian and junior guard Denise Dayag. Kregorian contributed 7.9 points and 3.8 rebounds per game last season.
GLENDALE
The Nitros put together a breakthrough season in 2018, splitting the Pacific League crown with Crescenta Valley and Burroughs. It marked the first league championship for Glendale since 1992. Glendale lost to No. 2 seed Camarillo in the first round of the Division II-A playoffs and will stay in the division this season.
Glendale saw standout Jillian Yanai graduate after collecting 16 points, seven rebounds, 4.1 assists and 3.3 steals per game en route to being named the league player of the year. Yanai also earned All-CIF and All-Area recognition.
With Yanai gone, there's plenty of opportunities for the current core to step up and contribute.
"It's tough when you lose somebody like Jillian, who did so many things well," Glendale coach Tadeh Mardirosian said. "We aren't going to be relying on one person to carry our team.
"We have a lot of experienced players at different positions, so we want them to be in position to succeed. We're going to play a tough nonleague schedule that will help us get ready for league, which I think just about anybody can win."
The Nitros (19-10, 11-3) bring back senior guards Meri Chebishian and Anna Boyajyan, junior center Melissa Zamora and junior forward Mary Markaryan.
ST. MONICA ACADEMY
St. Monica begins a new era with the addition of coach Rick Allard, who takes over for Owen Keenan. The Crusaders won the International League title last season and made it to the second round of the Division V-AAA playoffs, losing to Big Bear.
St. Monica Academy (18-5, 14-0) has won 48 league contests in a row and is now in Division V-AA.
"There's a new system in place and they are learning it," Allard said. "We're further along in the learning process.
"We are challenging ourselves and everything becomes easier when you have that mindset in place."
The Crusaders will be paced by senior forward Kristin Turrichi, junior guard Katie Golbranson and sophomore forward Karinna Turrichi.
FLINTRIDGE SACRED HEART ACADEMY
Following two straight seasons in the difficult Mission League, Flintridge Sacred Heart will spend the next two seasons in the Sunshine League. When the Tologs were last in the Sunshine League in 2016, they advanced to the quarterfinals for the first time since 2011.
Flintridge Sacred Heart (2-19, 0-8) will go against Marymount, Sherman Oaks Notre Dame, Louisville and Immaculate Heart in league.
"All of the teams in our league are at about the same level," said Tologs coach Ty Buxman, whose team finished last in league last season. "it's quite a difference from when playing teams like Harvard-Westlake in the Mission League.
"We have a good mix of juniors and we have some experience. We'll look to head into league prepared."
Expected to lead the Tologs, who are Division IV-AA, are junior guards Janna De Vera, Kisa Hayashi and Manami Hayashi.
HOLY FAMILY
The Gaels missed out on the playoffs last season after taking fourth in the Horizon League. Greg Ziomek stepped in around the midway point of the season and will continue to coach the squad while also serving as the school's athletic director.
Holy Family (4-13, 4-6) will have several experienced players running Ziomek's system, including senior guards Michelle Barraza and Erika Mae Delfin and junior guard Kyla Yumang.
"We have a few players who are solid and dependable," Ziomek said. "There's no reason why we can't get to .500 and look to make the playoffs.
Holy Family is in Division V-A.
HOOVER
It's been a struggle for the Tornadoes as of late. Hoover won just one Pacific League game last season, tying with Muir for last place. It finished 1-22, 1-13 in league.
Any kind of improvement will be welcomed by coach Stan Watson.
"We just want to be more competitive and try to win a couple of league games," Watson said. "We have several returners, so maybe we can get that done."
Hoover, in Division IV-AA, will return junior center Hasmik Ter-Martirosyan and junior guard Talia Nazarian
GLENDALE ADVENTIST ACADEMY
The Cougars took fourth in the Independence League last season under coach Miles Alexander.
This season, Glendale Adventist (5-9, 4-6) is motivated and eager to contend for a top-three finish in league.
"We lost so many close games last season and that turned out to make a big difference," Alexander said. " We'll continue to fight and we have six or seven returners."
Glendale Adventist, which will be in Division V-A, will be led by junior forward Ana Nicolas and sophomore guard Izzy Salvador.
Twitter: @TCNCharlesRich
---