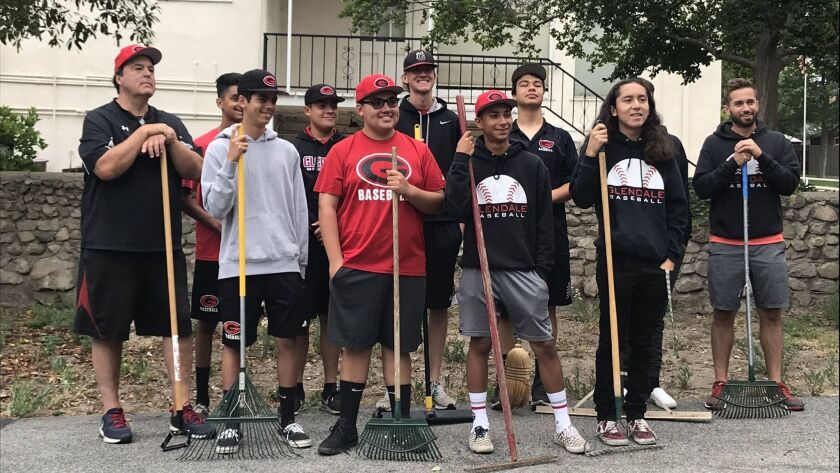 LA CRESCENTA — Baseball players are used to maintaining their home field during the season.
With this being the offseason and time on their hands, individuals from the Glendale High baseball team put their knowledge of field work to good use on a gloomy June morning.
Eleven players joined Glendale coach Marcus Whithorne and pitching coach Spiro Psaltis in some yard work on Saturday as the team helped beautify the gardens and outdoor resting areas at the Twelve Oaks Senior Living Center.
"One thing I'm trying to ultimately cultivate, as far as culture is concerned with this team, is that baseball is a tool that can make you a better person," Whithorne said. "We're contributing members of society, so you're ultimately learning how to interact with people who are different than you and having to rely on them in high-leverage situations."
"In one of the ways that we can embody that is giving back to the community. We want to represent Glendale High School. We want to represent our city. I was born here in Glendale, so it's particularly important to me to get these guys out and give back because this city has given so much to us. It's provided wonderful education for these young men and to give back in a very, very small way is the least we can do."
The modifications on the facility' yard started about two years ago, according to the center's maintenance director Jose Jaramillo.
Since the beautification started, the center has received help from a number of volunteers, including the Boy Scouts and Girl Scouts programs. Groups have put up a flag pole as well as planted citrus trees around the center.
"It's good," Jaramillo said. "It means a lot to us and the residents notice it a lot, too. They really do. Any little thing that's done, they will ask."
The idea to help the center's property maintenance came from Psaltis.
"He's been a stalwart in this community for decades," Whithorne said of Psaltis. "He is a Glendale High baseball legend. We have a moniker for him and he is 'Mr. Glendale.' He is around town. He loves this city more than anything.
"We thank him for providing the opportunity and being the steward for this. Hopefully this will be something we continually revisit."
The players began the day plucking out weeds and extracting unwanted greens from the walkway garden of the lodge's community center.
The volunteers' hands started getting noticeably dirtier with the pile of weeds growing in the parking lot. Chatter about the NBA Finals, possible Los Angeles Lakers trades and of course, professional baseball helped pass the time for the players and coaches.
"They should expect it and cherish it," said Glendale senior Andrew Do about the incoming underclassmen. "Once you're past high school and on to college, you only should think about yourself, so cherish these moments with your brethren and have a good time helping out other people."
After an hour of work, a player felt so energetic about the team's deed that he started doing burpees exercises in the parking lot. Conversations about where certain NBA superstars started circulating once more.
Because the volunteers' efforts, the property that was once riddled with leaves was raked and cleaned up, beautifying it for the residents.
"It makes me feel like a better person helping out people you don't know," said Nitros sophomore Danny Villeln, who was helping Do. "It makes you feel better. It's moments like these that you need to remember."
Twitter: @ReporterVince
---