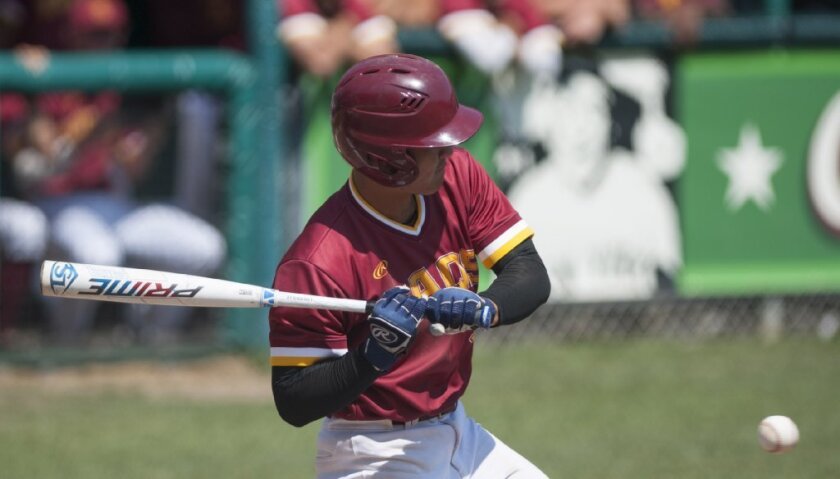 GLENDALE — The Glendale Community College baseball team was a few innings away from closing out a series sweep against College of the Canyons in a Western State East Division conference game at Stengel Field on Saturday.
The Vaqueros held a three-run lead through four innings, but the Cougars' bats woke up in the top of the fifth inning to drive in six runs.
College of the Canyons tacked on three more runs at the top of the sixth and went on to defeat Glendale, 9-4.
"We were one pitch away in that [fifth] inning, but I think the big picture is that we take three out of four from Canyons and we're a couple of mistakes away from sweeping them," Glendale coach Alex Kocol said. "It's been a really long time since we swept them and we worked really hard to beat them."
The conference-leading Vaqueros outscored the Cougars, 35-4, in the two games entering Saturday's matchup and it looked like the hosts were going to keep up that trend with a 3-0 lead after four innings.
But a pair of two-out, two-run doubles gave the Cougars a 6-3 lead in the top of the fifth inning.
The Vaqueros were shut out for four innings and recorded just one hit before finally breaking through in the bottom of the ninth with a run on a fielder's choice.
"We had all those two-out hits," College of the Canyons coach Chris Cota said. "That's what you call a two-out rally, and we were fortunate. That's a good team over there and if you can get those innings, you have to take them.
"In the sixth, [Tyler] Erne had a great slash and we got the three runs, and then [pitcher Matt] Serrano, he stepped up big for us. He was pounding the zone and they kept hitting the ball in the air."
Glendale (20-10, 11-3 in conference), the defending conference champion, still hangs on to the top spot in the Western State East Division standings, while COC (15-15, 7-7) moves to third with the victory.
"I think that's mission accomplished for us," Kocol said. "We're in first place in conference and everything's there for us in terms of finishing the deal and winning consecutive conference championships again. It's a big week for our program and I'm really proud of the way our guys competed."
The Vaqueros kicked things off at the bottom of the first inning with a two-out double from Casey Slattery to drive in designated hitter Sammy Martinez for a 1-0 lead.
Glendale catcher Michael Choi made it a 3-0 lead in the bottom of the fourth inning with a two-run home run to left field.
The Cougars finally got on the board following a two-out single from Tyler Erne in the top of the fifth to cut the Vaqueros' lead to 3-1.
COC added another run on a single from Brandt Felix. Then, with runners on second and third, Cougars designated hitter Brendan Henry belted a two-out, two-run double to give the visitors a 4-3 lead.
After a single to set up runners on the corners, Cougars catcher Nate Duarte smacked another two-run double toward left field to give COC a 6-3 advantage.
The Vaqueros gave up a pair of walks to lead off the sixth inning, and an RBI-double from Erne made it a 7-3 before a pair of ground-outs scored two more runs.
"They've handled us well," Cota said. "You just can't give in. This game is special. You never know what's going to happen the next day and our guys didn't give in after getting it handed to them for two straight games."
Vaqueros third baseman Hans Seo smacked a ball toward third base and scored Choi on a fielder's choice to cut the Cougars' lead to 9-4.
Choi finished with a double and a home run with two runs scored for the Vaqueros, while Lucas Sakay collected two hits. Trent MacKinney doubled for his lone hit of the game.
Vaqueros starting pitcher Kyle Nicol, a Burroughs High product, threw two hitless innings, striking out three and walking one. Relief pitcher Dexter Wilkerson dealt 2 2/3 innings and had two strikeouts, two walks, five hits and five earned runs. Guillermo Pinedo closed the game for the Vaqueros and struck out one, scattered four hits and allowed one earned run.
Cougars relief pitcher Matt Serrano registered three, 1-2-3 innings through four innings for three hits and two strikeouts.
Twitter: @ReporterVince
---