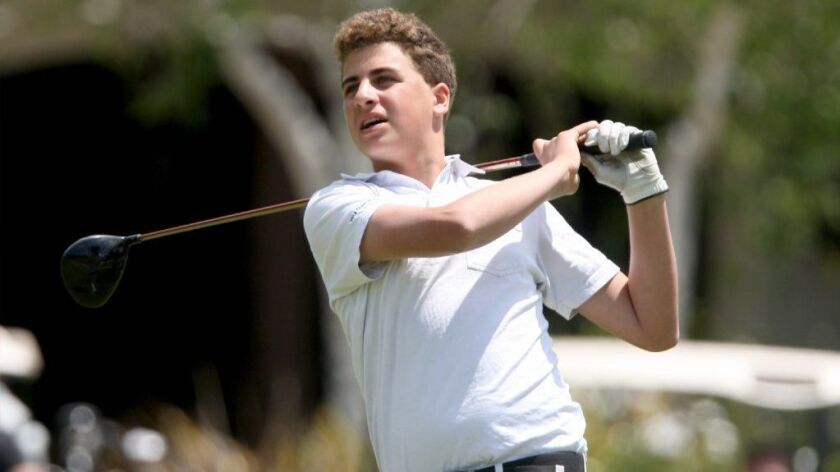 A season ago, the St. Francis High and Crescenta Valley boys' golf teams participated in the CIF Southern Section divisional playoffs.
It provided experience for the players expected to return this season and give them a better idea of what to expect in future team matches and individual events.
Flintridge Prep just missed qualifying for the postseason, yet will return its nucleus.
Glendale will compete at the junior varsity level after previously playing in the Pacific League.
Here is a closer look at the teams.
ST. FRANCIS
There's plenty of excitement being generated by the Golden Knights, who bring back the majority of their starting lineup and have added depth.
St. Francis finished fourth in the talented Mission League last season behind powers Loyola, Harvard-Westlake and Chaminade before taking sixth in the CIF Southern Section Central Divisional at Lakewood Country Club in Lakewood. Loyola finished second in the event behind Palos Verdes.
St. Francis will boast a lineup consisting of juniors that's expected to include Henry Fitzhugh, Vincent Bedros, Lake Kim, Andrew Fiori and Michael Balian.
A sturdy lineup has left St. Francis coach Kyle Ostrom believing the Golden Knights are capable of making a charge.
"I think we'll be very good and we've got the talent to contend for league," said Ostrom, a former All-Area Boys' Golf Coach of the Year. "We're shooting big, not just for league, but for CIF.
"What I really like is how we are set up for this year and next. There are definitely high expectations for many of our guys."
CRESCENTA VALLEY
The Falcons enter the campaign fresh off placing third in the Pacific League. Crescenta Valley finished behind Arcadia and Burroughs and took 13th in the CIF Southern Section Northern Divisional at Santa Anita Golf Course in Arcadia. Arcadia won the event on its home course.
Though Crescenta Valley lost Peter Kim, who received an All-Area nod last season after taking fourth in league and advancing to the CIF Southern Section Individual Golf Finals/Southern California Golf Assn. Regional Qualifying Tournament, it doesn't figure to be short on talent.
"I think we'll be solid," Crescenta Valley coach Mark Samford said. "It just comes down to how they'll be able to handle the pressure.
"You know coming into league that Arcadia will be good and Burroughs will be talented. We'll try to make a move up and see what happens. Qualifying for CIF will be a legitimate goal."
Crescenta Valley will turn to seniors Andrew Hong, Daniel De Guzman and Aaron Leucht, junior Nate Frink and sophomore Jaden Chung, while adding freshman Hank Norman.
FLINTRIDGE PREP
Flintridge Prep will carry 12 players, including a group of key seniors who will be counted on to provide experience and leadership.
Flintridge Prep took third in the Prep League last season behind Chadwick and rival Pasadena Poly.
Still, there was a bright note for the Rebels. who saw Ben Sacks place runner-up in the league's individual championship and reach the CIF Southern Section Northern Individual Regional en route to being bestowed with All-Area recognition.
The Rebels return Sacks, a senior who won the league's individual title in 2017, along with fellow seniors Preston Ho ,Ian Park and Anderw Freedman. The group will be joined by junior Jack Crawford, sophomores Alex Yeh and Sam Sullivan and freshmen Marcus Chen and Shane O'Neall.
"I really like our chances and I think we'll be capable of surprising some people," Flintridge Prep coach Bob Loughrie said. "All of our players have been looking to improve their overall game and we have a lot of people who can step up and contribute.
"It's going to be a huge help being a deeper team because that's what it's all about when you have that depth toward the bottom of your lineup. That's the difference where matches can be won or lost."
Twitter: @TCNCharlesRich
---