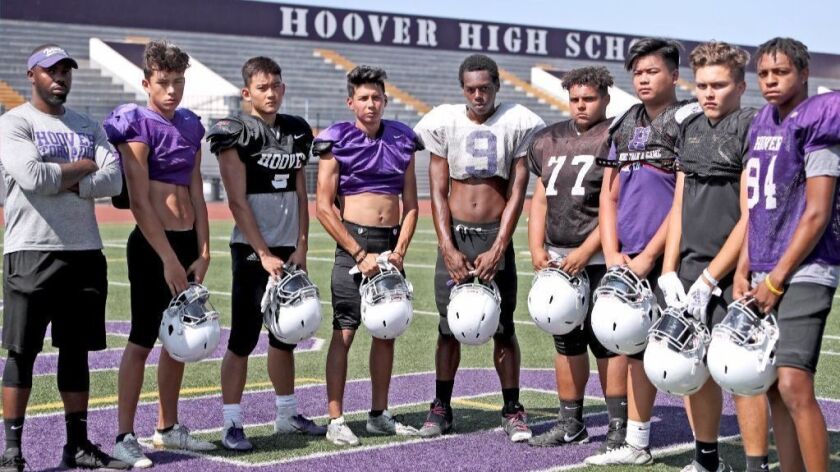 Less than a week following a melee on campus that reportedly involved multiple Hoover High football players, the school's football team has forfeited a game for a second consecutive week.
Hoover athletic director Jack Van Patten confirmed late Monday that Hoover's Pacific League game against Burroughs, which was scheduled for 7 p.m. Thursday at Glendale High's Moyse Field, has been cancelled.
The game will go down as a forfeit win for Burroughs.
"The game will not be played," Van Patten said. "As for the rest of the season, we'd like to see our players play, but we'll have to wait and see."
Hoover also called off last week's league contest against Pasadena after a fight ensued on campus Oct. 3. It resulted in the school being locked down and warranted a police response.
In an email distributed Monday by Glendale Unified School District Supt. Winfred B. Roberson stated that students were disciplined because of their involvement in the fight. In addition, the email read: "The entire football team was not suspended or disciplined. The Hoover football season has not been cancelled."
However, it's been reported that some members of the football team were suspended for their alleged actions in the brawl.
Kristine Nam, the district director of communications, declined to divulge how many students were disciplined or if any are members of the football team. In addition, Nam was unable to reveal if any members of the football coaching staff might have been placed on leave as officials continue their investigation.
Reached by phone Tuesday, Hoover second-year coach Terrance Jones declined to comment on the incident and whether he or any of his assistants have been put on leave.
"I just am not able to comment on what's happened," said Jones, who served as an assistant at Hoover the four seasons prior to becoming head coach.
Meanwhile, the forfeit has left Burroughs scrambling to seek a replacement.
"Our players have put in the work to play a game," said Burroughs first-year coach Rand Holdren, whose improves to 2-6, 2-3 in league with the forfeit. "The players at Hoover have also put in the work and now some of them won't be able to play and they did nothing wrong.
"It's collateral damage for our guys and it's something that's beyond their control. We're now looking for a game to play this week and we need our guys to be on the field playing."
Hoover began its season with a 13-12 nonleague home win against La Cañada on Aug. 17 on campus before losing its next five games.
Hoover, which is now 1-7, 0-5 in league, is scheduled to take on Crescenta Valley in a league contest Oct. 19 at Moyse. Hoover is then set to meet crosstown rival Glendale in the "Battle for the Victory Bell" on Oct. 25 at the same venue. The Hoover-Glendale rivalry is one of the oldest in the state and dates back to 1930. Hoover has won the last three games against Glendale.
Several phone messages to Hoover principal Jennifer Earl seeking comment were not returned Tuesday.
Twitter: @TCNCharlesRich
---