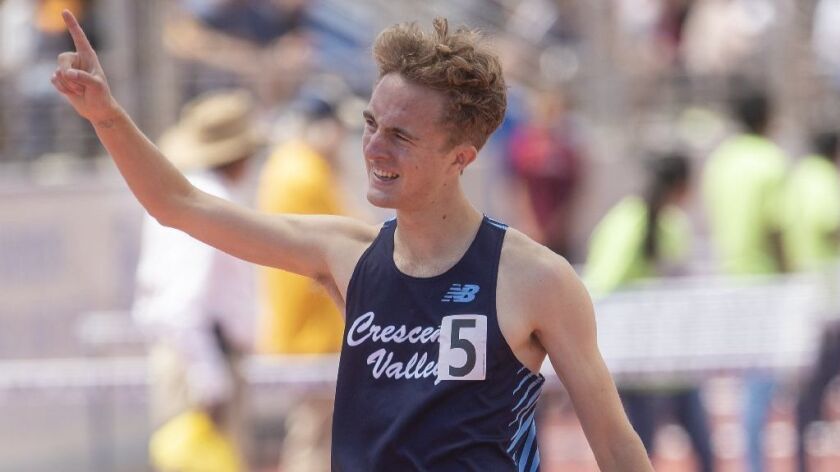 A quartet of area track and field standouts have made their final preparations, putting them in position to take their talent to a new level.
Dylan Wilbur, Jayla Flowers, David Miketta and Mia Barnett each have a firm handle on what's at stake as they get set to compete in the CIF Southern Section Masters Meet on Saturday at El Camino College in Torrance.
Should they earn a top-six finish in their respective events or hit a state at-large mark, they will advance to the 101th annual CIF State Track and Field Championships on May 24-25 at Buchanan High in Clovis.
Wilbur of Crescenta Valley High will take part in the boys' 1,600-meter race at 1:28 p.m. Flowers of Burbank will compete in the girls' triple jump at 12:30 p.m. and is an alternate in the long jump. Miketta of La Cañada will participate in the boys' pole vault at 11:30 a.m. Barnett, a La Crescenta resident fron Village Christian, will take part in the girls' 1,600 and 3,200 races at 1:17 p.m.and 3:20 p.m., respectively.
St. Francis' Matthew Molina, the reigning All-Area Boys' Track and Field Athlete of the Year, qualified for the 110 high hurdles and high jump. On Monday, Molina made the decision to skip the Masters Meet because St. Francis' graduation will be held the same day as the state meet.
Wilbur, a junior, enters the meet fresh off winning the CIF Southern Section Division I championship on May 18 at El Camino. Wilbur, who won the Pacific League title in the event, clocked 4 minutes, 12.31 seconds to capture the Division I crown and earn his first Masters Meet appearance.
"Dylan is in a very good place right now and he's set goals to get to the state meet," Crescenta Valley coach Mark Evans said. "He wants to accomplish those goals and it's quite possible he can get to Clovis.
"He basically ran even splits at CIF last week and I think it's possible that you can see him go out a little faster during the first couple of laps at Masters. He's well under the qualifying time right now, plus he's motivated."
The qualifying mark to advance to the state meet in the event is 4:14.90.
Flowers, a junior, finished third in the Division I triple jump at 38 feet, 5 inches in the finals. She had a fourth-place mark in the long jump at 17-10 ½.
Flowers, who will also make her inaugural appearance in the Masters Meet, won Pacific League titles in both events.
"Jayla is a very serious athlete, especially when it comes to focusing on goals and getting in shape," Burbank coach David Card said. "I think you'll see her be much quicker and with an even better vertical leap. The thing with Jayla right now is that she's peaking at the right time."
The state qualifying marks for the triple jump is 38-10 and the long jump is 18-6.
Miketta will make his debut at the Masters Meet after winning the Division III crown while clearing 15-0 on his second attempt .The junior came into the CIF finals after winning the Rio Hondo League title.
"He just started to pole vault a year ago and he's still figuring things out," La Cañada coach Andy DiConti said. "It's cool to watch him continue to get better and it was amazing to see him win last week.
"He studies videos about pole vaulting and he's got a chance to get to state. He's cleared 15 feet at least four times this year."
The state qualifying mark is 14-9.
Barnett won a pair of Division IV titles at the finals. The sophomore finished first in the 1,600 in 4:47.30 and the 3,200 in 10:33.95. It marked the second straight season Barnett won both races and she'll make her second straight trip to the Masters Meet.
The at-large marks are 4:52.84 in the 1,600 and 10:28.90 in the 3,200.
The UC Santa Barbara-bound Molina repeated as Division III champion in the high jump with a mark of 6-6. He took third in the 110 hurdles at 15.14 after winning the division championship last season. Molina repeated as Mission League champion in both events.
With St. Francis set to hold its graduation ceremonies May 24, Molina decided to not participate in the state meet had he qualified.
"Matthew had to make a tough decision and he doesn't want to be selfish and take up a spot and then not compete had he gone to state," St. Francis coach Mike Russell said. "He's thinking about other people.
"He's definitely had another great year and he did everything to get himself better."
Support our coverage by becoming a digital subscriber.
---