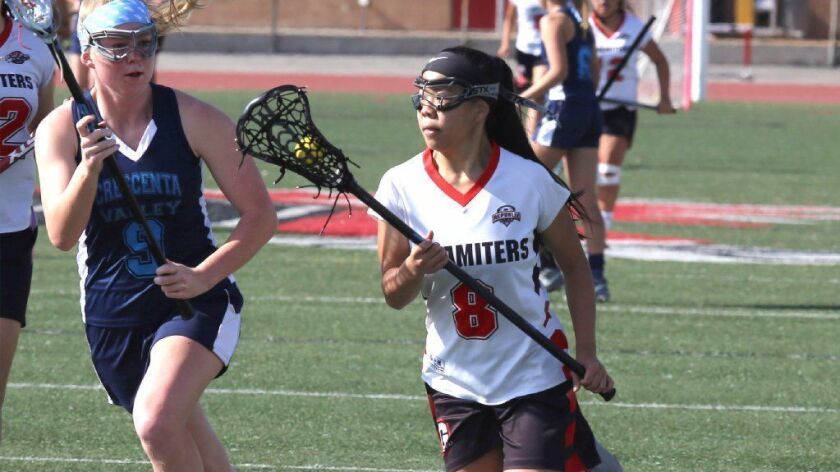 In Rachel Fong and Xcaret Salvador, the Glendale High girls' lacrosse team had a determined tandem to put the Nitros in position to challenge for the Pacific League championship.
Fong provided a steady all-around game, beginning with her impeccable play-making skills, and Salvador anchored Glendale's defense while providing leadership to the young squad.
The contributions made by the seniors were recognized by the league's five coaches, whom selected Fong as the league's offensive player of the year and Salvador as co-defensive player of the year.
The duo helped Glendale win its second consecutive league title and make its deepest postseason run in program history. Glendale went 18-3, 4-0 in league before the fourth-seeded Nitros fell to No. 1 Redondo Union in a Los Angeles Lacrosse Foundation Division I semifinal match.
In all, 20 players combined from Glendale and Crescenta Valley picked up all-league recognition.
Fong, a midfielder, finished with 106 goals, 39 assists, 40 ground balls, 79 draw controls and 26 caused turnovers.
"With Rachel. she was always option No. 1," said Glendale coach Joe Campbell, who has guided the Nitros to three league championships in the last six seasons. "It seemed to work out just about all of the time.
"She's not a selfish player because she likes to get everybody involved and willing to contribute. Her play-making skills are outstanding."
Salvador, a midfielder, contributed 57 goals, 16 assists, 40 ground balls, 65 draw controls and 16 caused turnovers.
"Xcaret is a determined individual who plays with a chip on her shoulder," Campbell said. "That's what our teams loves so much about her.
"She'll go in there and do the dirty work by playing tight defense and going out and getting the ground balls."
Salvador shared the honor with Abi Jin of West Ranch.
Five Glendale athletes and three Crescenta Valley players were selected to the first team. Five players from Crescenta Valley (14-4, 3-1 in league for second place) and three from Glendale were named to the second team. The Nitros and Falcons each had one player pick up honorable mention.
Glendale's Jasmin Contreras, Lili Barker, Zoe Charum, Samantha Hutchinson and Aaliyah Eudabe, along with Crescenta Valley's Peyton Lindman-Marshall, Lexi Ballard and Allie Foster, were bestowed with first-team accolades.
Contreras, a senior midfielder, had 12 goals, five assists, 29 ground balls, 35 draw controls and 14 caused turnovers.
Barker registered 152 saves, 11 ground balls and 43 caused turnovers as a senior goalkeeper.
Charum, a junior defender, finished with 12 goals, five assists, 20 ground balls, 10 draw controls and seven caused turnovers.
Hutchinson notched 17 goals, seven assists, 19 ground balls, 33 draw controls and three caused turnovers as a junior attacker.
Eudabe, a sophomore attacker, finished with 46 goals, 10 assists, 12 ground balls and two caused turnovers.
Peyton Lindman-Marshall, a senior attacker, had 64 goals, 34 assists and 96 ground balls.
Ballard collected 44 goals, 59 assists and 103 ground balls as a senior attacker.
Foster, a junior midfielder, notched 51 goals, 30 assists and 114 ground balls.
Damaris Arca, Aya Baker and Ava Bryden of Glendale and Crescenta Valley's Francesca DiMundo, Riordan Hall, Audrey White, Sierra Grenninger and Phoebe Crowther picked up second-team recognition.
Arca had four goals, two assists, 19 ground balls and 11 caused turnovers as a sophomore defender.
Baker, a freshman defender, contributed two goals, three ground balls, eight draw controls and three caused turnovers.
As a freshman defender, Bryden finished with three goals, two assists, eight ground balls, 12 draw controls and five caused turnovers.
DiMundo, a senior attacker, contributed 48 goals. 13 assists and 31 ground balls.
White had 28 ground balls as a senior defender.
Hall, a sophomore, provided a steady influence to Crescenta Valley's defensive unit.
Grenninger, a sophomore defender, had 35 ground balls and controlled 74 draws.
As a sophomore goalkeeper,Crowther had 198 saves and a 1.64 goals-against average.
Glendale's Morgan Frazier and Crescenta Valley's Maya Sheklow received honorable mention.
Frazier, a senior defender, had one goal five ground balls and two caused turnovers. Sheklow, a junior defender, finished with 31 ground balls and controlled 90 draws.
Fifth-seeded Crescenta Valley fell to Glendale, 14-9, in a quarterfinal match after it posted the program's first playoff win against No. 12 Oaks Christian.
---