Crescenta Valley softball's Hernandez' phenomenal freshman year leads to league pitcher of year award
Big wins and bigger statistics marked the season that was for the Crescenta Valley High softball team.
Throughout most of Pacific League play, the Falcons ran roughshod over opponents, stumbling once against Burroughs before winning the title outright after Burroughs stumbled against Burbank in the finale.
To the winners went the spoils of plenty of all-league selections for the Falcons, not the least of which was freshman standout Dee Dee Hernandez, a dominant pitcher and hitter, claiming Pacific League Pitcher of the Year.
"I was really excited about it," Hernandez said of winning the accolade. "I kind of had an idea, but I really thank my team; I couldn't have done it without my defense behind me."
Burroughs sophomore Chloe Bookmyer was voted Pacific League Player of the Year.
While Hernandez nabbed pitcher of the year, teammates Alyssa Hernandez, a junior shortstop, Kristy Taix, a junior outfielder, and Maddie Deleon, a sophomore infielder, earned first-team recognition. Joining the cavalcade of Falcons, Glendale junior pitcher Aurora Funaro and senior third baseman Britney Figueroa of Hoover garnered first-team nods.
Once the dominant team in the Pacific League season after season, Crescenta Valley High's softball team reestablished itself in 2017 when it shared the league title with Burroughs. In 2018, Crescenta Valley won the crown by itself and took another step forward, compiling a 25-3 record, earning the No. 2 seed in the CIF Southern Section Division III playoffs and advancing to the second round, where it was upset by El Modena.
"Absolutely," Falcons coach Amanda Peek said. "That's the goal every year is to continue to grow."
Dee Dee Hernandez came on the scene and shined at the plate as the No. 3 batter and in the circle.
"She was consistent on both sides," Peek said. "She's just a mentally tough girl. She's always ready."
Hernandez went 21-2 with a 0.42 earned-run average and 162 strikeouts to just four walks over 131 1/3 innings.
At the dish, she sparkled to the tune of a .556 (50 for 90) batting average with 45 runs batted in, 19 doubles, three home runs and 10 runs scored.
The team's other Hernandez – no relation – was as consistently outstanding as she been every season for the Falcons at shortstop and Peek was of the opinion that she should have been the league player of the year. Nonetheless, it was another terrific campaign for Alyssa Hernandez.
"Alyssa was a leader," Peek said. "She started the games off with some big hits and she didn't wane.
"She was a core player on this team and she was the leader of the infield."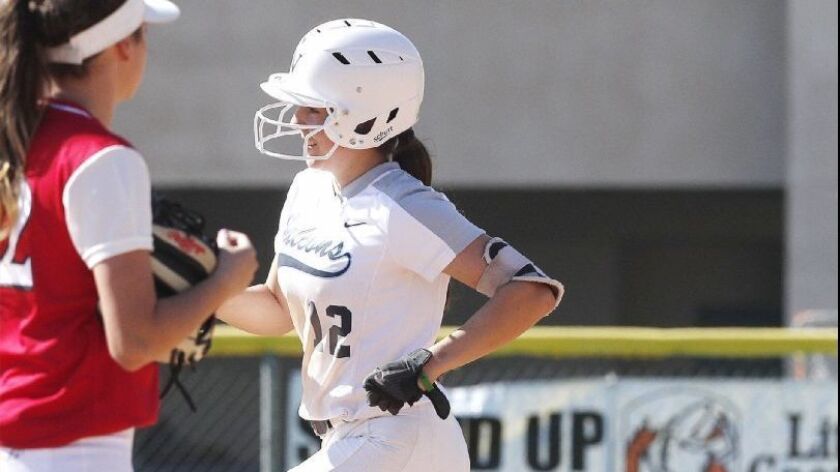 While also playing phenomenal defense, Hernandez hit .548 (57 for 104) with 46 runs, 37 RBI and a whopping 26 extra-base hits (15 doubles, eight triples and three homers).
As for Taix, she too put up huge numbers, but her attitude and tenacity also proved telling for Peek.
"She's just amazing," Peek said. "She's just what Falcons softball is all about.
"She's just a great team player; she brings a lot of fire."
Taix batted .554 (41 for 74) with 11 doubles, 26 RBI and 33 runs.
De Leon produced, plain and simple, as attested via her .506 average (46 for 83) with 11 doubles, eight home runs, 37 runs and a whopping 46 RBI.
"She's just a really strong girl that's a good hitter and can hit for power," Peek said.
Funaro was a bright spot for a Nitros team that fell short of the playoffs as it posted a 14-8-1 record with a 7-7 league mark that forced the squad to settle for fifth place.
"Aurora is a very hard-working and consistent pitcher. She is a leader on the mound," said Nitros coach Chris Funaro, Aurora's father. "She improved her pitching stats this year from last year.
"She hit a milestone by winning her 30th game and striking out a total of 305 batters in her career. She also contributed with her bat."
In the circle, Funaro had a 1.79 ERA with a 14-8 record that included four shutouts, with 154 strikeouts across 105 1/3 innings with 19 walks and 93 runs allowed, though only 27 were earned.
At the plate, she also led the Nitros in run production with 22 RBI, as she hit .343 (24 for 70) with 14 runs.
Hoover struggled to a 4-20 season with a 2-12 record on the strength of splitting the season series with Muir and Pasadena, but Figueroa stood out. She hit .338 with 19 runs and 19 RBI.
"I'm pleased with the way Britney played," Hoover coach Rich Henning said. "She was great on defense and a big-time leader."
The second team boasted Falcons Peyton Hause, Natalie Bitetti and Devon Medina, Nitro Esme Piedra and Tornado Olivia Jukes.
Hause, a junior, hit .341 (29 for 85) with 29 RBI, 28 runs and 12 extra-base hits.
Sophomore Bitetti batted .461 (41 for 89) with 19 RBI and 36 runs.
Medina was another outstanding freshman for the Falcons who hit .351 (27 for 77) with 26 RBI and 17 runs.
Piedra concluded a stellar career at Glendale with a .542 (32 for 59) average, 21 runs, 19 RBI, 13 extra-base hits and a .614 on-base percentage.
Jukes, a senior, batted .328 with 21 runs and 19 RBI.
The three locals who received honorable mention were Falcons senior Jennie Chacon, Nitros sophomore Jamie Harris (.361 average, 18 RBI and 15 runs) and Tornadoes junior outfielder Catherine Villasenior (.333 average, 22 runs and 15 RBI).
- Charles Rich contributed to this story
Twitter: @TCNGrantGordon
---