In a short time, the start of the 2018-19 CIF Southern Section sports season will begin.
If it seems as though the athletics calendar has been bumped up the last few years, well, it has, with July 30 designated as the first practice for high school football teams partaking in zero week games. That means five of eight area squads will be in shoulder pads and helmets that date for contests beginning Aug. 17.
The moving up of the CIF Southern Section sports calendar has presented myriad challenges, with conflicts between school and athletic agendas, along with the rescheduling of tournaments to the impact on multi-sport students.
Outside of football, girls' volleyball begins on Aug. 13, boys' water polo, girls' tennis and girls' golf gets going on Aug. 20, while cross-country has the latest beginning date of Aug. 30.
The calendar was changed primarily to align the CIF Southern Section postseason schedule with the rest of the state of California.
"Yes, that's a large part of it, but also (as it regards the spring) it was done due to the fact that schools are getting out earlier than in the past and that means less students at those spring events, as well as coaches and athletic administrators being forced to work longer years," emailed Southern Section assistant commissioner Thom Simmons.
Beyond the fall season, the winter season starts up with basketball, soccer, girls' water polo and wrestling slated for opening action Nov. 12, while spring sports baseball and softball commence Feb. 9.
Crescenta Valley High football finds itself in a predicament as the Falcons will host Redondo Union at Moyse Field on Friday, Aug. 17 to kick off the season in the zero week opener.
That start date is seven days earlier than last year's commencement, when the Falcons traveled to Orlando to take on Collier of Naples, Fla. at the ESPN Wide World of Sports Complex on Aug. 24.
Five years ago, the Falcons started their season on Sept. 6, while the start date was Sept. 11 in 2008 and Sept. 12 to begin in 2003.
"For us at CV and [the] Glendale Unified [School District], it's not a great thing," Falcons coach Paul Schilling said.
One of Schilling's biggest worries is a possibly negative effect on football's lower levels, particularly for incoming freshmen.
"For the most part, football numbers are dropping and now it might be more difficult to keep players on the lower levels, in particular, because athletes and their families haven't committed as much as they have by the time they arrive to varsity as teams will be practicing throughout August when many families traditionally head on vacation," Schilling said. "It makes me nervous. It's crazy. It's so over the top."
While the sports start date is moving forward, the school year is actually marching in a different direction.
In December, the Glendale Unified School District, which includes Crescenta Valley, Glendale and Hoover highs, unanimously voted to push back the start of the school year amid concern from parents and educators, one of which was limited vacation time.
That move came despite impassioned pleas from Crescenta Valley High student-athletes at the meeting.
The 2017-18 school year began Aug. 16. Under the change, the 2018-19 calendar is slated to commence Aug. 22, while the following school year is set to open Aug. 21.
If depth is an issue for Crescenta Valley, which with a student body of 2,644 (according to the latest CIF Southern Section numbers) makes it the largest school in the area, the conditions are certainly challenging for smaller schools, including 456-student Providence.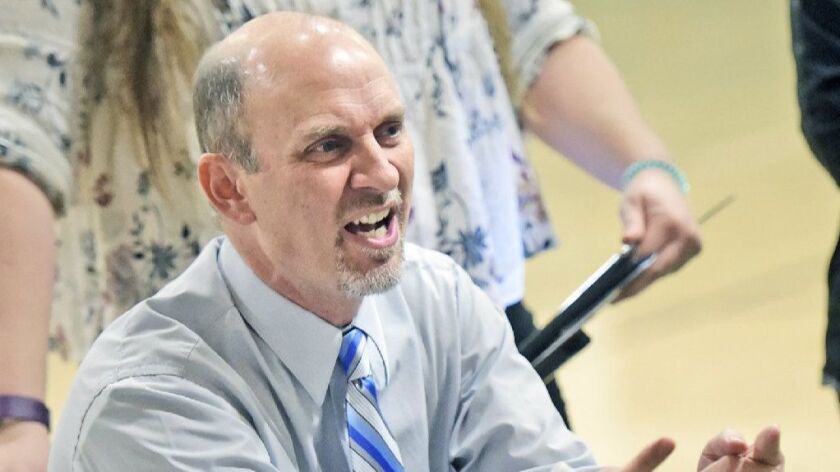 "The biggest effect of that schedule change, as far as moving things earlier, is that the time between seasons for a small school is shorter," said Andrew Bencze, Providence's athletic director and girls' basketball coach. "That is very hard because at a small school, we're sharing a lot of athletes.
"Take the girls' basketball playoff run from last year. We ended the state playoffs in March. Softball already lost players for a big time and now there's going to be a week less in between seasons."
Providence's 14-girl softball roster had to survive without three basketball players through the early season. While that number may not seem too significant, two of those three players were the school's only two All-Liberty League honorees in catcher Sarah Cox and third baseman Francesca Maravilla.
This upcoming season, the girls' basketball season is scheduled to end on March 9 at the CIF State championships, which is exactly one month after the softball season gets underway Feb. 9.
Bencze has other issues as well as moving up the school's traditional season-opening boys' and girls' basketball tournament up.
"It's hard to run the Paul Sutton Tip-Off Classic if it's not the tip-off to the season," Bencze said. "So, we made a decision just to go with the schedule and we moved our tournament to the very first week, so now it's the week before Thanksgiving. Traditionally, it's been the week after Thanksgiving. You go to Thanksgiving, you have your holiday, you come back and you start basketball, but that's not just the way it is anymore."
If Bencze is thankful for something, it's that his school doesn't have to deal with football.
On the flip side and down the street, the changed schedule drew a mixed review from Burbank High football coach Adam Colman.
Colman's Pacific League champion Bulldogs kick off the 2018 campaign hosting Monrovia at Memorial Field on Aug. 17.
"For us, it's moved up our whole summer and shortened it," Colman said. "So, we used to have six-week summers, then five and now we're down to four weeks of summer practice before our break and fall camp. We had a longer spring, which was an experiment.
"Spring is a little tough with guys in other sports and school still going on, so it's a lot to manage. Summer has been a time to focus on football and hit the weight room and have meetings and all that and just focus on football. With the short summer, it's just made it more urgent, which can be good, too, because there's a little more of a focus at practice."
La Cañada second-year football coach Jason Sarceda was somewhat indifferent toward the whole process.
Maybe no coach has had to deal with change more than Sarceda, who took over in early June last season after the sudden departure of head coach Ryan Zerbel. Throughout his tenure, Sarceda has had to deal with two abrupt coaching changes, so he's used being flexible.
"I'm mean it wasn't an unexpected thing, but it is what it is," Sarceda said of the calendar change. "We still had our dead period set, so we were prepared for it. I guess it's not great for getting numbers up, but we'll see. I don't think it's a big deal."
La Cañada travels to Hoover in the zero week season opener on Aug. 17 at 5 p.m.
Flintridge Sacred Heart Academy and its fellow Roman Catholic members of the Mission and Sunshine leagues ran into a somewhat sticky issue when going over the 2018-19 schedule.
The Holy Week begins Palm Sunday on April 14 and extends until the following Easter Sunday.
Holy Week is generally a solemn time and often means half days or days off, which is traditionally accompanied by a week for vacation following Easter.
The new calendar calls for the final game of the season to take place April 24 for boys' volleyball, April 25 for softball and April 26 for baseball, boys' tennis, swimming and track and field.
Since the schools will be out from April 21 to 28, league play will have to conclude even earlier.
"The hardest thing for our league, and I went over this at our last league meeting for scheduling, is we're almost all Catholic schools and the spring is going to kill us," said Stephanie Contreras, Flintridge Sacred Heart Academy athletic director and president of the leagues. "We have to finish all our league play during Holy Week because most of us are off the week CIF paperwork is due. Right after Easter, all the schools are off. So, we're going to move up track and swimming all during Holy Week. So, that will be challenging."
The good news for Contreras and the leagues is the Holy Week problem is only a one-year issue as the Easter date changes every year.
"I know that students take off Holy Week for school trips and college trips," Contreras said. "I'm telling my girls in track that if they want to go to CIF, they're going to have to stay in town."
Despite the tumult, Contreras isn't too concerned.
"It's just going to take everybody a year to get used to this system and we'll be fine," she said. "It won't be easy, but I don't think it will nearly be as big an issue after this year."
- Grant Gordon contributed to this story
---