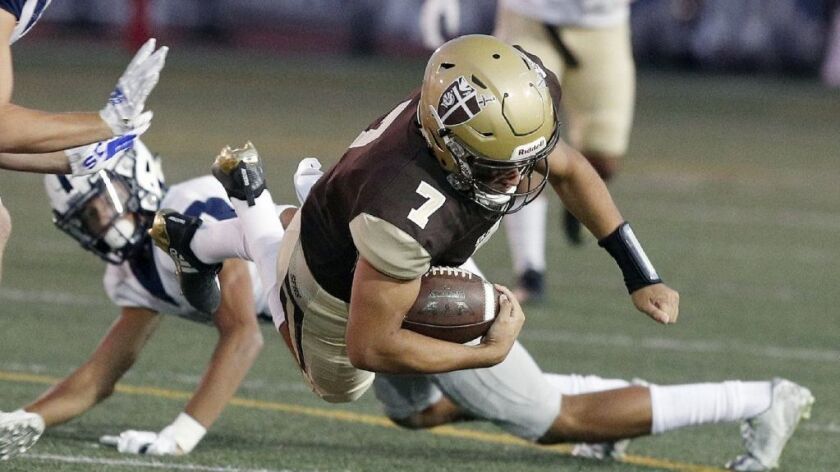 With Darius Perrantes at quarterback, good things normally occurred throughout the season for the St. Francis High football team.
After helping St. Francis advance to the CIF Southern Section Division III championship game in 2017, Perrantes came back determined this past season by providing leadership and shaping the program's offense in multiple layers.
The senior showed once again he could be a force on the ground and through the air and compiled some impressive numbers that led to Perrantes being named the Angelus League's co-Offensive Player of the Year.
Perrantes shared the honor with senior wide receiver Alex Franco of rival Cathedral.
Perrantes completed 142 of 216 passes (49.7 completion percentage) for 2,315 yards to go along with 20 touchdowns and 11 interceptions in 10 games. In addition, Perrantes, the reigning All-Area Football Player of the Year, rushed for 380 yards in 55 carries and scored four touchdowns.
Franco caught 48 passes for 708 yards and nine touchdowns for Cathedral (8-3, 3-0 in league).
Perrantes set out to be a difference-maker in being a dual threat.
"I went out there and did what I needed to do," Perrantes said. "I wanted to lead our team and it's great to get an honor like that. I just wish our season could have gone longer.
"In the offseason, I focused a lot on my footwork and it helped me with my throwing and running. It helped me become more explosive."
St. Francis finished 6-5, 2-1 in league for second place behind Cathedral. St. Francis fell to second-seeded Calabasas in the first round of the Division II playoffs.
Perrantes was among 16 St. Francis players bestowed with all-league recognition.
Junior running back Kevin Armstead, senior lineman William Zhang, junior receiver Tanner Tomko and sophomore receiver Bryson Reeves picked up first-team offense accolades for St. Francis.
The sturdy Armstead provided the Golden Knights with 1,097 yards rushing in 159 carries in 10 games. Armstead also rushed for 11 touchdowns and caught 29 passes for 283 yards and two touchdowns.
Zhang proved to be a pillar on the line while protecting Perrantes and opening holes for the Golden Knights.
Tomko finished with 40 catches for 791 yards and seven touchdowns, while Reeves had 34 receptions for 702 yards and eight touchdowns.
Five St. Francis athletes received first-team defense nods, including senior lineman Louis Menacho, senior linebacker Will Stewart, freshman defensive back Max Garrison, junior defensive back Mikey Kane and senior punter Nicholas Boschetti.
Menacho contributed 28 tackles, Stewart finished with 73 tackles, Garrison collected 31 tackles and two interceptions, while Kane registered 39 tackles and two interceptions.
Boschetti had 26 punts for 805 yards for an average of 31 yards and converted 18 of 19 extra-point attempts. He had 13 kickoffs, with five going for touchbacks.
Picking up second-team offense honors for St. Francis were junior linemen Devan Bell and Aidan Flynn, sophomore lineman Daniel Peters and junior kicker Jake Smith.
Smith converted 22 of 24 extra-point attempts.
Senior lineman Jacob Buntich and sophomore lineman Evan Jernegan of St. Francis picked up second-team defense honors.
Buntich finished with 44 tackles and four sacks and Jernegan had 12 tackles and three sacks.
"I think we had a well-rounded group of players who contributed in a lot of ways," Perrantes said. "They all wanted to come out and play hard and they did.
"Our coaches worked very hard with us so we could contribute."
Twitter: @TCNCharlesRich
---