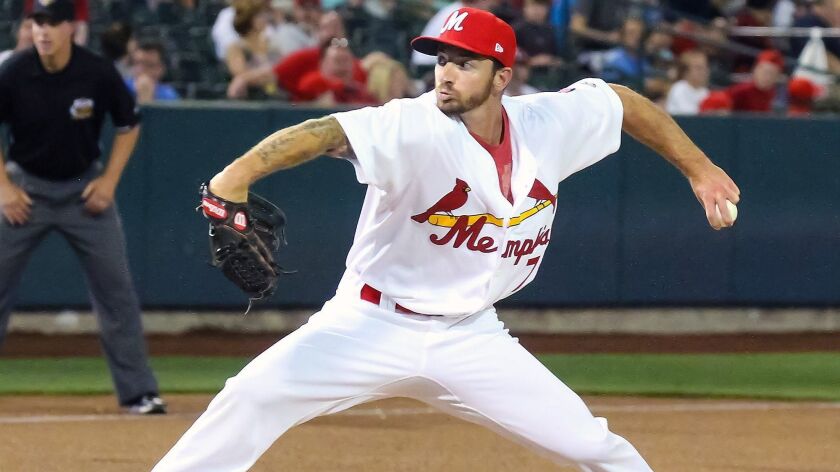 After 217 appearances in the minor leagues, Ryan Sherriff has ascended to the major leagues.
Sherriff, a former standout pitcher at Glendale Community College, was called up by the St. Louis Cardinals on Tuesday and placed on the squad Wednesday after serving as a relief pitcher for the triple-A Memphis Redbirds.
"I really can't put it into words," Sherriff said by phone from St. Louis on Wednesday. "The Cardinals called me up on the phone late Tuesday night and then I started crying because I thought of my dad (Larry Sherriff) who died (in 2012) and then I thought about my entire family who have given me tremendous support over the years.
"It's an honor to be a part of the St. Louis Cardinals and it will be a great opportunity for me, so I'm very excited."
Sherriff, a former All-Western State Conference South Division honoree who helped Glendale win the conference championship in 2011, was 5-1 with six saves and a 3.19 earned-run average in 48 appearances at Memphis of the Pacific Coast League. The left-hander struck out 47, walked 13 and allowed 40 hits and 22 runs (19 earned) in 53 2/3 innings. He was named to the Triple-A All-Star Game for the second straight season this year.
Overall in the minors, Sherriff is 34-21 with a 3.03 ERA. He's struck out 334 and walked 123 in 481 innings.
Now, he'll have a chance to perform at St. Louis, which selected Sherriff, 27, in the 28th round (860th overall) of the 2011 Major League Baseball First-Year Player Draft.
"It's a dream that I've been chasing for quite a long time," said Sherriff, who tossed two scoreless innings Sunday against the New Orleans Baby Cakes. "I just tried to get better each season and I've had some success along the way."
The Cardinals have been beset by injuries. Starting pitcher Adam Wainright and reliever Trevor Rosenthal are on the disabled list with elbow ailments. Rosenthal was placed on the 60-day disabled list Wednesday, effectively ending his season.
Sherriff, who represented Team Israel in the World Baseball Classic in the spring, is one of two former Glendale college players in the majors. Marco Estrada is a starting pitcher for the Toronto Blue Jays.
"It's great to see another player from the college in the majors," Glendale coach Chris Cicuto said. "With Ryan, he's the first former player I've coached to reach the big leagues and I couldn't be happier for him.
"He's gone out there and put in the time and work to get better each season and things were going to work out for him. It will be a great opportunity for him and we're elated for him as a program."
Twitter: @TCNCharlesRich
---