State debut will see St. Monica Academy boys' basketball play same opponent for second straight game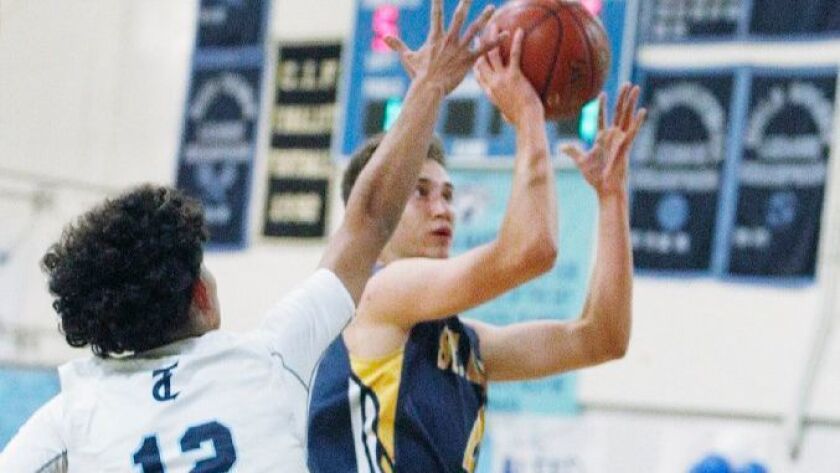 In the grandest season yet for the St. Monica Academy boys' basketball program, it made its first ascent to the semifinal round of the CIF Southern Section playoffs and will make its first foray into the CIF State Tournament.
Unfortunately for the trailblazing Crusaders, they will run into the same team for the second time in as many games, which ended their memorable Southern Section run and will be a large favorite in their initial state opener.
"At this point, any team you play is going to be tough," Crusaders coach Peter Grimm said. "At the same time, I already know how tough they are. In theory, every team is tough, but we know how tough they are."
On Wednesday night at 7 in the first round of the CIF State Division V playoffs, No. 15 St. Monica Academy will travel to face No. 2 Duarte.
Grimm was admittedly surprised and a bit dejected at the draw after his Crusaders were downed by Duarte, 87-47, on Feb. 23 in the Southern Section Division V-A semifinals. But he realized, as one of two Southern Section at-large entrants in Division V, the road would be an arduous one.
"We knew if we were an at-large berth out of Division V-A that any team we were going to play was going to be a tall order," Grimm said.
Led by senior Peter Ford and junior Charlie Boles, the Crusaders (21-5) will look to upset a Duarte (27-4) team that, despite sharing the same Southern Section division has a student body of 852 compared to St. Monica's 109. Duarte went on to win the Division V-A title on Saturday against Wiseburn-Da Vinci, 75-65.
The winner will move into Saturday's second round to face No. 7 Van Nuys (21-12, City Section Division II runner-up) or Da Vinci (16-10).
"We're excited. Any opportunity to play more basketball is a great thing," Grimm said. "When you're trying to grow a program, you're going to come up against bigger and more well-established programs."
Twitter: @TCNGrantGordon
---