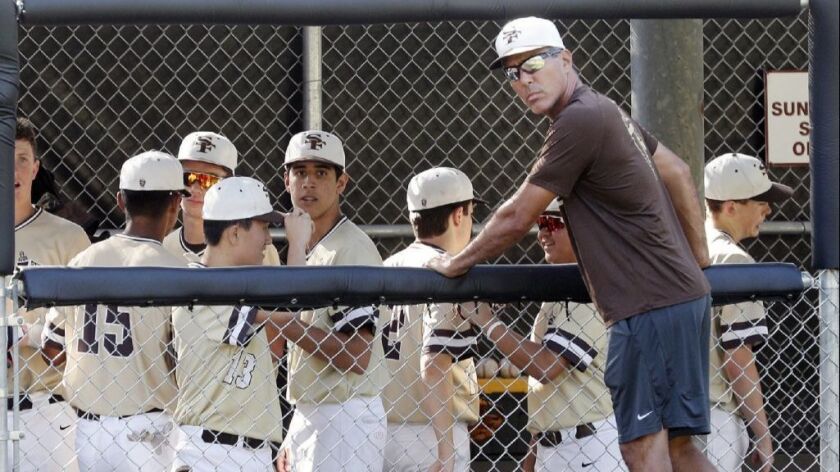 GLENDALE — Finally, with a majority of his key players present, St. Francis High baseball coach Aaron Dorlarque was able to tinker and assess his team in a summer game.
Against Saugus in a Valley Invitational Baseball League contest at the Glendale Sports Complex on Monday, the Golden Knights' offense generated 11 hits and its pitching staff scattered just two hits.
St. Francis scored one run in each of the final five innings and its pitchers retired 10 consecutive batters in a 7-2 win.
"We've had a hard time — No. 1 without all our guys here — putting together a complete game. But today, we pitched, we played defense and had some timely hitting," Dorlarque said. "It was good.
"I think [Saugus] had some young guys, but they're pretty good. A bunch of freshmen. I was impressed."
It's the Golden Knights' fourth win in VIBL league play, with the league playoffs starting on Friday. Brackets are set to be released Wednesday.
"It's a chance for guys to get some reps," Dorlarque said. "We haven't been concerned about the wins and losses. We're more concerned about answering some questions.
"We have seven out of eight position guys coming back and a young pitching staff, so the question marks here revolve around the designated hitter, first base … It's a chance for the coaching staff to make some decisions. It's been good and the kids are having fun. We treat it like summer ball."
Golden Knights junior Kai Purdy-Burton started on the mound for St. Francis and pitched three innings with one strikeout, two walks, two hits and two earned runs.
Reliever Justin Hindi retired eight straight batters in three hitless innings with one strikeout. Closer Ryan Rizzo yielded one hit and one strikeout in the final inning.
"I think that Kai set the tone early," Dorlarque said. "We were going to throw strikes and I think he got tired there in his last inning. It was big for Hindi to come in and get a double-play ball and pounding strikes. He's very capable. Struggled a little bit throwing strikes this summer, but that's what he's capable of and I'm so happy to see that.
"And Rizzo pitched on varsity last year, so that's what we expect from him. He's got a really plus breaking ball and he's working on his change-up now, so three very capable guys. Very talented guys."
At the plate, Golden Knights junior Tommy Italia recorded a triple with three runs batted in, Luke Crawshaw, Quinn Deitch and Harrison Choi registered two hits and Stephen Castro, Colin Noble and Hindi each finished with a hit. Dietch and Noble each drove one run, while the latter scored two runs alongside Crawshaw
"Once we got those three runs, we got more comfortable," Italia said. "Our batters got more comfortable and we started hitting the ball better. We just felt freer."
Noble began the Golden Knights' scoring in the bottom of the second after a bases-loaded walk brought him home for the 1-0 St. Francis lead.
In the bottom of the third, Saugus walked three straight batters with two outs before Italia cleared the bases with a three-ruin triple to center to give St. Francis a 4-0 lead.
"He walks our pitcher, so I [thought] that he's going to throw a strike here," Italia said. "First pitch, he throws me inside and I'm like, 'Aw shoot. I'm already behind the count.' Luckily, he tries to throw a change-up on me and he threw it too hard. I just hit a knock. I got lucky."
Purdy-Burton gave up a lead-off walk followed by a run-scoring triple as Saugus answered right back in the top of the fourth to cut the Golden Knights' lead to 4-1.
A single from the next batter saw the Centurions make it a two-run game before Purdy-Burton made way for Hindi, who finished the inning inducing a 5-6-3 double play.
"It just started from the beginning of the game," Hindi said. "I just focused on my pitching motion and just did everything right on the mound focusing on spots. That's what I was mainly focusing on today, just hitting spots."
Crawshaw led-off the bottom of the fourth with a double before Choi drove him in on a two-out single to give St. Francis a 5-2 lead.
In the fifth inning, Hindi powered a one-out triple and scored on a Saugus error to restore the Golden Knights' four-run cushion.
Crawshaw scored his second run of the game as Noble grounded out to third with the bases loaded to make it a 7-2 score.
Support our coverage by becoming a digital subscriber.
Twitter: @ReporterVince
---