All-Area Girls' Track and Field Athlete of the Year: Switzer vaults to quick success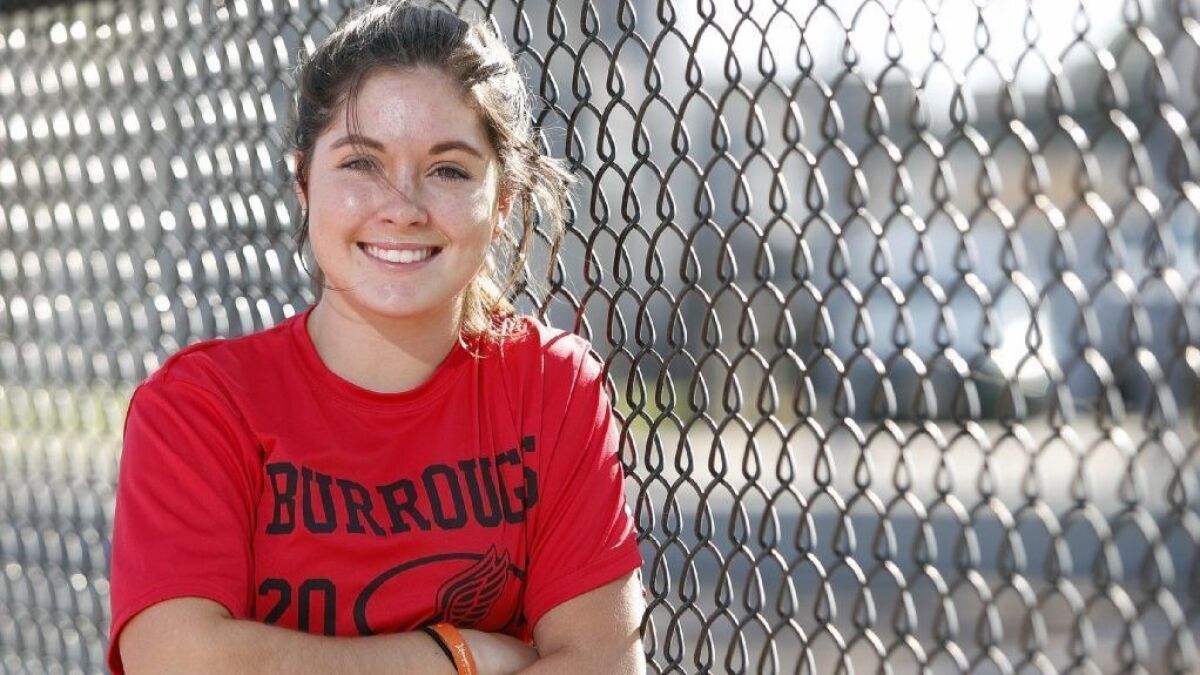 In just her second year competing in the pole vault, Elizabeth Switzer didn't have to look very far for support, motivation, expertise and guidance when it came to the event.
Elizabeth is the daughter of Jon Switzer, one of the most successful pole vaulters in Burroughs history, as he holds the No. 3 spot on the boys' all-time list with mark of 15 feet 7 inches set in 1976. He went on to compete at the University of Oregon.
"At first he thought that I shouldn't get into pole vaulting because it took a lot of time to get good at it and I don't think he thought that I would be very good at it either," Elizabeth said. "He took up pole vaulting at a young age and he starting fooling around with it in his backyard and he had done it before he got to high school. It took him some time to get good at it. So me doing it for such a short time, I don't think he thought that I was going to catch on."
After an uneventful junior track and field season, Elizabeth Switzer began to excel in her senior campaign.
"Once I started getting good heights, my dad started coaching me and giving me pointers and telling me to watch YouTube videos so I could get better," said Switzer, who trains at Simi Valley High with another former Indians pole vaulting standout, Brooks Morris. "Definitely, he also helped me with my technique.
"He drives me to all my workouts in Simi Valley, he comes and watches me and helps me with the things that I learn from Brooks. My dad also coaches me and sometimes he shows me photos of him when he was pole vaulting and he tells me, 'It should look like this.' He has really been a big help."
With that kind of guidance, Elizabeth Switzer was able to excel during her senior season. She won a share of the Pacific League title and advanced all the way to the CIF State Track and Field Championships.
It is because of her success that Switzer has been voted the 2018 All-Area Girls' Track and Field Athlete of the Year by the sports staff of the Glendale News-Press, Burbank Leader and La Cañada Valley Sun.
Switzer took up gymnastics at age 7 and advanced through the ranks to Level 10, the highest level in the USA Gymnastics Junior Olympics Program, one step below Elite, which is the Olympic level. She said she trained 20-25 hours a week.
But a few years ago, Switzer grew tired of gymnastics.
"When I got into high school It started to burn me out because I had to go to school and then spend long hours in the gym and I just started getting stressed out," she said. "So I decided to quit and I got into the pole vault about a year after that.
"So I competed in the pole vault my junior year. I realized that I could go back to gymnastics and I did that for a couple of months. I mostly got all my skills back and I was ready to compete at Level 10, but then I decided that I would give the pole vault one last shot."
Switzer's skills in gymnastics lent themselves greatly to the world of pole vaulting.
"I think the strength and the body control that is needed in gymnastics translates well to the pole vault," Burroughs coach John Peebes said. "And I also think as long as she did it, it also played well with the mental side, helping deal with the competitive nature.
"When you do a vault in gymnastics or a vault in the pole vault there is a mental aspect of it where it's just you on the runway."
Added Switzer: "I talk to a lot of girls at competitions and most of the ones who went into the pole vault were also gymnastics at one time. It's really common."
With her dedication to pole vaulting established, Switzer embarked on her senior season with gusto.
With senior teammate Alexandra Akobian providing friendly competition, the two Indians tied for the Pacific League championship with marks of 11 feet at the league finals at Arcadia High.
Switzer next competed in the CIF Southern Section Division I prelims at Trabuco Hills High, where she placed third with a personal-best effort of 12 feet. That led her to the Division I finals at El Camino College in Torrance where she finished third with a 12-0 mark.
"As the weeks kept going by and I was still going, I just told myself that I've got to work harder because these girls are getting better each and every week," Switzer said.
At the Masters Meet also at El Camino, Switzer punched her ticket to state competition as she tied for seventh after hitting an at-large mark of 11-11.
Switzer became the fourth Burroughs pole vaulter in the past five years to qualify for state competition.
Switzer joined Christian Valles (2017), Sarah Prystupa (2016) and Matthew Schwartz (2014) — all former All-Area Track and Field Athletes of the Year — to qualify for the CIF State Track and Field Championships.
"I was thrilled that Elizabeth was able to make it to state," Burroughs pole vault coach Mike McHorney said. "I was around when they first let girls do the pole vault in 1994. Before that I would call [the CIF state office in] Sacramento about twice a week trying to talk them in to letting the girls vault.
"So for her to get as far as she did this season was very good to see. …She is in some very good company with the other vaulters who have made it the last few years."
At the first day of the state meet at Clovis Buchanan High, Switzer missed on her third and final try at 12 feet. Switzer finished tied for 16th at 11-6.
"I was just really didn't think I would get as far as I did considering I had been pole vaulting for such a short time," said Switzer, who plans to attend Glendale Community College. "I was going up against girls who have been doing the pole vault for a few years.
"To tell you the truth, I didn't think I was going to be able to get past the CIF prelims, so to make it as far as I did is pretty unbelievable to me. I was just very surprised that I made it to state."
Twitter: @jefftsports