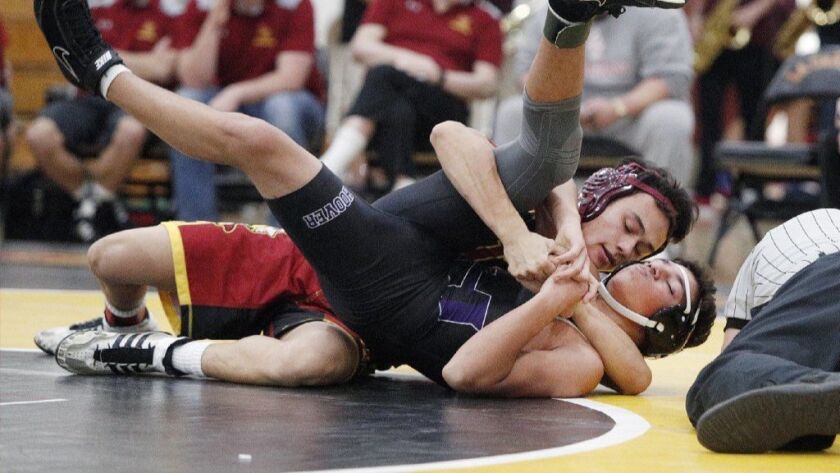 It will be the lowest turnout to hit the mats in the eight-year history of the Hoover High wrestling program. Still, the low numbers won't get in the way of the Tornadoes trying to reach their goals for the upcoming season.
Hoover will field a squad of between 15-18 grapplers, down from around 25 last season when it finished fourth in the Rio Hondo League behind La Cañada, San Marino and Monrovia.
While sixth-year coach Dave Beard wouldn't mind having some additional depth, he's far from being discouraged that the Tornadoes can keep improving.
"It's what we have and we'll go with who we have," Beard said. "We have plenty of experienced athletes, so we'll look to improve from an individual standpoint each match.
"We have some goals and one would be to get two or maybe even three to the CIF Southern Section Masters Meet. We have five to seven experienced wrestlers, so I think it can be a very good group."
Hoover has had four wrestlers advance to the Masters Meets in the past five seasons.
The league will consist of one fewer team after the departure of St. Paul. The league will consist of Hoover, La Cañada, San Marino, Monrovia and South Pasadena.
"La Cañada will have plenty of numbers and San Marino will have a new coach who will bring in some more talent," Beard said. "South Pasadena will be good and Monrovia might be rebuilding a bit. We'll see where we fit in."
The CIF Southern Section has revamped its playoff model, which affects Hoover.
Instead of going against area wrestling teams, the Tornadoes will compete within specific divisions based off on competitive equity, similar to how other sports have been realigned the past several years.
"It's something a bit different," Beard said. "You can get some real good match-ups among the different divisions.
The Tornadoes lost a two standouts to graduation in Allen Melikyan and Azad Markosian. Melikyan captured a league championship in the 160-pound class and Markosian won the heavyweight crown before advancing to the Masters Meet. Markosian went 2-2 at the Masters Meet at Temecula Valley High in Riverside County..
Beard and Co. will look to fill the void.
"There's a lot of capability," Beard said. "We're still looking at who to put where at some wight classes."
Among those who could find there way into the starting lineup for the Tornadoes are junior Luis Socito (106 or 113 pounds), sophomore Harut Mutafyan (138 or 145), junior Davit Vardanian (152), senior Andrew shin (182), junior Andrew West (195) and senior Abel Trejo 9220).
in addition, the Tornadoes will have a female wrestler on board in freshman Sarine Mardirosian in the 102-pound weight class. Mardirosian will match up against female athletes on the opposing squad.
Twitter: @TCNCharlesRich
---