Pair arrested after allegedly 'severely' beating, robbing woman in Glendale motel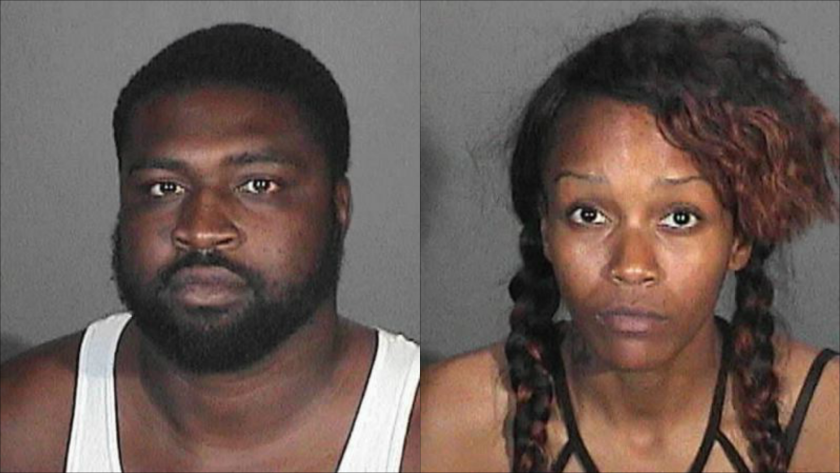 Police on Tuesday arrested two people suspected of beating and robbing a prostitute, knocking her unconscious twice, after arranging to meet at a Glendale motel earlier this month, police said.
On March 18, the 29-year-old victim had rented a room at the Glen Capri Inn & Suites on Colorado Street after setting up a meeting through an online advertisement, said Glendale Police Sgt. Robert William.
When the two suspects arrived early that morning, they immediately pinned the woman to the ground, beating and choking her until she went unconscious, William said.
NEWSLETTER: Stay up to date with what's going on in the 818 >>
The victim reportedly woke up and saw the pair — later identified as Paige Lark, 24, and Jasper Johnson, 30 — fumbling through her belongings.
When they noticed she was conscious, they reportedly choked her again until she passed out.
Motel guests heard the woman pleading for help and called the police, but when officers arrived, the duo had already left with the woman's belongings.
The victim was hospitalized with significant injuries to her body and face, having been "severely" beaten, William said. She has since been released.
On Tuesday, Glendale detectives served a search warrant at a Fountain Valley home, where they arrested the pair on suspicion of attempted murder and robbery.
During her arrest, Lark allegedly tried to stomp on officers' feet and bite them, and when she was booked, she fought two custody officers at the Glendale jail.
Both suspects have "extensive" criminal histories, with ties to the Crips gang, according to William.
--
Alene Tchekmedyian, alene.tchekmedyian@latimes.com
Twitter: @atchek
--
ALSO:
Two men arrested after police find explicit photos of the pair with unconscious women
Glendale man arrested after allegedly masturbating in front of a teen
Glendale sues resident, alleges his argument in favor of tax repeal contains misinformation
---