Free Comic Book Day draws fans and new consumers but doesn't always save the day for local shops
Free Comic Book Day has been a comic store tradition going back to May of 2002, when it coincided with the release of Sam Raimi's "Spider-Man" movie to help boost the public's interest in comics and comic book characters. Raimi's film may not have been the first in the massive wave of superhero movies that hasn't ceased since, but following the dark-toned, leather-clad "Blade" and "X-Men," it was the first in a long time to be unashamed of the brightly colored costumes and positive role-models traditionally found in superhero books.
MORE: Read more about the latest in local arts and entertainment >>
Fans and kids alike, possibly burned out on the darkness of real-world events, found solace once more in comics, and the stores and suppliers delivered.
The newest Free Comic Book Day arrives this Saturday, May 7, and locally, retailers have mixed reactions to it. At ComicSmash in Studio City, they'll be having a sidewalk sale of older comics priced at 25 cents, and everything else 50 percent off except new comics and consignment items.
"It's definitely the best day of the year," says owner Michael Freedman, but he adds, "Does it actually bring in return customers? I don't know. But as far as that one day goes, it's a great day."
Eric Warfield, of House of Secrets in Burbank, is a bit more blunt. "It's never like someone's brand new and they become like a longtime shopper," he says. "Very rarely. It's just the hyenas looking for free stuff."
At one point, the staff got so jaded that the store — which, like all retailers, does have to pay Diamond Distributors for the giveaway books — stopped participating.
"We were just losing money on a Saturday, dropping anywhere from $800 to $1,500. People just jump out of a car, run up, grab the books and run out. After a while, we were like, ah, forget it."
You have, of course, the customers who come and pick up their free comics and leave, but there are many, many people who come in and purchase things as well, too.
Howard Chen, owner of Legacy Comics and Cards
On the opposite end of the spectrum is Howard Chen, of Legacy Comics and Cards in Glendale, who says that for him, repeat business from newcomers on Free Comic Book Day "definitely happens. That's the whole idea. You have, of course, the customers who come and pick up their free comics and leave, but there are many, many people who come in and purchase things as well, too."
Chen considers the day a way of giving back to the community, and allows customers to take up to 22 free comics, where most stores place a much lower limit per person. (ComicSmash is fairly typical in that they'll put a couple of the most popular titles in a bag, and hand the bags out.) At Legacy, Richard Hamilton, writer of Free Comic Book Day's "How to Train Your Dragon" comic will be signing.
Warfield has warmed up to the day in more recent years. House of Secrets started observing the day again once the Marvel Studios movies got in full swing, and he cites Burbank's increased number of families and presence of food trucks as having improved sales on that day a bit.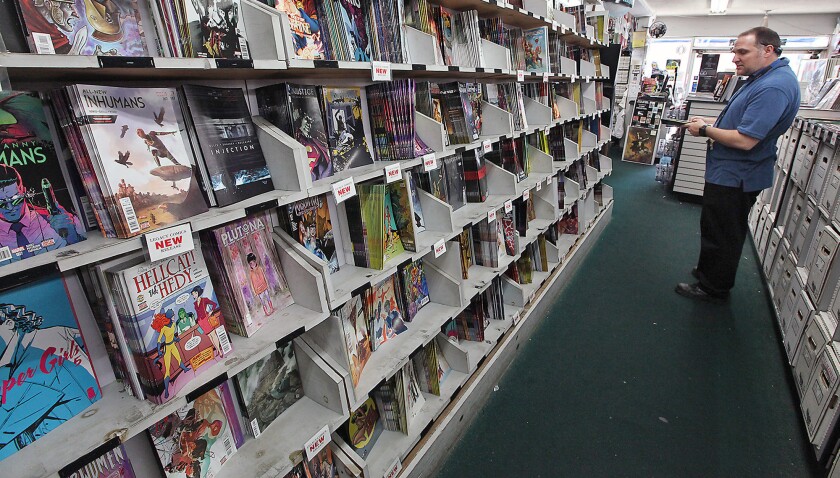 Still, he notes, "It wasn't from new people. It was mostly from our regulars." They'll be having signings by "SpongeBob" writer Israel Sanchez, and "Firefly" cast member Alan Tudyk, who'll be promoting a comic based on the pseduo-"Firefly" show-within-the-show "Spectrum" in his new web series "Con Man."
Chen encourages non-fans and lapsed fans in particular to come and check things out, saying, "Most of these free comic books have current story lines that are coming out in the near future or are out already, and so if they like the stories in the free comic books they can go right into the current [titles] without skipping a beat."
"It was a big event from the get-go," adds Chen. "It gets bigger every year. Now they're giving away over five million comic books in the U.S."
Meanwhile, over at Emerald Knights in Burbank, they were too busy unloading large shipments of the free comics to even answer a few questions over the phone.
--
LUKE Y. THOMPSON is a regular contributor to Marquee based in Toluca Lake.
---